It's great to see that out of the trainwreck that was 2020, new opportunities were created and a host of new coffee spaces have popped up. We chatted to Dale Sandy about his venture of building a cafe in a garage in the suburbs and creating a memorable coffee experience in his neighbourhood!
---
Robyndale Centre, 8 Msenga Rd, Kloof, Durban, 3610
Tell us about how Crane Flower started and what inspired the name?
Starting Crane Flower Coffee was quite a spontaneous and exciting venture in 2020. With all the year threw at us, my original plans went out the window. After months of lockdown and feeling idle at home, my father and I decided to recycle a dusty storage garage into a coffee bar. I have always been into coffee and am always looking to try new coffee spots wherever I go, so I thought why not channel that passion into starting my own coffee shop. In hindsight, the project was sparked by a combination of my love for coffee and coffee shops, and the frustration of being idle at home for so long during lockdown.
Crane Flower is another name for the Strelitzia plant that most South Africans know and love. I love that this plant is native to South Africa, is striking with bright colours and a unique shape, and has very positive symbolism including freedom, joy, and paradise. Given that I wanted to incorporate these traits into a coffee experience, Crane Flower Coffee seemed like a fitting name.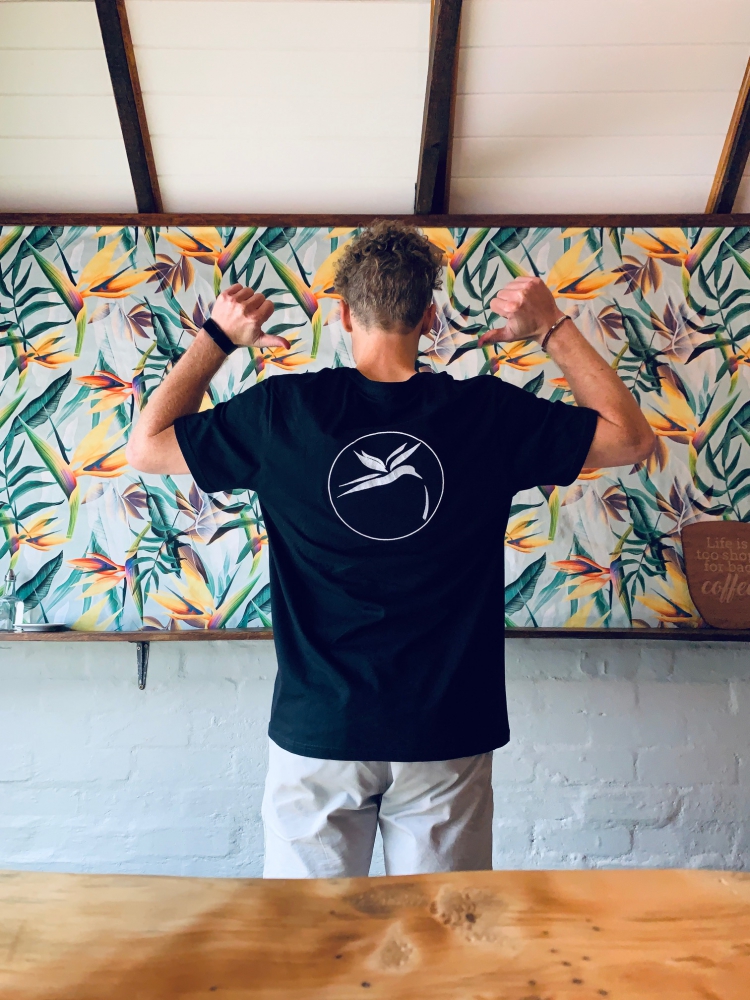 You built out the shop with your own two hands! Tell us about that experience!
Yes! Myself, my father, and one of his employees transformed this dusty old garage into the Crane Flower Coffee space you can visit now.
Using recycled materials we already had, we created the space and built structures like the sink unit, the display shelves, and the main counter. We found the idea of recycling and upcycling what we had really appealed to us, so we gave it a shot.
It was such a rewarding process to see the unused garage space unfold into what I had envisioned, all through the work of our hands. Personally, I loved putting in the effort and making the executive decisions that made the shop my own. When I walk into the shop now, there is definitely a sense of satisfaction and appreciation for what we created.
Now I appreciate it so much more whenever customers compliment anything about the space. I am very grateful for the help and support I received while building Crane Flower Coffee.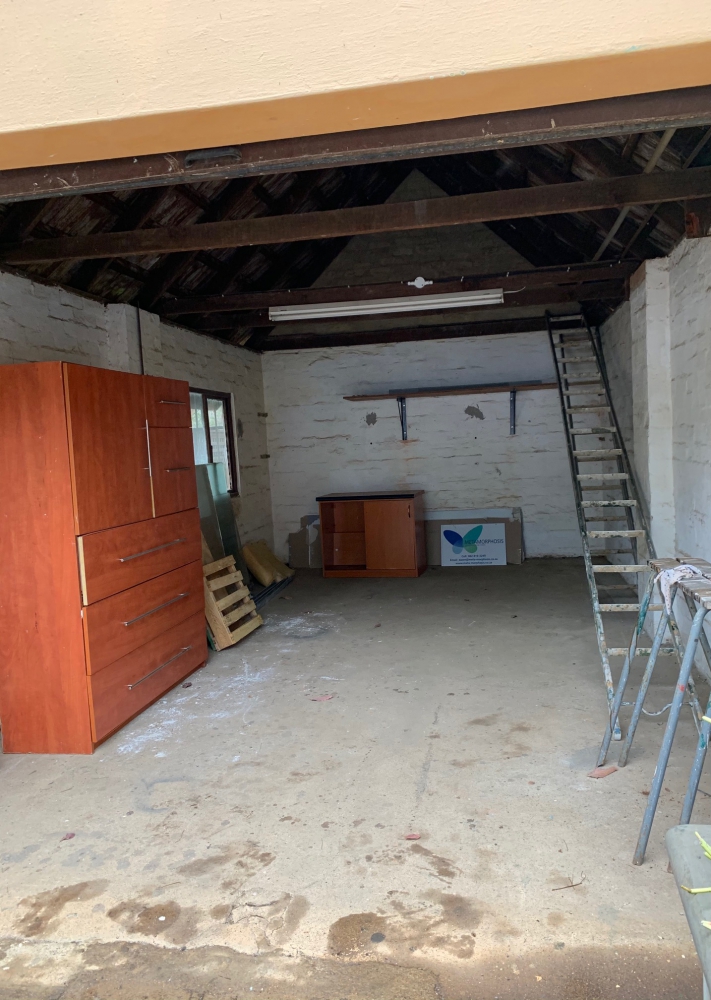 The Before Shot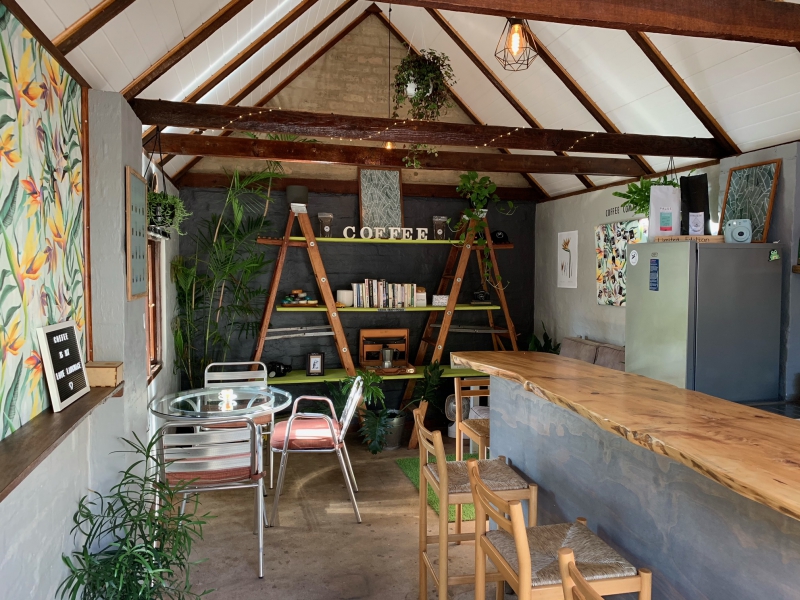 The After Shot!
Where/how did you learn to make a delicious cup of coffee?
I am probably more unorthodox than most in this category. I was always on the other side of the counter, as a coffee customer, until 2019. After returning to South Africa from university in the New York at the end of 2019, I was fortunate enough to have a newly-refurbished Wega machine at my family's home. Not long after returning home, the pandemic began and lockdown presented me with plenty of time to learn and practice my coffee knowledge and barista skills while at home. My brutally honest family of 6 were my coffee critics while I made coffees throughout lockdown. After many hours of trial and error coffee making, as well as much online research about the more technical and intricate details about coffee, my ability to produce quality coffees developed.
Some people are quite hesitant when they hear I haven't done formal barista training courses, but so far their hesitation disappears once they've tried one of my coffees.
I am continually learning and improving, but I am definitely confident in my ability to make a variety of delicious coffees.
What coffee are your using and what equipment do you work on?
Crane Flower Coffee uses a medium roast Brazilian/Ethiopian blend from Three Lads and a Toucan as the house blend. However, I always have a couple bags of limited edition beans from some of the best South African roasteries I've visited. The idea is to expose people in our area to some top quality coffee that they most likely would not come across in our area. We currently have Pause Coffee's Guatemala La Lucia single origin beans & Bottomless Blessings' Burundian house blend available.
I am currently using a Brasilia double group head machine, recently fully-serviced by the Lineage Coffee team, as well as Mazzer & Quamar grinders.
In your bio, you state that you're a 'New York style coffee shop', what about the shop is inspired by NYC?
I was personally a university student in New York who explored over 100 unique and vibrant coffee shops. Crane Flower Coffee was my brainchild, so many aspects of it (the space and the menu items) come from different coffee shops I was fortunate enough to visit in NYC. It is a mash up of bits and pieces of the New York coffee experience as well as my own creative ideas.
More generally, space in New York is so limited that many coffee shops focus on maximizing small spaces while still creating a warm and welcoming atmosphere. Similarly, we have converted a 3x5 metre single garage and 1 outdoor parking space into a quaint coffee shop that can currently seat at least 18 people (with more to come).
Lastly, many New York coffee shops are cosy spots down small alleys that are not plainly visible on main roads. If you happen to find these places, you leave saying "what a hidden gem!". Although Crane Flower Coffee is easily accessible in central Kloof, KZN, it is a small, cosy coffee shop on a side road. I'd like to think those who have visited (and those still to visit) would also classify it as a hidden gem.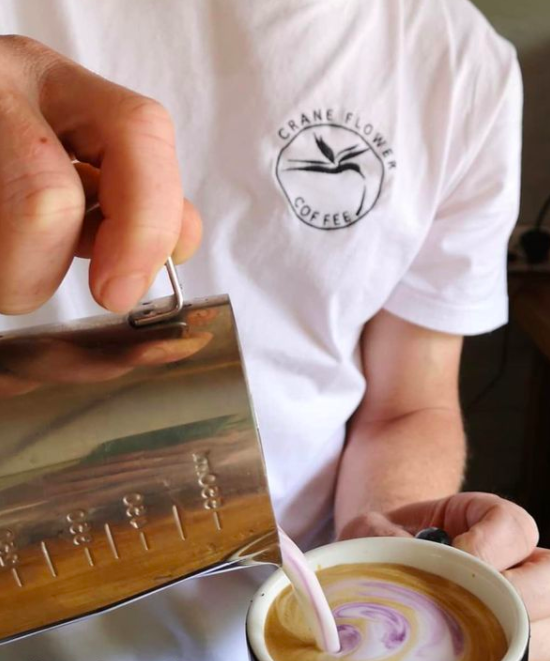 A lavender cappuccino! Very New York ;)