The coffee scene in South Africa has really taken off over the past few years, and one of the huge advantages of publishing a magazine like ours is that we get to hear about all the newest little cafe's, coffee shops and roasters popping up in all sorts of unlikely places. There are little country towns, there are industrial parks and some gritty inner city spots where you can find the most fabulous coffee and passionate people.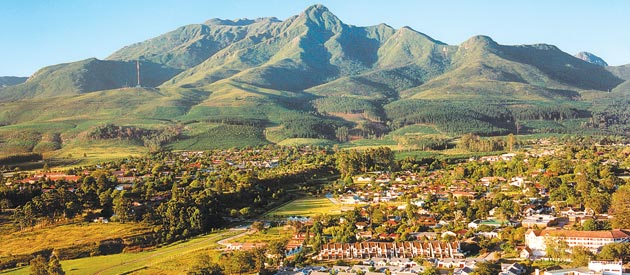 George. A gem in itself. ©www.western-cape-info.com
Then, there are the stalwarts - the ones who have been in the game for a lot longer, and are at the very heart of the coffee communities in these places. One of the towns that has had a thriving coffee culture for over 15 years is George, situated on the Garden Route between Mossel Bay and Knysna.
When we started Coffee Magazine 10 years ago (wow, can you believe it??) there were far fewer spots roasting their own coffee in towns like George, but there was always "someone" and that led a curious foray into the sub-culture we now know and love. Tanya Prins of Root Coffee is one of the originals, and so it was like a homecoming for us when we managed to drop by recently and visit the epicentre of coffee culture in George … or so we thought.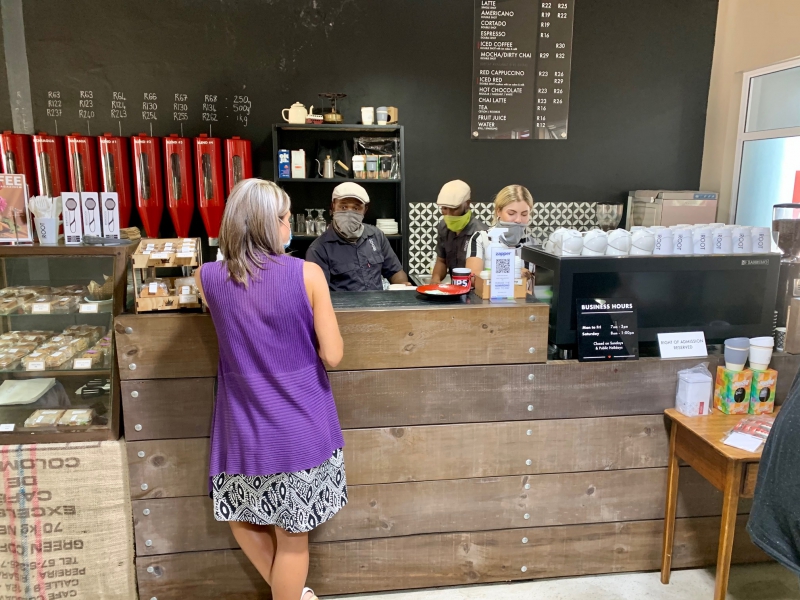 The Root Coffee bar off Wellington street, George, WC. ©CoffeeMag
"My Husband and I just love coffee and we couldn't find a good coffee in George, so we decided to start our own roastery and cafe." Says Tanya, as we stand in the middle of her Wellington street store. We got the grand tour and saw the original Coffee-Tech 3kg roaster that used to do all the roasting until recently when they upgraded to a Genio 15.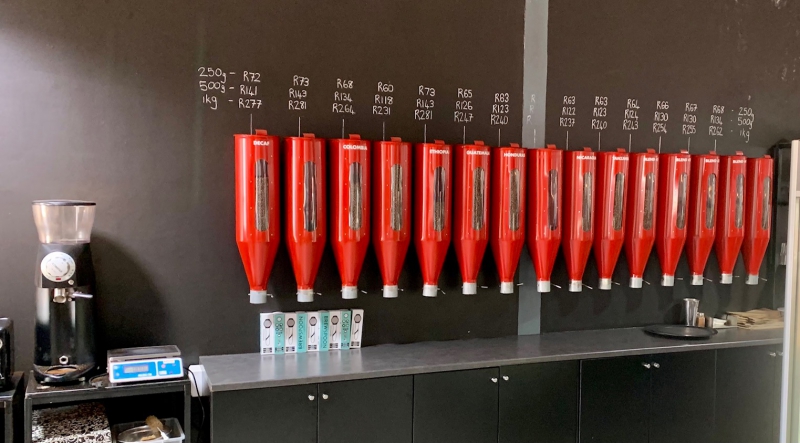 Look at all that coffee!! ©CoffeeMag
"We have always had a desire to grow the culture here" says Tanya and she credits a lot of that to Owner of Caloroso Coffee, Kelvin Applegren. "Kelvin was the one originally leading the Specialty side of coffee here in George and he has created a really great culture around that" she explains. Since then there have been a number of new players enter, and it is, very evidently, growing from strength to strength!
The culture has come so far that Sevenoaks' Nicodemus Nabakwe and the legendary Jeremy Wakefield even spent 2 days in George running an interactive session for the coffee community, to share knowledge and skills around green coffee, roasting and cupping. "That was a really fun event" says Tanya "It was great to see just how far our coffee community has come and to meet such inspirational coffee people like Nicodemus and Jeremy"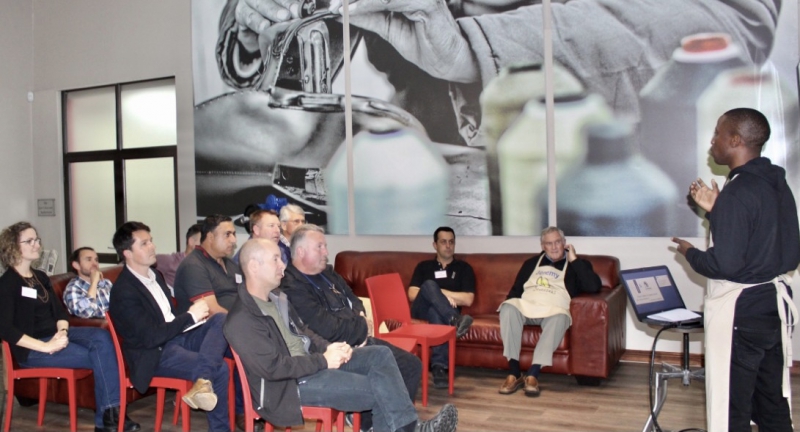 Nicodemus from Sevenoaks Trading presents to the George coffee community while Jeremy looks on from the comfort of the couch! ©Nicodemus Nabakwe
One coffee down and we knew we had to go and visit Kelvin to see where it all began. On arrival, we immediately noticed the perfectly appropriate Espresso Machine - the original Faema E61 - a classic! We enjoyed an excellent espresso, but weren't able to chat to Kelvin for too long, as typically, he was in the middle of coffee training! "It's a bit fresh" he tells us "probably needs to de-gas for a few days" concerned that our espressos might not be exactly the way he wants it to taste, and you can see the man knows his coffee and wants his customers to experience it just so. He needn't have worried - it was delicious!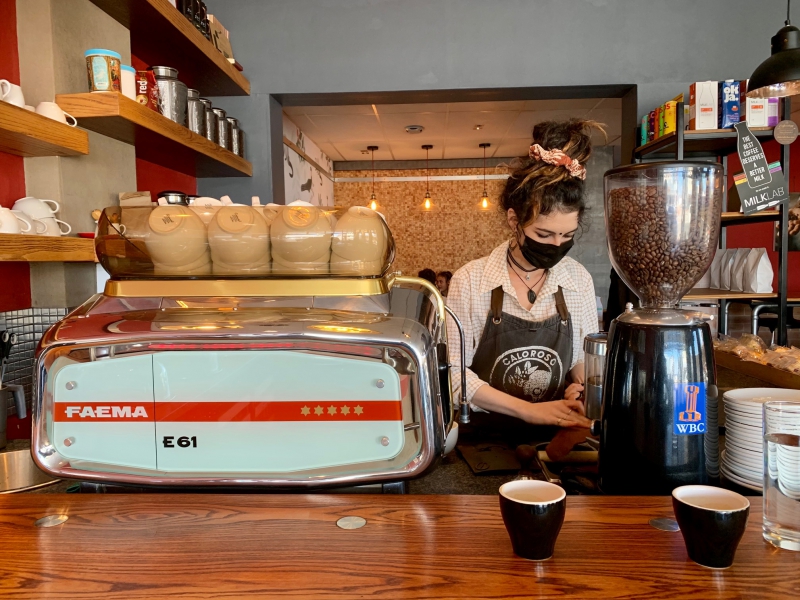 Caloroso Coffee - the original sporting an original! ©CoffeeMag
We only had time for one more stop on our very brief visit to George and so we decided to check out the Pause coffee bar at The Deacon Bistro. Wessel Kruger has really pushed the envelope in terms of investing in the very best for the Pause brand and this is evident in all aspects Pause - the LM KB90, the Victoria Arduino Mythos One and the Mahlkonig EK43 on bar, the shop fitting and the coffee offerings. JP served us two delicious espressos, same origin, different microlots - and the location was simply gorgeous.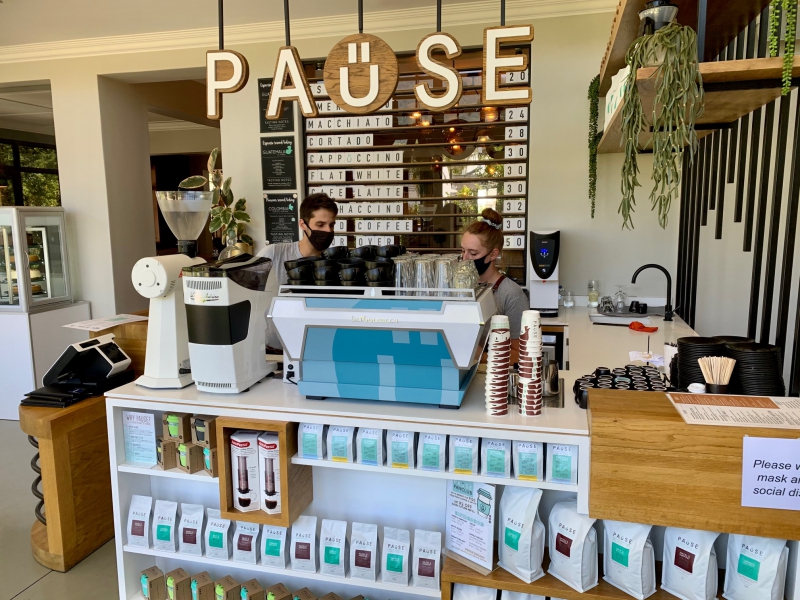 Pause at The Deacon Bistro ©CoffeeMag
If you're in George - you have a wide variety of options - from homely community coffee, to vintage feel-good espresso to state-of-the-art specialty coffee, plus a host of new up and coming spots that we can't wait to try! If you want to recommend a spot in George, drop us a comment below and we'll check it out!