Weird and Wonderful
Words by: Priyanka Govender and Melanie Winter
Celebrating the rebellious and fun side of coffee! Here we showcase five of the most beautiful, unique and outrageous cafes across the world. From quirky London interiors to unusual Australian artistry, these coffee hot spots are bursting with flavour!
---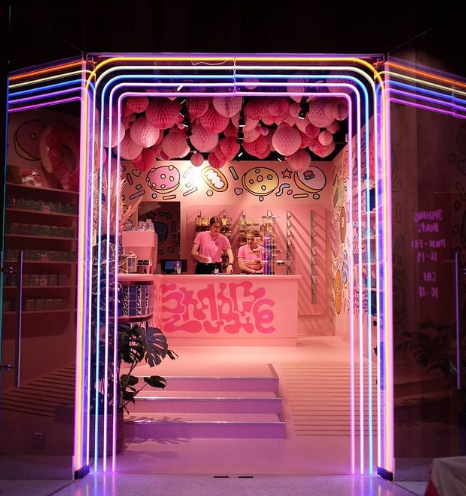 Talormade - Oslo, Norway
With over 20 years of experience in the coffee industry, Talor Browne, the eponymous owner of this quirky cafe, is well versed in the art of slinging 'cinos. Her illustrious career reads like a rolodex of coffee fuelled success, and her passion for bringing people together has remained at the core of her entrepreneurial mindset. "The whole idea was simple: roast delicious coffees the way that people like them, be transparent and kind and most importantly: have fun!", was the foundation upon which she built "Talormade", a vibrant coffee and doughnut cafe in Oslo's Lillo Gård. Renowned for their authentic roastery and their stunning selection of gourmet doughnuts, this cafe is a utopia of sorts for foodies and design enthusiasts alike. Opting for bold colours, abstract graphics and striking neon signage, this colourful cafe is quite literally unmissable!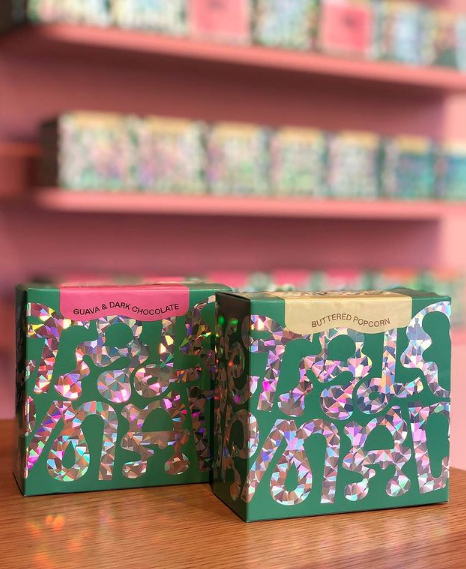 The strong juxtaposition of pastel pink walls, rainbow coloured doughnuts and glowing neon artistry is symbolic of Talormade's desire to share fun and positivity through coffee. With unique flavour combinations like whiskey bacon, and decadent variants like champagne glazed gold-plated doughnuts, it's clear that Talormade is anything but generic. Be sure to stop by for a cup of happiness from their roastery, and don't forget to snap a pic of yourself in neon paradise!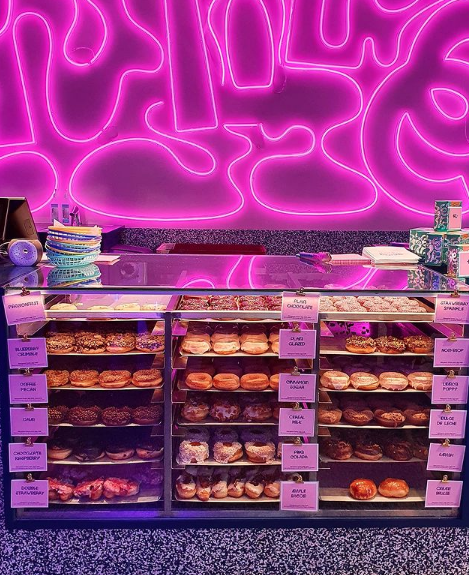 ---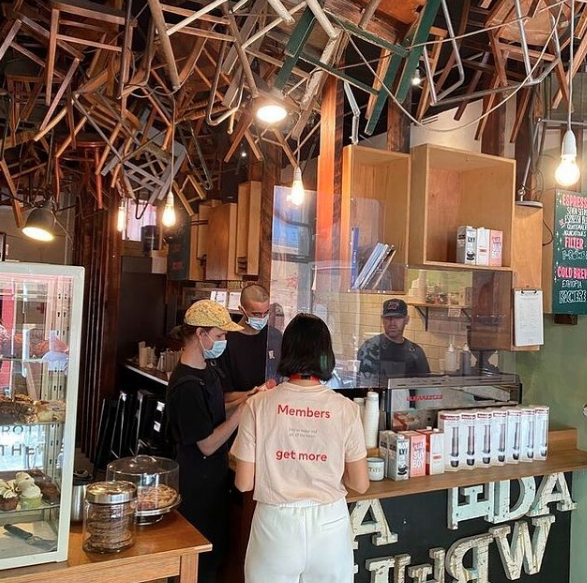 Brother Baba Budan - Melbourne, Australia
Based in Melbourne, a city built on urban dynamism, Brother Baba Budan is every bit as intriguing as it sounds. Named after Baba Budan, a renowned merchant who cheekily smuggled seven coffee seeds out of Yemen, this contemporary cafe truly encapsulates the rebellious side of coffee! From their signature Seven Seeds Espresso Blend, to their single origins, the cafe is always abuzz with the chatter of happy customers. This quaint cafe is decked in personality, passion and an unfaltering commitment towards fair trade coffee. The modern glass exterior, once adorned with the words "We believe in the future of coffee", keeps that ethos going on a daily basis.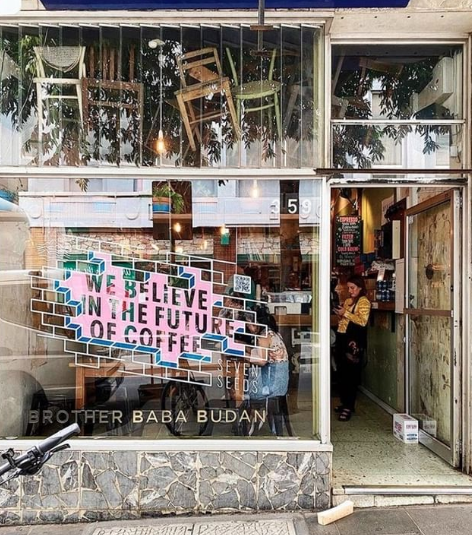 This artisanal cafe boasts a cosy and relaxed atmosphere, courtesy of the softly-lit exposed filament bulbs and whimsical interior design. A stunning manifestation of the "hipster chic" school of design, Brother Baba Budan must be commended for their ability to maintain an original and authentic presence in a coffee saturated world. Upon entering, people are immediately enthralled by the tapestry of suspended wooden chairs, a visual so magical that it would not be out of place in a Hans Christian Andersen fairytale. Shelves lined with indoor greenery, quirky trinkets and bags of premium roasted coffee beans further enhance the beauty of this intimate space. Perpetually abuzz with rotating crowds of coffee-lovers, there is never a dull moment where Brother Baba Budan is concerned. Also, did we mention there are chairs on the ceiling?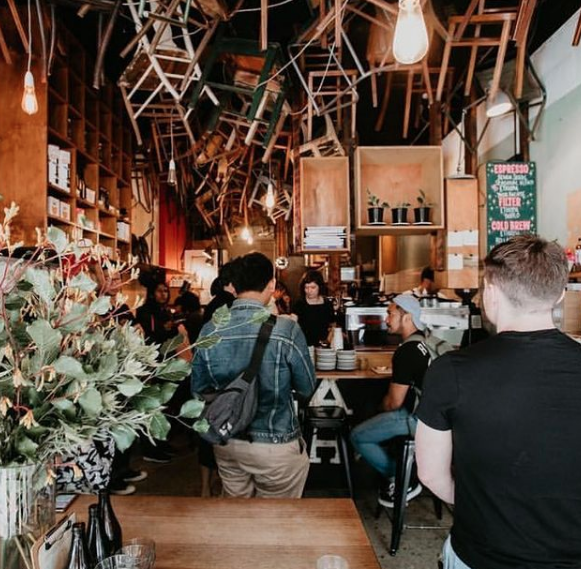 ---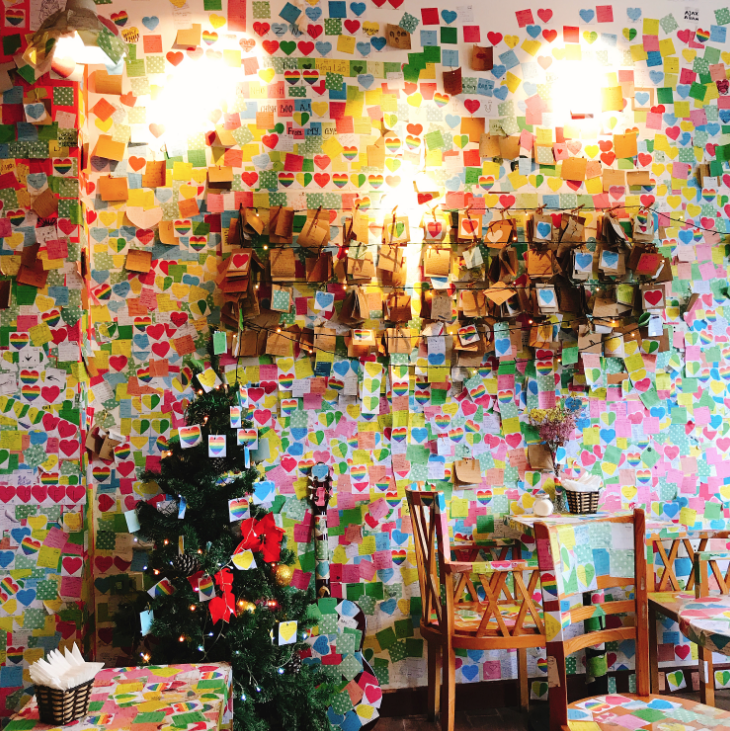 The Note Coffee - Hanoi, Vietnam
One of the most unique and visually stunning cafes on this list has got to be The Note Coffee in Hanoi! Located in a bustling cityscape, this unassuming cafe offers a plethora of romance, aesthetic excellence, and good old fashioned fun! Every inch of this cafe is covered in colourful post-it notes written by locals and hopeless romantics from all over the world! They say that dynamite comes in small packages, and the abundance of love and vibrant creativity flowing through this quaint cafe is definitely proof of that! This cafe truly demonstrates the power of unity within a simple cup of coffee. It is absolutely surreal to think that thousands of strangers have decoupaged little pieces of their hearts on the tables, chairs and walls of a tiny cafe in Northern Vietnam.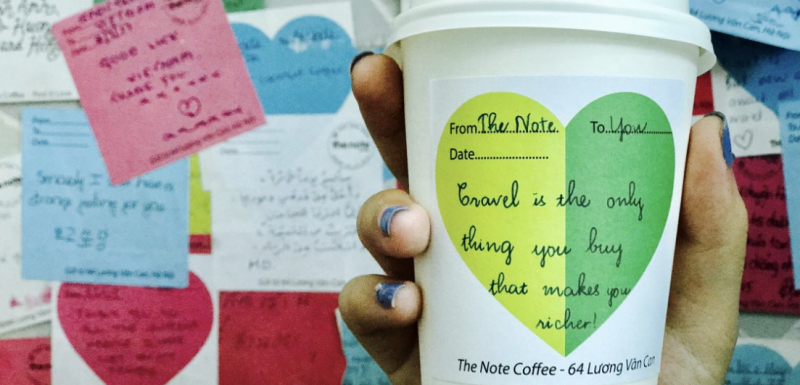 The Note Coffee's emotive slogan, "the most sincere letters are never sent" perfectly encapsulates the premise of their business. Much like the famous love lock bridge in Paris, travellers flock from far and wide to visit The Note Coffee. Writing one's innermost thoughts and personal feelings onto brightly coloured squares of paper for all to see is no mean feat, and if anything, it speaks to the resounding hopefulness that we as human beings share. The Note Coffee, in their efforts to bring people from all walks of life together, have created sheer magic and profound positivity. From a cup of coffee to a colourful post-it note, this cafe spreads love in a time when people need it the most.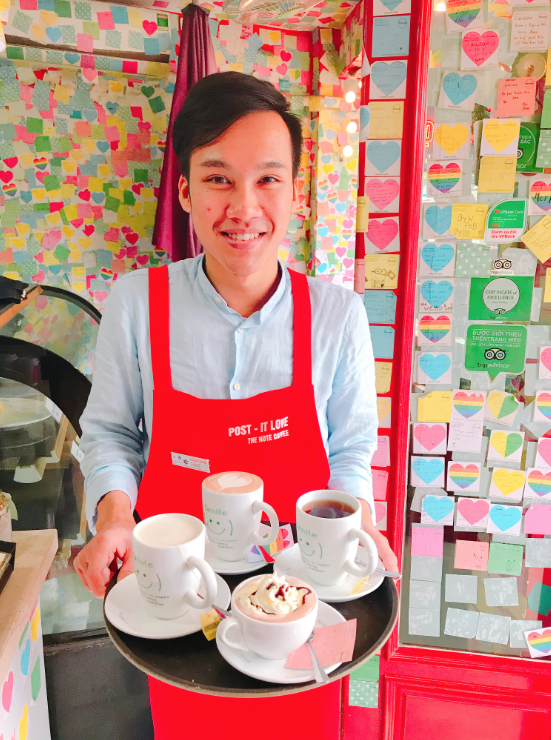 ---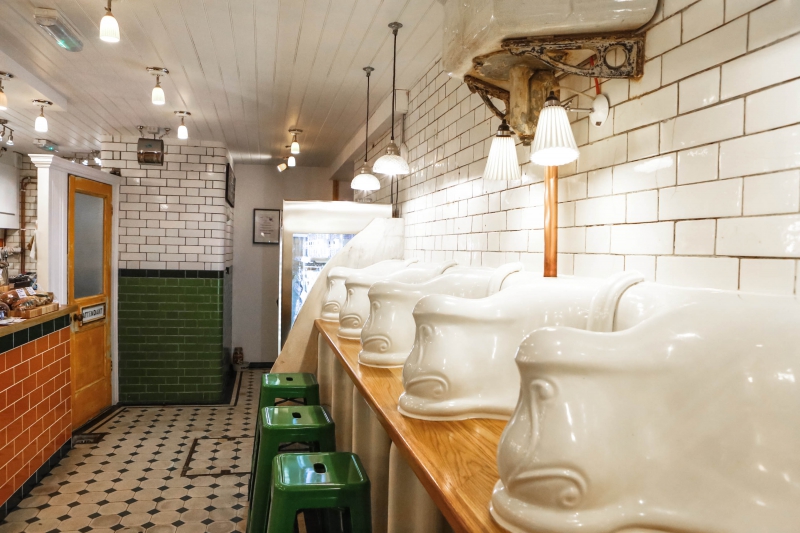 The Attendant - Fitzrovia, United Kingdom
"With our first site situated in a quirky, disused Victorian toilet in Fitzrovia, we made it our mission as a company to create a different experience from store to store. We strive to bring people out of the daily 9-5 grind; to create a place to take a moment, gather one's thoughts, refuel and get right back to it."
Yes, you read right, the founders of The Attendant, Ryan and Bosh, started their first cafe in the most unlikely of locations: a subterranean former gentlemen's lavatory on the corner of Foley Street and Great Titchfield Street in London. It was transformed into a café with stools at the now sparkling and re-enamelled urinals after lying dormant for 50 years. Truly a unique experience.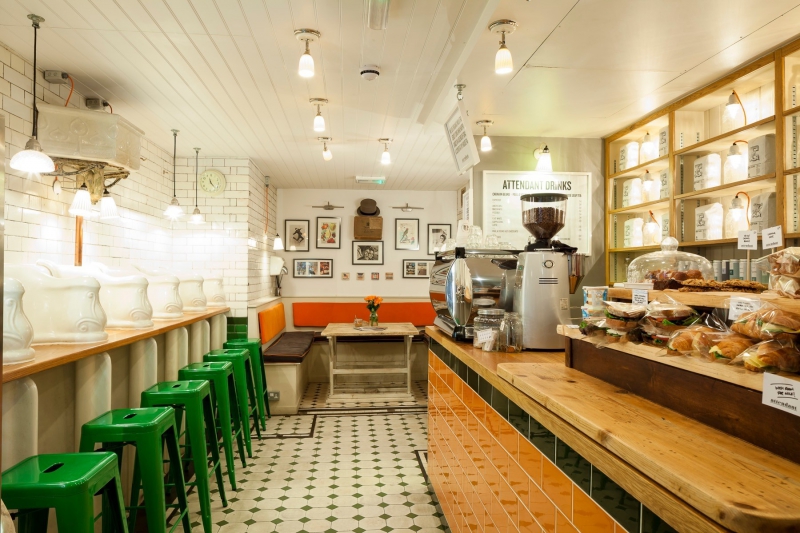 Now with two other locations above ground and not in lavatories, each still bare the marks of the unusual space that started it all, immediately recognisable by their signature whitewashed walls, resplendent green subway tiles and rustic copper pendant lamps.
While the original is perhaps not a place where you linger, it is certainly a worthwhile excursion and the coffee is top notch. They pride themselves on serving on speciality beans and roast and package them so you can take some home with you. Coffee with a story, that's certainly guaranteed when you visit this underground wonder.
---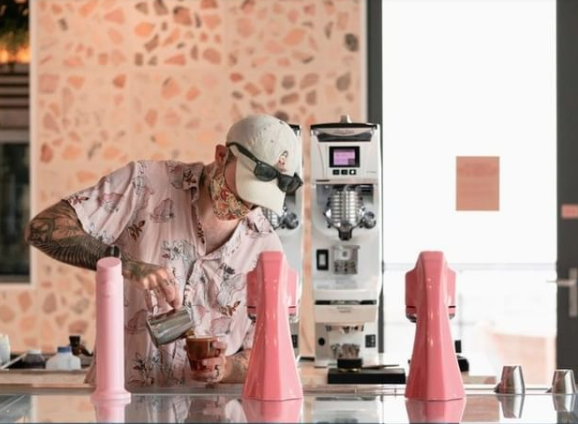 Onyx Coffee Lab - Arkansas, USA
Onyx Coffee Lab, located in Northwest Arkansas, is an artistic expose of the love affair we all share with coffee. The brainchild of husband and wife duo, Jon and Andrea Allen (Andrea is the recently crowned, 2020 USA Barista Champion!), this slate of cafes is dedicated to art, authenticity and above all, the science of coffee. Upon entering any of their cafes, customers are treated to a sensory feast as textural variance, bold colour palettes and the unmistakable aroma of freshly brewed coffee fills the air. But their newest location inside The Momentary, a contemporary art space, really lifts the bar. Did we mention that that bar is in this case almost solely pink with white accents? Such delicious shades of pink.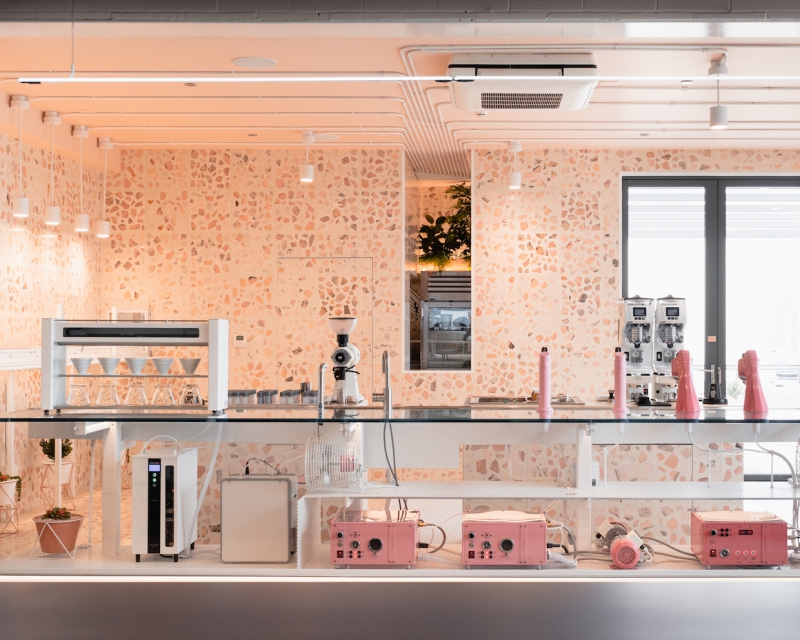 From the Modbar custom pink groupheads, to the textured, mosaic walls, to the tinted pink glassware that your perfectly extracted coffee gets served in. We could go on, but we would have to list a lot of beautiful objects in this concept cafe. Another wild feature, is a conveyer belt that sends coffee to other parts of the gallery. What?! Believe it, because it's true.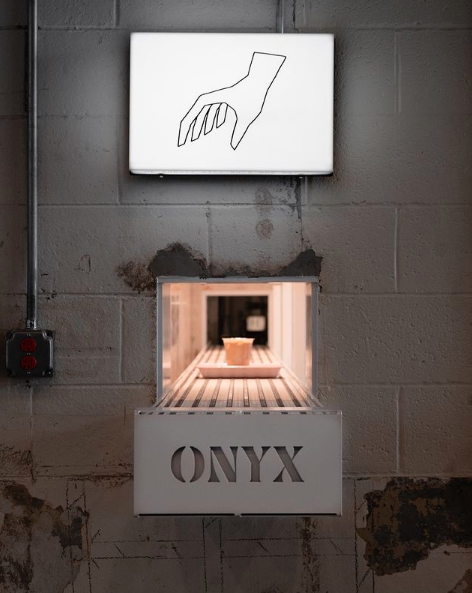 By merging elements of the art deco era with contemporary minimalism, patrons enjoy a fascinating visual showcase of the beauty this team finds in coffee. Building on the motif of the science of coffee, Onyx Coffee Lab honours its name by curating niche spaces where espresso education and high-tech machinery are commonplace. On another outrageous note, their Headquarters location where the roasting goodness happens, has a whopping 11 hoppers on the counter- that's a lot of grinders! Customers are truly spoiled for choice. Designed to promote an interactive experience between barista and patrons, the freedom of diversified choice has resulted in tasty and outrageous coffee combinations.