We are lucky enough to have been able to see a pre-release screening of Coffee Heroes and we can thoroughly recommend it. An incredible coffee adventure! Great to get some insight into how the different personalities deal with the challenge and pressure of competition. Our publisher is also an Olympian and he could relate to Sasa's never-say-die, always competitive attitude and I, as his business partner, could relate to how everyone else feels in the presence of that kind of intensity! This film is essential viewing for every barista who has any aspirations of winning a Championship to see the crazy level of work and dedication it takes to win or get anywhere close to the top.
Follow them, Coffee Heroes Film, to see when the digital version will be released, which will be very soon!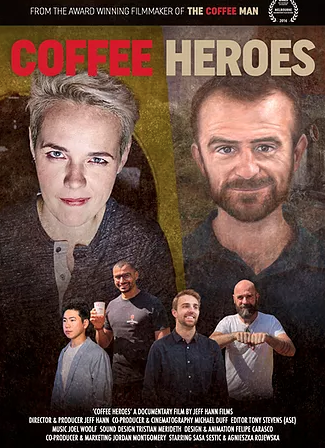 Coffee Heroes follows an outwardly calm Polish barista and her journey to becoming the first female World Barista Champion. She forms an unlikely partnership with a fiercely competitive and coffee obsessed former champion as her coach.​
After winning the World Barista Championship in 2015, Sasa Sestic's obsession for coffee and competition is still paramount. In 2018, Sasa is mentoring Aga (Agnieszka Rojewska), the young barista from Poland who recently won the Polish Barista Championship. This is the 18th year of the World Barista Championship and Aga is on a mission to be the first Polish competitor and woman to ever win this competition.​
Aga and Sasa travel to remote Ethiopia, the birthplace of coffee, with a group of coffee connoisseurs. They are on a wild, off the beaten track adventure in search of the 'perfect' coffee to take to the World Championship in Amsterdam.
Coffee Heroes is a story of an unlikely partnership, a love of coffee and the obsession to fulfill a dream! This film is about history in the making for the coffee world.