Always more Glitter!
'Diversity' is a buzz word often thrown around with good intentions, but not enough action. T.Ben Grimm, a veteran coffee competition participant, wanted to create a platform to support, encourage and uplift those marginalised by society and start to create a new normal in this space. But they didn't just talk about it, they started Glitter Cat Barista Bootcamp. T.Ben and his growing team work with kindness and fierce determination and we can't wait to see this movement expand.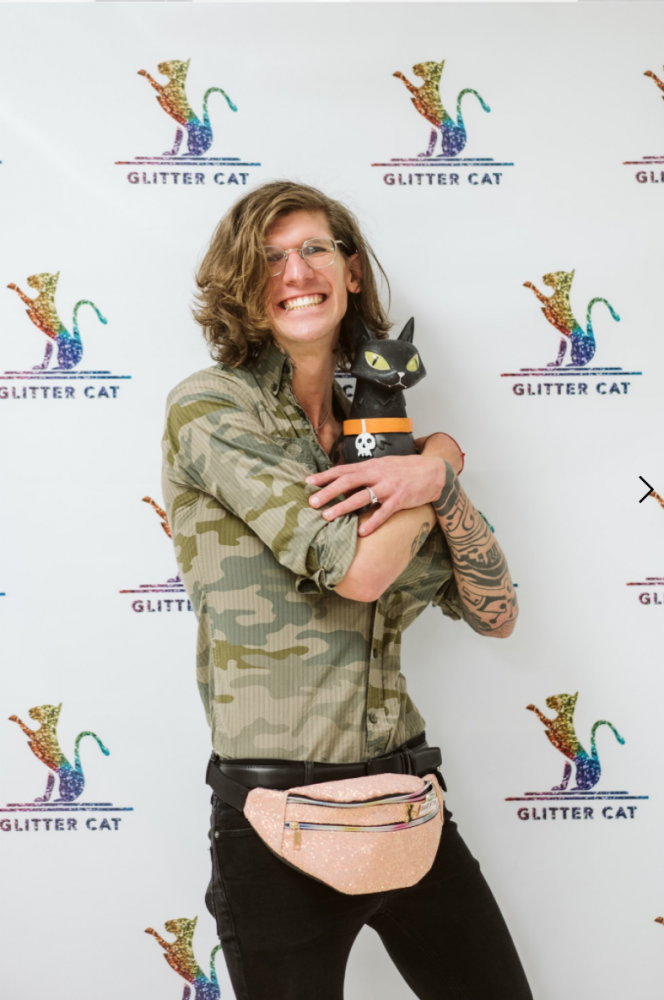 Hey T.Ben! ©Hey Tay Photography
---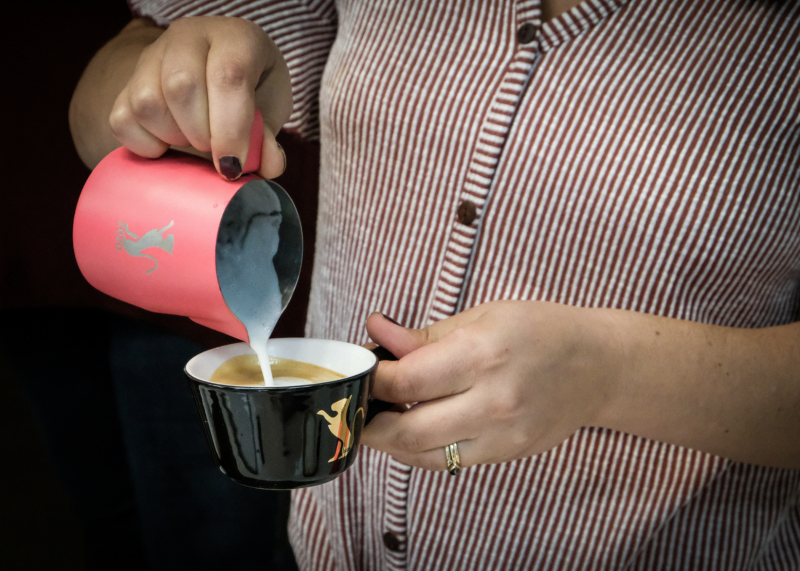 Barista: At the Barista Bootcamp Laila Ghambari teaches milk sharing using a customized Slow Pour Pitcher into a special Created Co mug. Both Slow Pour & Created Co have been sponsors of Glitter Cat since their inception. ©Liz Chai
Can you please share your motivation to start Glitter Cat Barista Bootcamps?
I started imagining Glitter Cat on the tails of taking second place at the United States Barista Championships 2018. While the finals that year had a fairly diverse group in many ways, most of the competitors tend to be cis hetero white men and this has been a point of criticism for years in the competition circuit. I was sitting on a bus with my husband on the way to Portland for Black Coffee, an event space for black coffee folx to come together and have their voices amplified and tell their stories, and I looked at him and said "Baby, I want to compete again but I will only do it if I find a way to help change what the average face of a barista competitor looks like." That's really the start of it and once I asked for help from industry professionals, it took off from there.
How are the participants of the Camps selected?
Participants apply online and are chosen by four selection committees specific to which competition they'd like to compete in. All selection committees are led by Ashley Rodriguez (Boss Barista) and each have three other leaders in the industry who choose based on willingness to compete and how much of their personality comes out in their application. They have the option to write a traditional essay but we really get to know their full potential through the optional video and audio submissions. We encourage them to use those to tell us anything they can about themselves. We've seen everything from poetry to someone shotgunning a beer. You don't need much if any coffee experience to be a Glitter Cat.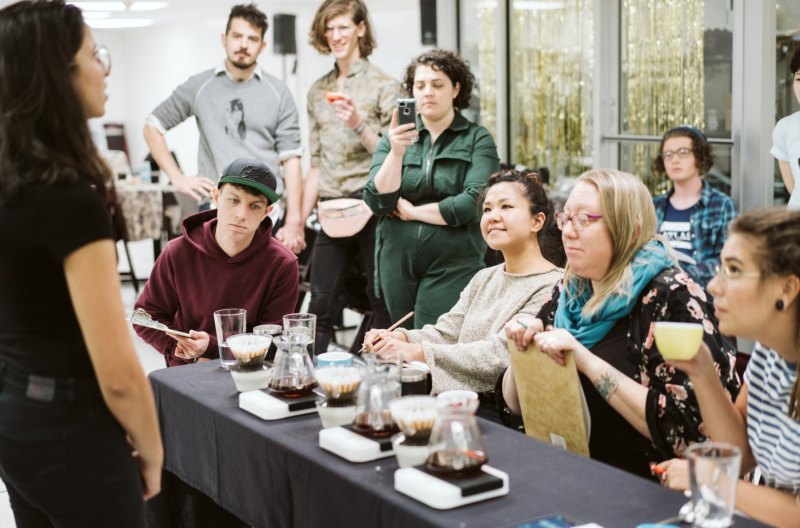 Brewers: Part of each of the Bootcamps was giving a full presentation on the final day of the bootcamp. Pictured here is Demi Chacon finishing her brewers cup presentation to a panel of US champions and coaches! ©Hey Tay Photography
What was the crystallising moment that you realised, wow, we actually made this thing happen!?!!
There are so many moments. Year One, we had a decal wall with all 25+ of our sponsors with sparkling lights shining on them. As we locked the glass cafe door at 1am before the start of the Bootcamp at 8am, the shivers and joy that zoomed through me were wild!
When I think about the past 18 months (yes only 18 months!), I look back and I could not tell you US Coffee Competition or Qualifier placements or even remember if someone DQd or not. I just remember the faces of the Glitter Cats reuniting at competitions. First year competitors see four or twenty familiar faces and they instantly know they can walk up to someone and feel seen, safe, and encouraged.
Oh, and also 2019 US-CIGS (Coffee In Good Spirits) was 95% white men. This year, that looks incredibly different. 11 out 24 national CIGS qualifiers not only are Glitter Cats but have made that stage look and feel different.
What advice can you offer to humans that feel marginalised out there right now?
You are worth it and you deserve to be listened to and compensated and you owe nothing to your employer outside of what is written in your job description. If they ask you to do work outside the scope of your position reply with what the compensation will be.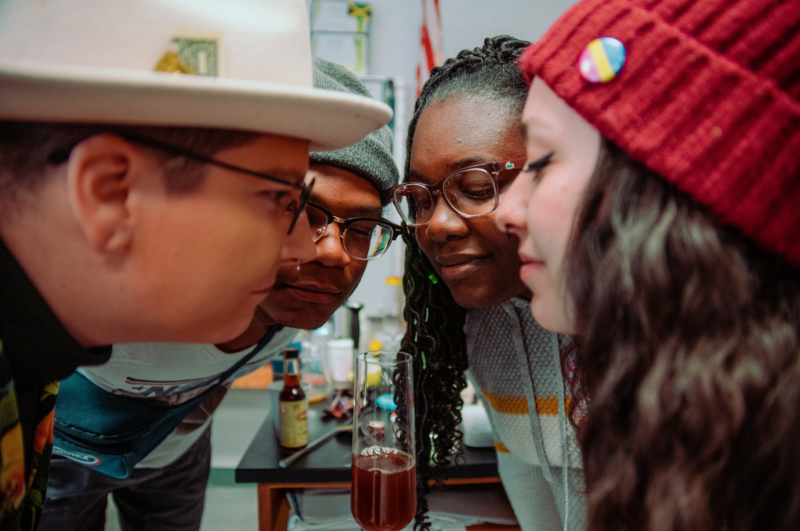 CIGS - A good cocktail is good smelling cocktail! Led by Rose Woodard (2018 US Brewers Cup Champion, right), Glitter Cat CIGS trainees Mika Turberville, Jalen Kelly and Cyrenthia Ngueya (right-left) were just a few of the folx who trained at the inaugural CIGS Bootcamp held in conjunction with Kohi Coffee in Provincetown, MA.
You're shaking things up in the coffee competition space, beyond the competitions what would you like to see in the global coffee culture and what role do you think coffee and the coffee community can play in changing broader cultural perceptions?
Honestly, it's tough to see this through the lens of a global coffee culture because we've seen and been told that focusing on lack of representation is a very United States American way of looking at the problems we face. Personally, we would love to expand outside of the US but that involves working with coffee professionals in different countries to see where they are in terms of representation and needs in their competition scenes. Ultimately, this isn't just about competition even if it is the focus. One thing we tend to see from those who do well in competition is access to better job opportunities. We want to see major important figures in this industry who represent the full spectrum of coffee professionals and consumers.
Tell us about your future plans for Glitter Cat? Will we be seeing you back on stage at some point? Or have you found your calling in running Glitter Cat?
I'm currently assessing what I want to do with competition. Continuing and expanding Glitter Cat is definite. As far as I'm concerned, I might not be done competing. We'll see. We'll make adjustments and expansions to Glitter Cat based on what we've observed in the past two seasons to get more people involved and support them even more than we already do throughout the competition season. So many of our competitors are independent and competition is incredibly expensive, prohibitively so for a working barista. We want to figure out ways to cover many of those costs for them.
If you had to pick out just one Glitter Cat that exemplifies what you're trying to accomplish, would you be able to share their story with us?
With 49 people having gone through this program and so many more instructors and volunteers involved, there is no one person who exemplifies what we're trying to accomplish because they all inform and expand upon what a Glitter Cat is. When one of this year's members was asked on the competition stage what a Glitter Cat is, they paused, sighed, smiled, and said, "It is so many things and more than I ever could have imagined." With potentially 40 new Cats coming in next season, being a Glitter Cat will take on so many new and special meanings, so not being able to define who exactly exemplifies it is so comforting to me. I may have started it, but everyone defines it together.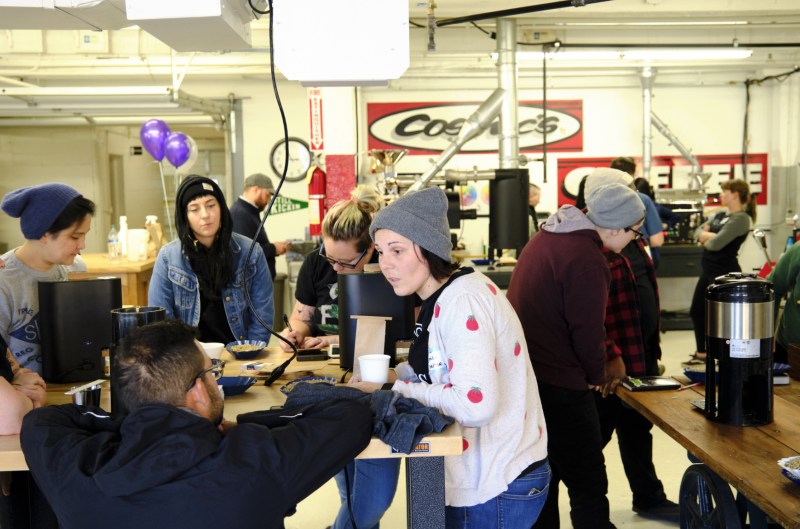 Roasters - Hosted at Mill City Roasters in Minnesota, the Roasters bootcamp seemed non-stop! After each roast coffees were cupped and profiles adjusted, and repeat! Emily Smith, Alex McClean-Egan, Baylee Engberg, and Sum Ngai are practicing on Ikawa sample roasters to prepare for production roasting.