Dear wonderful people who still read Print Media.
Our 33rd Edition released in the Spring of this year of 2020 is on shelves now.
She is beautiful and we are fairly proud of how she turned out. We had a crazy idea of visually representing the idea of creating more transparency in coffee and how we may see pretty cups of coffee on a regular basis, but often aren't aware of the humans who bring this amazing crop to life!
There's also a little treat in there courtesy of the lovely folks at Red Espresso, a sachet of their Instant Spiced Chai Latte powder, so delicious!!!
As well as all the other amazing stories!
Thank you to our incredible Advertising Partners who believe in what we do and understand that growing the culture around coffee is so important to growing the industry. Genio, Morrico, Importalia, Equipment Cafe, Woodlands dairy, Alpro, Marunic, BWT, Cape Cup, Bio Africa, Minor Figures
We hope you enjoy this Issue! You can get hands on a copey from on of amazing Distributing Cafes or you can order it now to be delivered straight to your door!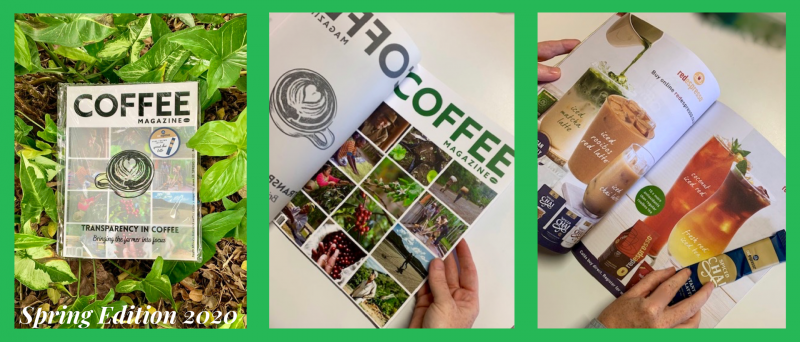 Cover Story: Transparency in Coffee
How much should we know about how much coffee actually costs? Organisations and Roasters around the world are joining forces to create more transparency in this system with the goal of making it a more sustainable profession for farmers. And happy farmers mean a steady supply of the good stuff finds its way to our daily cup.
Profile: Father Coffee - A Spectrum of Flavour
With "Fresh to Death" as their mantra, you know you're going to get the goods from the ambitious crew at Father Coffee.
Brew: Ultimate Upgrades
Taking your home (or office coffee to the next level). We look at 3 different home set-ups that will take your coffee to the next level, and we show you an office setup that'll have your clients dropping in for no other reason!
Roast: Coffee is a fruit
Mbula Musua takes us through the life cycle of this magical cherry and all it goes through to get to you.
Origin: Peru - The next Generation. In an uncertain time for Coffee Farmers all around the world, Peru's younger generation are taking hold and changing the way the country's coffee farmers approach their work.
Coffee Magazine Awards 2020: All the winners!
What a rollercoaster of emotions it has been. Check out who took honours at this year's Awards and find the best coffee near you.
Smart Coffee: How technology will change the way we brew. What does brewing coffee in the future look like? We look at smart devices and how they help us brew.
DGC: Sweet Dreams are made of These
We have a soft spot for any and all of these cold and creamy delights, so we've highlighted a couple ice cream innovators, gelato geniuses and one nostalgic soft serve to have alongside or even inside your next coffee treat. There's something for everyone! I scream, you scream, we all scream for…