Theo Snickers is one of the stalwarts of the Cape Town coffee community, so it was a real privilege to meet up with him at his Camissa store in Maitland, Cape Town, to taste some great batch brew and catch up. He has a really wonderful vibe, like no matter what comes his way, he's unflappable. Even flow...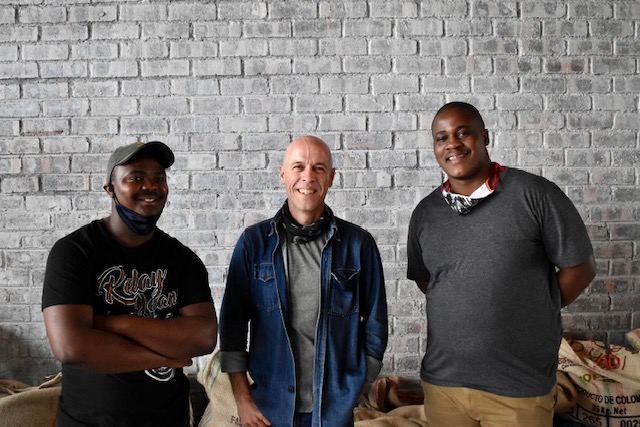 The Camissa Team: Sipho, Theo and Sikulule.
The first thing that you notice when entering the store is how big and roomy it is. There is a real sense of space and peace about the L shaped layout. A nice big retail area, the espresso bar, then the roasting on the opposite side and around the corner a really cool work space with high tables, a few low tables and a comfy looking couch with a coffee table. They have a great range of equipment for sale too.
The team of 3 on the floor are highly proficient in every part of the business, from brewing coffee, to roasting and everything in between. The star of the show is the dual setup moccamasters on the bar, which Sipho uses to brew us a rich, sweet and wonderfully smooth Rwandan from Baho coffee.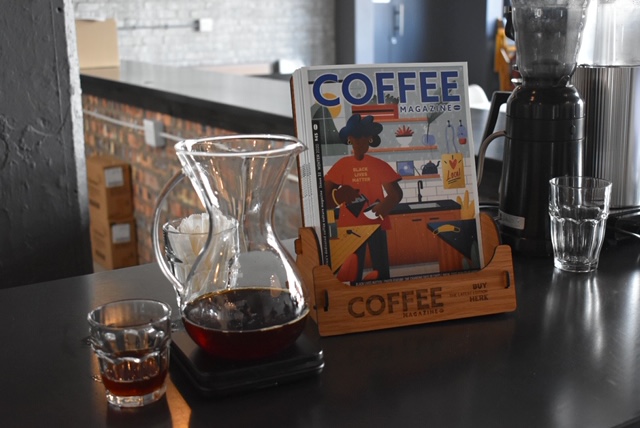 At Camissa you can enjoy a coffee and read all about it at the same time!
Theo tells us about his travels to meet Emmanuel, the producer (we covered Emma's story in the current print issue of Coffee Magazine, pictured above) and the relationship he has formed with him and other coffee farmers over the years. "The goal is to get something completely unique that no-one else has" he says. "My home customers love getting something new, but most of my customers are businesses and like to keep the consistency of the coffee they know!"
If you are in Cape Town looking for a really comfortable, quiet and chilled spot to get a bit of work done, enjoy delicious coffee and need any kind of coffee insights, from origin stories, to roasting, to brewing or anything else, Camissa is where you need to be! They also launched a Comeback Coffee campaign to support coffee businesses coming out of lockdown.