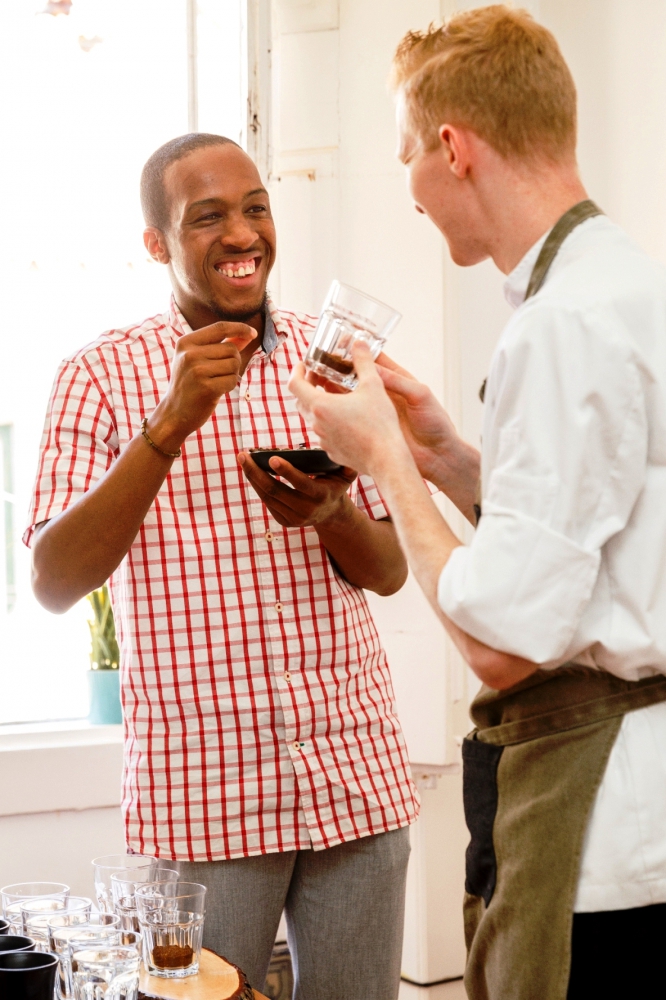 There are two South Africans making a name for themselves in Lisbon, Portugal – one is brewing some of the best coffee in town while the other is baking sought after cakes and cookies for hungry customers. And despite their very different backgrounds, the two young men not only work together but are the firmest of friends.
Nqobile Bright Mbambo, who comes from Umlazi in KwaZulu Natal, and Hendrik Pretorius who hails from Heidelberg in Gauteng are both employed at Simpli, one of the most popular coffee and pastry shops in Lisbon. Locals and visitors have awarded the venue five stars on Trip Advisor and rave about the freshly roasted coffee and the cookies, cakes and other pastries that are made on the premises several times a day.
Mbambo (28) started working in the hospitality industry in 2012, first as a waiter at Nino's Restaurant before joining TriBeCa Coffee and working as a barista in restaurants in both the Westville and Windermere Centres and later at Love Coffee in Morningside. In 2018 he got his big break and was offered a job in Istanbul, working for Espressolab, Turkey's most innovative coffee chain. A year later he moved to Lisbon to take up the position of head barista and quality control at Simpli.
Pretorius (26) is the cafe's pastry chef and studied and honed his craft at Capsicum Culinary Studio's Pretoria campus in 2017 before taking up a position in Dubai, first at a newly opened Japanese concept restaurant called Kyo Café and Lounge and then at the Renaissance Hotel's Morimoto Restaurant. Two years later he was offered the job of pastry chef at Simpli, where he has been baking pastries for satisfied customers ever since.
Put two South Africans together in a foreign country and they are bound to become close friends, which is what can be said of Mbambo and Pretorius. In addition to working side by side six days a week, the two also socialise outside of work along with locals whom they have met and expats who have made the city their home.
The duo are also planning on writing a cook book together, one which will be around pairing coffee and coffee-flavoured beverages with cakes and desserts.
So are they planning to celebrate Heritage Day and how?
"After work, we'll get together with some of our South African friends - including King, a DJ who comes from Joburg, and Musa Magwaza who is from Durban - and go somewhere for a nice simple dinner," says Pretorius. "Later, we'll head back to my place for coffee, courtesy of Mr Bright (my nickname for him), and tuck into my favourite cinnamon cookies - which I learned to make from my Mom - as well as a milk tart, both of which I will have baked earlier in the day."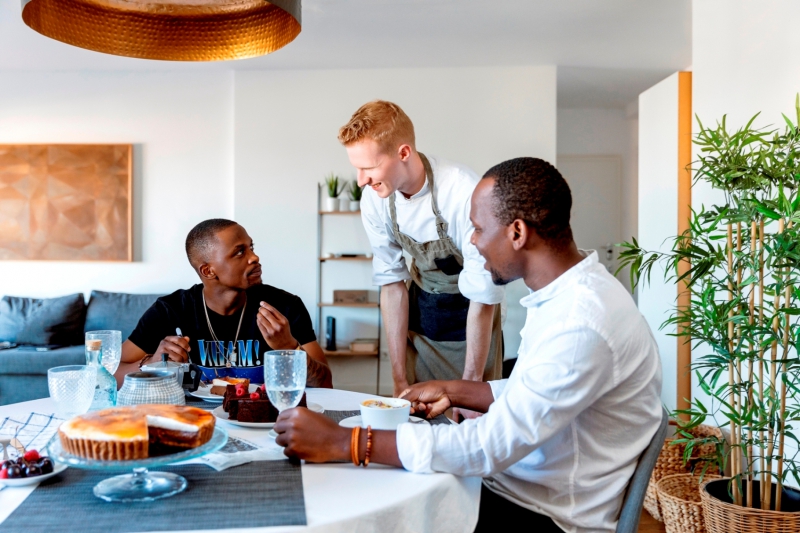 Adds Mbambo: "We'll have a good laugh, toast all our friends and family back home, reminisce about old times and then get some sleep as we both have an early morning start!"
Hendrik Pretorius' Cinnamon Cookies (makes 35) perfect for with your delicious cup of coffee.
Ingredients
250g butter
300g sugar
2 eggs.
375g flour
10ml cream of tartar
5ml bicarbonate of soda
2ml salt
40g cinnamon powder
For the cinnamon sugar
100g sugar
20g cinnamon powder
Method
Cream the butter with the sugar. Add the eggs and mix together
Sieve together the flour, cream of tartar, bicarbonate powder and 40g of the cinnamon powder
Mix the egg mixture with the flour mixture
Let the mixture rest overnight
Preheat the oven to 180°C and prepare a baking tray with baking paper
Mix the sugar and cinnamon together to make the cinnamon sugar
Divide the dough in balls of 30g each and roll them into the cinnamon and sugar mix and press them down slightly on the baking tray
Bake for 15-20 minutes until they are slightly crispy on the bottom