Khulekani Mpala is not only a SCASA coffee competition veteran, placing consistently in the Top 6 baristas in the country and a revered Barista Trainer nominated in this year's Coffee Magazine Awards, he is also just one of the kindest and most inspiring humans you will meet. He, like everyone, has had to tuck and roll during this time and if you are in Johannesburg you can support his new coffee business.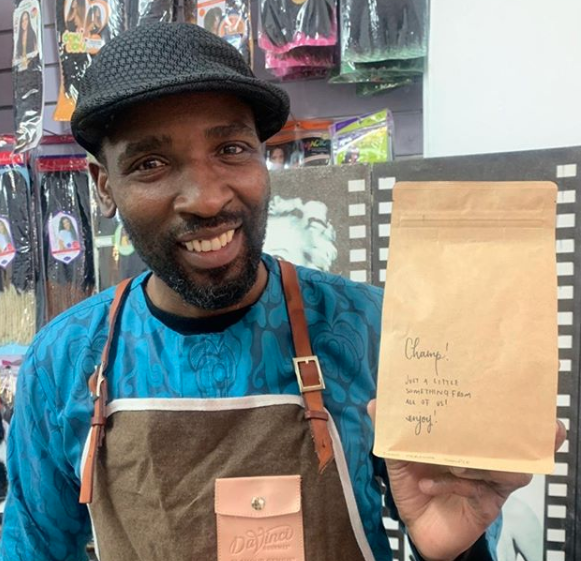 Tell us about your new venture!
I recently opened up a manual brew bar. Here I am serving coffee brewed using only manual brew methods. There is no espresso machine or anything fancy. But I've made it so exciting by making sure that I have an exciting coffee each week, and operating the bar myself. This is a very interesting time for me and it has given me the opportunity to connect with the coffee community.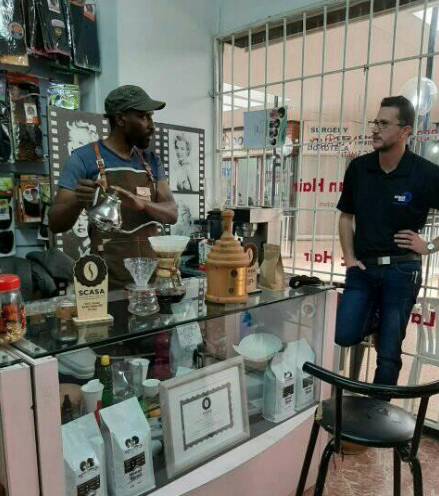 Look at all those awards! Khulekani has been visited by lots of friends from the coffee community.
Where is your manual brew bar located?
My brew bar is at a corner right inside my wife's hair salon! It's shop 243 Oriental Plaza, Bramfischer Drive, Randburg. My wife's business is called Norma's Beauty Hair Salon. So we do coffee and hair! I've been on temporary lay off at work since March. So to remain sane I focused all my energy in helping my wife Norma at the salon. I would brew coffee for both of us, and the aroma intrigued everyone who walked in or past the salon. As people asked questioned about the aroma and the coffee. I saw an opportunity in the market.
What methods can customers choose from?
I do Chemex, V60, french press, filter coffee and even one brewed using the Ethiopian traditional Jebena! The price of coffee depends on the brew method, with filter being the cheapest and chemex costing more than others. This week I am serving the Danse Mormora from Ethiopia roasted by Beethoven Coffee Company.
What is your favourite brew method?
My favourite brew method is the Chemex. I love it for its ability to bring out the complexities of a coffee and at the same time giving me a very clean cup.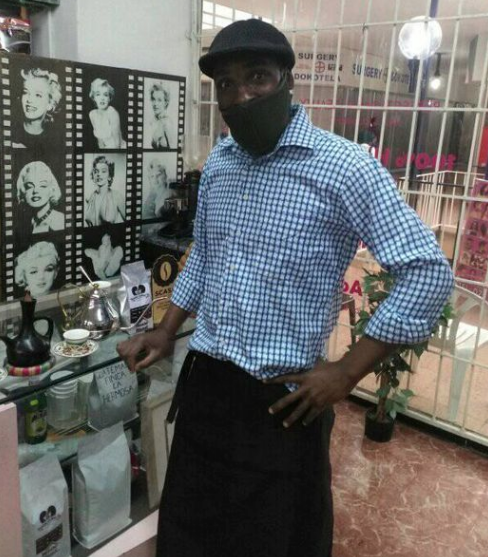 What have you learnt during this time of COVID-19?
During this period of Covid19 I have learnt not to take anything for granted. The importance and value of all things that seem small and relatively insignificant during normal times. The value of time we spend with other people. Nothing in life is guaranteed, not your job, or your plans, or your relationships. We need to adapt or die!
You are nominated in the Barista Trainer of the Year category for the Coffee Magazine Awards 2020, do you look forward to getting back into that in the near future? What is your favourite part about training people in coffee?
Being nominated for Barista Trainer of the Year is a huge honour for me. I am humbled by the fact that I'm being recognised for doing something that I love doing everyday! I have always loved training and sharing knowledge, and I look forward to getting back to that soon. I may even start home barista courses right here in my brew bar!
My favourite part about training people in coffee is seeing an individual grow to a level where relationships also grow from master and student to true friendships.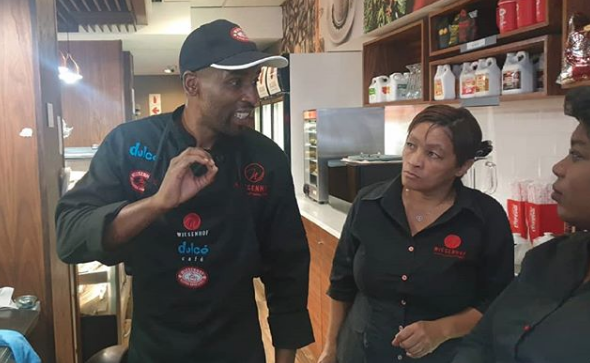 It's all in the details! Khulekani with some of his students.