We have been lucky enough to meet this amazing coffee couple behind Brüder Coffee Roastery through their involvement in every coffee event they can get to to! They are super passionate and their business is thriving because of it! We caught up with Pieter and Maryke Schoonwinkel so they can tell you their story.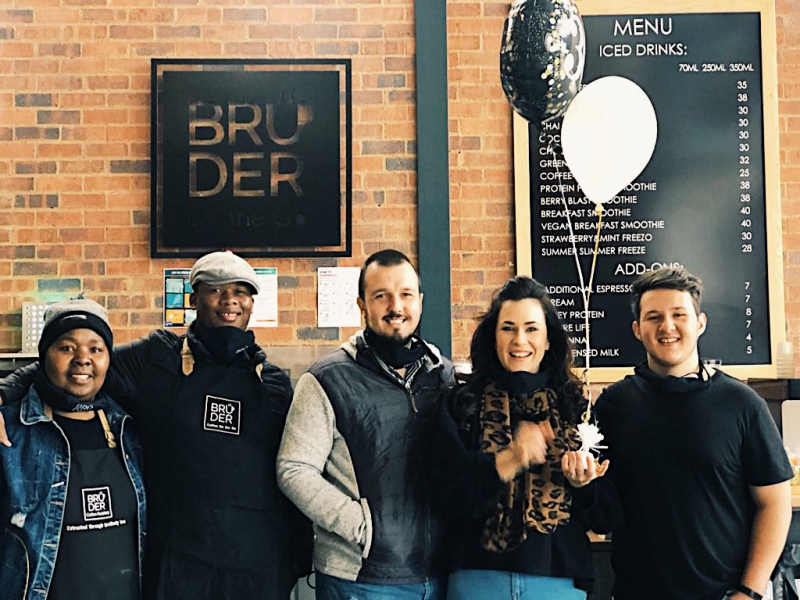 1. What was it like putting together your beautiful cafes?
We were having a blast choosing equipment & decor! For a long time it was a BIG Dream for us to have our own coffee station and finally things happened at the right time & space! About a year ago we arranged a meeting with the owner of Arnold&Wessels Design & Print Company. We told him the dreams and plans we have for Brüder Coffee and that we are looking for a modern space where people can gather and meet around a good cup of coffee! All of our ideas, the Co-working Spaces and the "look & feel" collaborated with theirs and so it all worked our perfectly!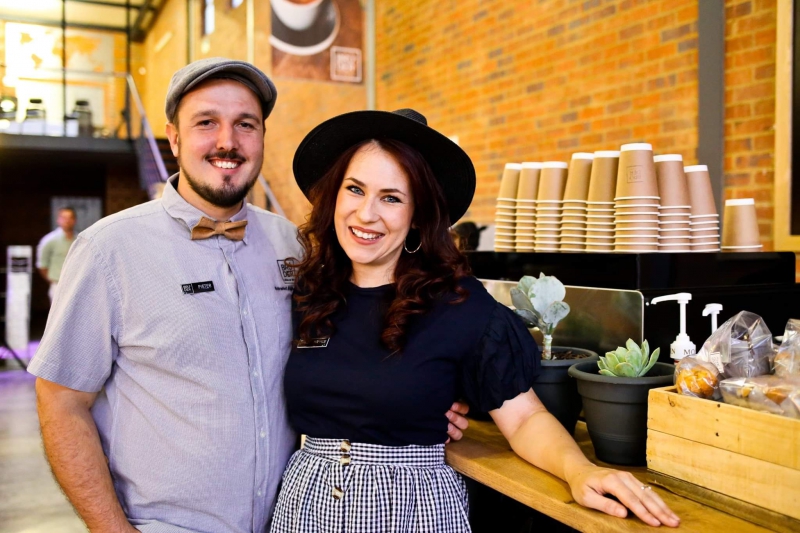 2. Who are the key players in your team? And can you tell us a little about each of them
At Brüder every BRÜ matters, so everyone in our company is key! The Brüder Team consists of 4 SCA Qualified Trained Baristas and 3 Brüder Coffee Trained Baristas, a Coffee Roaster, a Taster & an all-round coffee guy! We all love coffee & love to bring smiles on people's faces! Pieter is the founder & roaster of Brüder Coffee Roastery and wifey, Maryke tastes & also eats the whole coffee beans to make sure every bean goes out the way they should! Together they manage 3 Brüder On the Go Stations in Klerksdorp!
Brüder started with one Barista, Tsela Ramofolo known as "Folo" that is our head barista @ our Main Coffee Station @ Arnold&Wessels Design & Print Building. We believe he can become one of the best Latté artists in South Africa with his passion and brilliant skill for Latte Art...we call him "the Legend". He is also an incredible baker and bakes the most delicious quiches & cookies! He makes every customer feel important and builds great relationships so the customers follow Folo wherever he is. Not long after Folo, we found Emily, a super loyal lady that has a passion to serve great coffee! She manages our Senwes Coffee Station on her own. Emily also has great Latte Art skills and the people of Senwes adores her and want her to stay there forever! Then we have "mama" Rebecca that also makes a good cuppa but her specialty is making delicious sandwiches & wraps! She is full of joy & makes everybody laugh, she brings out the best of every employee and customer that enters the BRÜDER Coffee Station! All the kids LOVE Rebecca! Rebecca also has a lot of experience with sales & running kitchens…she operates like a machine! Then our latest boys, Thato & MJ is our baristas @ Brüder On the Go Food Lover's Market Klerksdorp. Thato is the creative guy and also has his own Cocktail and Clothing brand. Thato is a guy with many talents, he studied Hospitality at Wits University. He has a passion for tasting coffee and likes to explore with syrups and inventing new drinks! MJ has a lot of coffee experience and also does next level latte art! He is kind & speaks the funniest "afrikaans". All the customers likes MJ and he enjoys building longterm relationships with them. Then we have Kobus, the all-rounder. He can make very good coffee (also a SCA trained barista) and does all the station's purchasing & deliveries! He also helps us organise things at the roastery! In general a helping hand, they call him the "Mini Pieter" of Brüder Coffee! Kobus loves to learn more about coffee every day. He also has great ideas to improve our admin system.
3. What is the ethos of your business?
We believe in quality & consistency, we strive to extract every single shot of espresso to the SCA standard. We believe in well trained baristas to ensure that our customers will taste the good quality of our coffee. With the help of Stevo Kühn our baristas were professionally trained and received their SCA certificates. After a week our customers told us that they could taste a difference in the coffee that we serve and that is what we stand for…Quality and Consistency in every cup! Some baristas call Pieter "the boss" but then he tells them only a dog has a boss. We are all co-workers and one big Brüder family.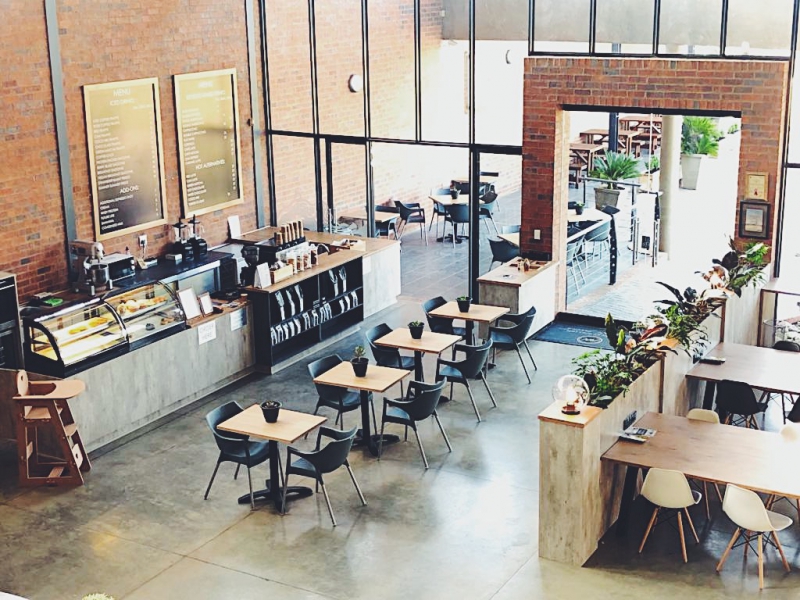 4. Tell us what makes your Brüder spaces special to you?
Every Brüder On the Go Station has a unique look & feel. The Brüder Team is a family and every family member knows what is expected of them and everyone is working towards the Goals Brüder wants to achieve. We can see that every station's baristas build great relationships with their regular customers! Pieter & Maryke (owners) is super proud of every barista at Brüder Coffee Roastery and can see them grow and improve every day! We are truly grateful for every person in our company and it is nice to see how they care about the company and the customers. We often find people in town that complements our baristas on their friendliness & superb skill!
5. What do you love most about being in the coffee industry?
Coffee speaks a language that everyone understands and coffee really brings people together. We love all the coffee people in the industry. We have never experienced a community where everyone in the industry are friends, always helpful & open to share their knowledge...Even with the barista competitions there is a good & positive spirit.
6. How important are regulars to the fabric of day cafe life?
We treat regulars like family! When we opened @ Arnold&Wessels in October 2019 we had to build a brand new customer base and we were very quiet most of the mornings. We started with an Early Bird Special every morning between 07:00-09:00. After the word of mouth spread we started to get regulars every morning...people all over town started to visit our station even if our station was out of their way to work! The main goal with the strategy was for people to taste our coffee & begin to love it. Now they say they can't start their day without drinking our coffee anymore. Our baristas have started to get familiar with our regular's orders and started to make the coffee even before they placed their orders. We love having our regulars and they help us a lot in improving and growing our company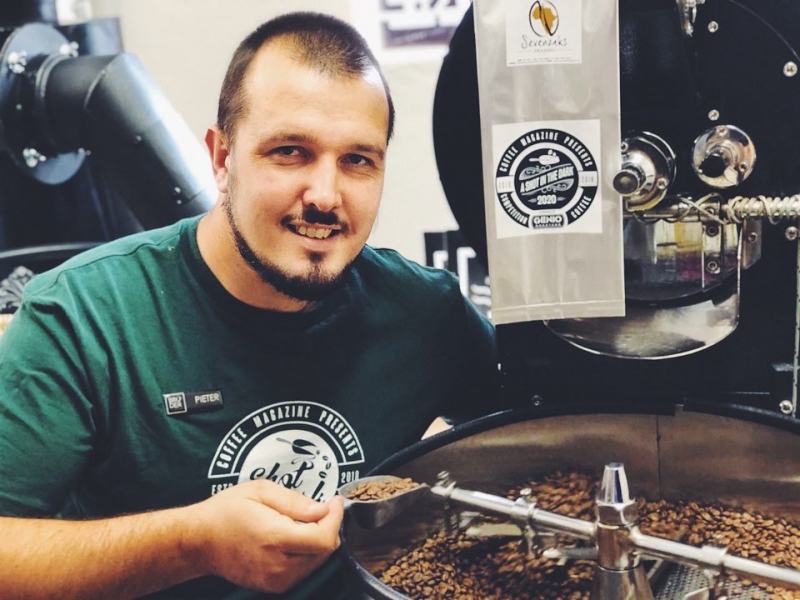 7. Name one menu item that we would never expect or have heard of before - a uniquely Brüder creation! (food or beverage)
- The Turkish Delight ("It tastes like a party…but in your mouth"– Thys Bruwer (Brüder customer))
- Our Biltong & Balsamic Onion Quiche is amazing
8. How can people get coffee from you during this time?
- We sell our beans & grounds online www.brudercoffee.co.za or send a whatsapp with your order to 0849199142
- We have Coffee bags & delicious home made cookies at all our stations
- Brüder Coffee On the Go – Arnold & Wessels Design and Print Building
- Brüder Coffee On the Go – Food Lover's Market Klerksdorp
- Brüder Coffee On the Go – Senwes Headquarters Building
9. What have you learned about yourselves and others that you didn't know before this?
Pieter & Maryke learned that they love people and love to spend time with their baristas & co-workers. We saw in this time that people need each other. We also saw that our company can help people to get closer to one another and build long lasting relationships. To serve other people is hard work but it brings satisfaction that money can't buy. If you are in the coffee industry for money you're making a mistake because it is all about people and serving a product that brings people together. We love what we do and we learn more every day and that is what is awesome about the Coffee Industry!!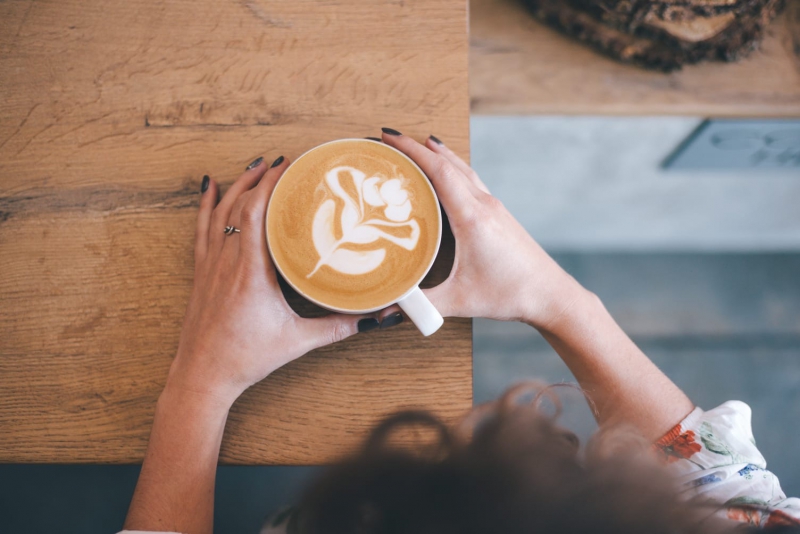 10. What would you like to tell everyone in your community at this moment?
Brüder is planning to host a few incredible coffee events when Covid19 is more settled, but for now we want more people to join us for cupping sessions. Our mission is to educate & uplift the standard of coffee in our community! The Klerksdorp Coffee Community is still very small and we would like everyone to know there is better coffee out there and there is so many different ways to brew excellent coffee without spending a fortune, we believe coffee is for everyone. We have a saying: Every BRÜ Matters!