Dear Ceramic Cup,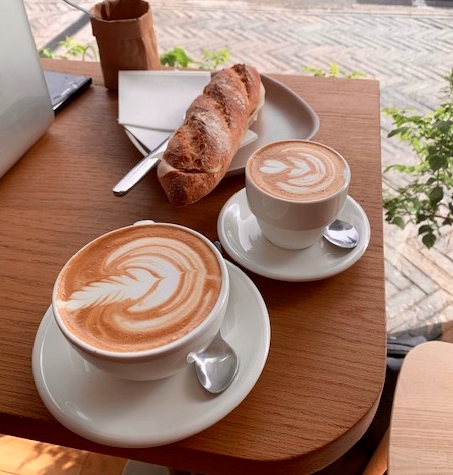 Just look at these two cheeky ceramics, next to a tasty baguette, with a teaspoon no less! sigh.
Firstly, We know that during this Lockdown, you may have seen us using take-away cups in your absence, but let us assure you that you are not forgotten. Indeed, the feeling of cupping our frozen hands around your warm rounded form as you house our precious lattes, cappuccinos and cortados is a love affair never far from our thoughts.
Secondly, it's not your fault dear Cup. Nobody could have seen this COVID nightmare coming and if anything, we were on a crusade before this pandemic struck, to rid take-away cups from our coffee lives forever! Yet here we are, just grateful that our favourite café's, Coffee shops and Roasteries are open once again to serve us coffee – even if it is on the roadside, through the takeaway hatch or served to us on the proverbial bargepole, lest we encourage the wrath of the authorities or worse, the social justice warriors on Disgracebook.
And what of our beautiful latte-art? Your perfectly formed bottom, your luscious curves that allow our silky, velvety textured milk to caress the contours of your perfect shape as it hits the espresso shot and marries into a luxurious and beautifully crafted coffee experience. I mean, have you tried to pour into a takeaway cup? Of course you haven't, you don't have any arms!
We miss you dearly in all your shapes – from you, the petite little espresso trinket, so delicate and enticing to the voluminous latte vessel that radiates heat through our hands as we sip from you. You are loved and missed. We're sorry if we ever took you for granted.
Don't forget about us either – we will soon be back in each others arms ( well, hands really, but it doesn't really fit the theme)
Love,
Your daily admirers.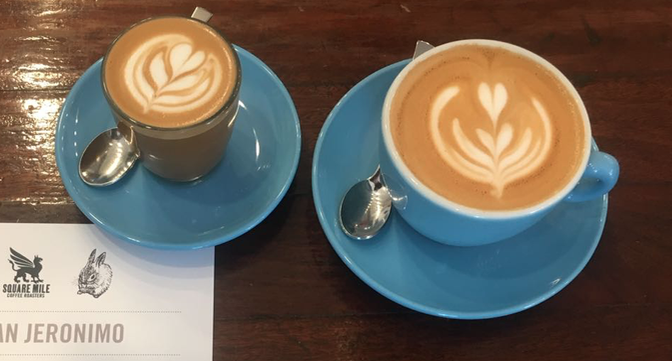 Sweet blue ceramic goodness! And a little trendy cortado glass. Sigh.