When Eduardo approached Marunic Trading to start the import of coffee from South and Central America, he knew he would have to get to know the community to be successful, so he jumped right in!
Hi Eduardo, tell us a little about your business and how you came to be living and working in South Africa?
MARUNIC TRADING is a commodities trading company that has been specializing, for the last 10 years, in the supply of both hard and soft commodities as well as providing logistics and transport to and from South Africa and neighboring countries.
Marunic Trading's home base is in George in the Western Cape and stands under the directorship of 3 brothers with a Team of about 45 other staff members.
I met one of the directors, Mr. Eugene Van Loggerenberg, a few years ago and after sharing my passion for coffee with him, him and his brothers completely embraced the idea and trusted in me from the very beginning of importing green beans from South and Central America into the South African market. Fast-forward 2 years, we not only seized the opportunity to grow but also to help others grow with us.
I've been visiting South Africa since 2014, which not only resulted in the establishment of a coffee business but also allowing me to get involved in social and spiritual development programs serving poor communities in Du Noon, Khayelitsha and also in Namibia, and this passion for people, for life, for those ones who is under difficult circumstances has a very special place into my Heart.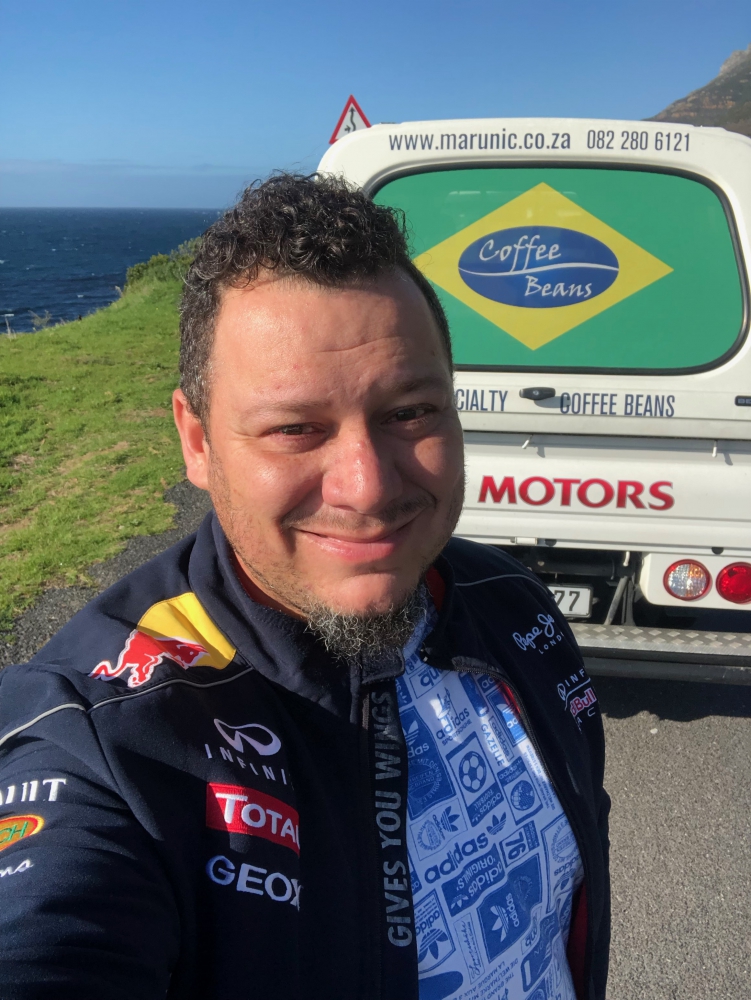 Tell us about how you got started in coffee and your background?
I am a qualified Business graduate and post graduate, also a PMI certified Project Manager for large companies in Brazil. My life was mostly spend on the Road/flights, and doing projects planning and management for large buildings such as Airports, Hospitals, Stadiums etc.
But it is actually my passion for people that sparked my journey into the wonderful world of coffee. My house has always been a place where friends, family and neighbors, they were welcomed for a good cup of coffee or just chill together.
Being the people's person that I am, I met a coffee farmers son while studying and he introduced me to their farm, the plants, the coffee and the culture of coffee. I was instantly hooked. And from that day I have been researching, training and buying coffee beans, coffee machines and everything that goes along with it.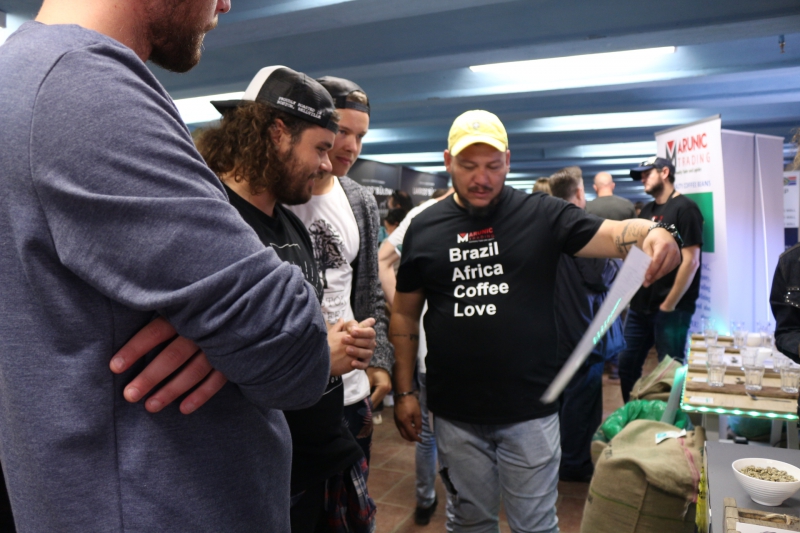 What makes Brazilian coffee so special?
I deeply love Brazil, my people, who we are and what we have to give to the world. We have a huge heart for people.
But honestly I can't say that the mass produced Brazilian Coffee is so special.
As it stands, it is very well accepted into blends for its characteristics of low acidity, Chocolate, sweetness and nuts and has a very good market price.
The big Brazilian coffee producers, are doing great in Fair Trade, in preserving the environment and fairly remunerating the workers and producers.
As a Brazilian coffee guy I work hard to change the perception of Brazilian Coffee being only a cheap coffee with very little else to offer.
There are very small producers in Brazil that are doing exceptional work in producing a delicious coffee beans (challenging the current Brazilian coffee beans status quo), who in my view will reach the highest positions around the world very soon.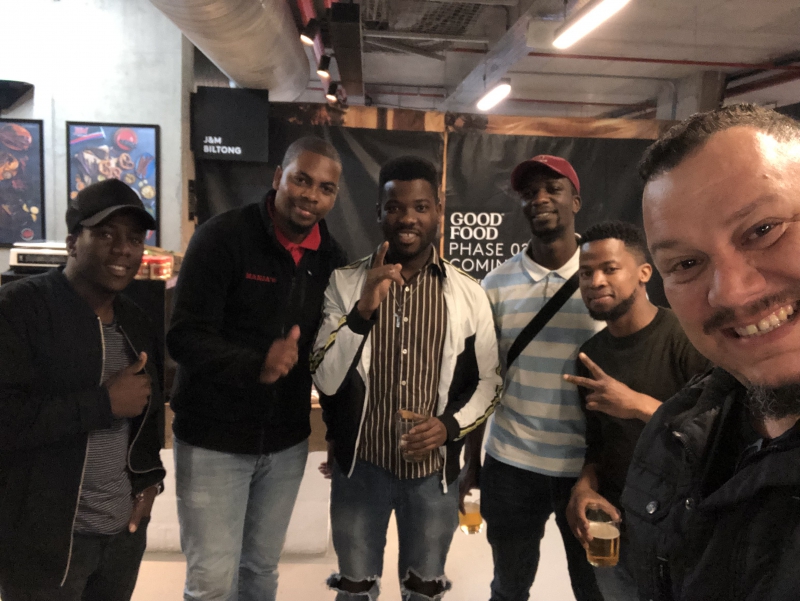 In our last magazine, you put together such a cool Coffee Adventure - that sounded exhausting! But a lot of fun too, you clearly have a love for what you do! What motivates you to work so hard for coffee?
I have three things that motivate me – PRAISE, PASSION AND PERSISTENCE.
Firstly, Praising God for every gift He placed in me and applying these gifts for His glory
Secondly, PASSION. It is my secret key for everything I do. Passion is the difference between doing things well and doing it well, effortlessly.
And finally PERSISTENCE. Some of my clients will testify that it was my persistence that sealed the deal. I do believe in what I am doing, I do believe it is good, I do believe its worthy… So I will persist!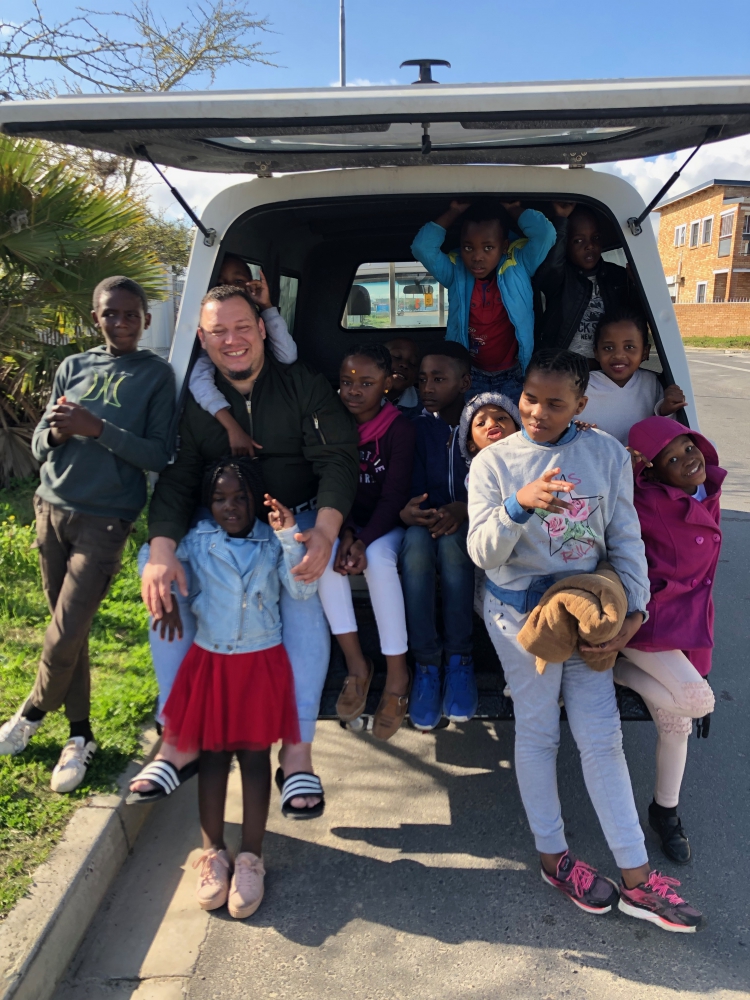 You have been very involved in the SA Coffee Community since you turned up on the scene a few years ago… you came to Creative Coffee Week, you have attended Expos and SSCASA events… which events are your favorites and why?
If I could and I would be present at every event, but unfortunately someone has to run the coffee business.
I do no have a particular favorite but I must highlight the Coffee and Chocolate event in JHB. It was simply amazing as it provided great learning opportunity and I could get involved.
To me, as long it is well organized, with Coffee and People everywhere, I am happy…. Hahahahah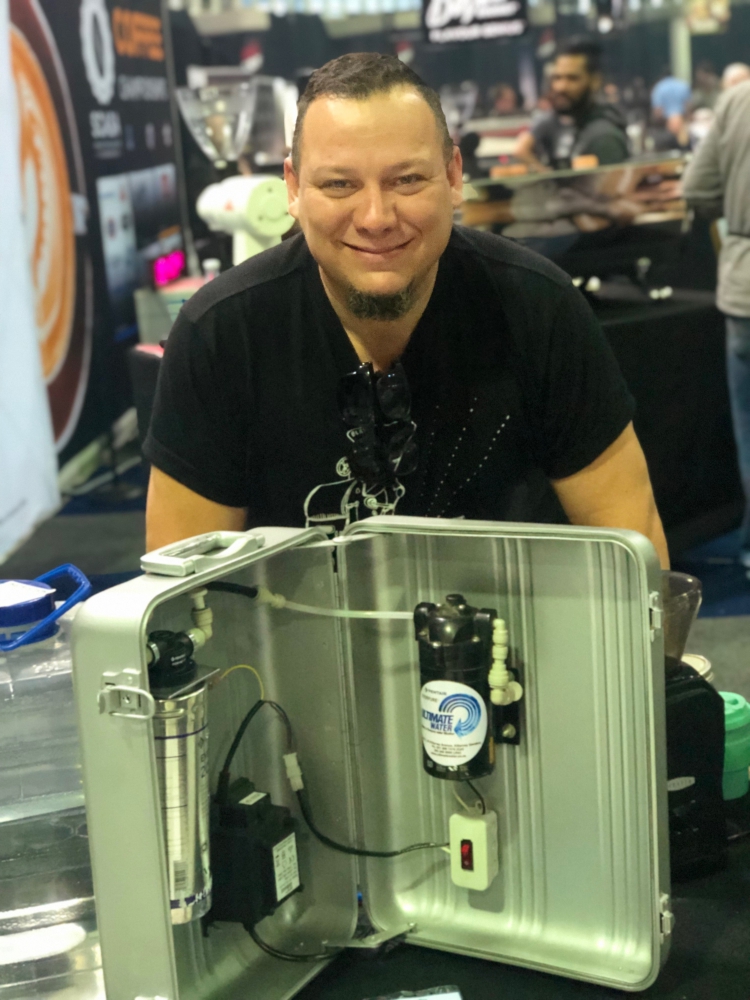 Tell us, what is your next exciting Marunic Trading adventure going to be?
We have many plans up our sleeve that we believe will positively impact the South African Coffee society, but for now we must keep it a secret. Don't worry, I hope to share it very soon with you guys and get you onboard with us into an incredible Coffee Journey.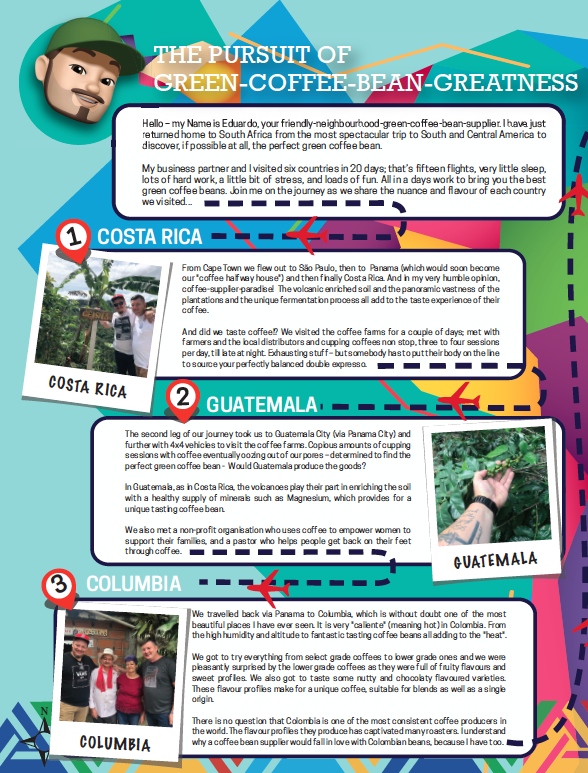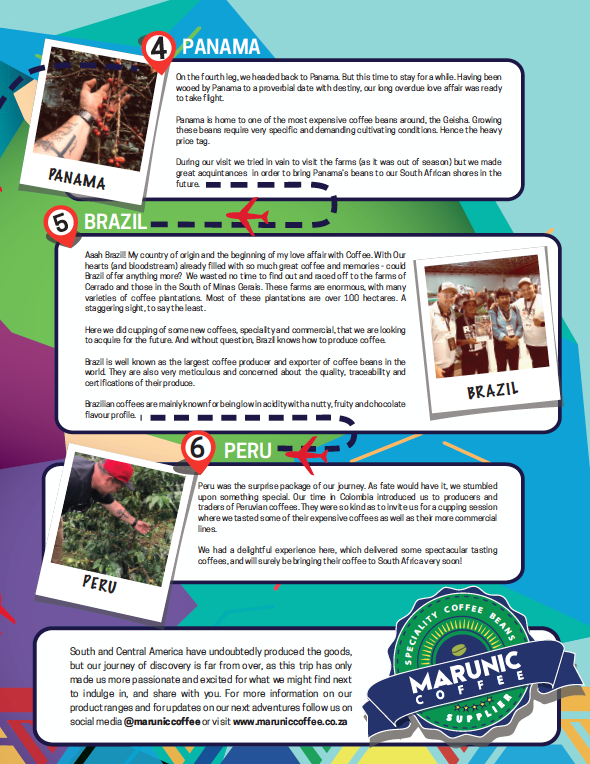 You can also view this graphic of Eduardo's epic coffee hunting journey in the latest Coffee Magazine,issue 31, on sale now, or download from Magzter: https://www.magzter.com/ZA/True-North-Media/Coffee-Magazine/Food-&-Beverage/