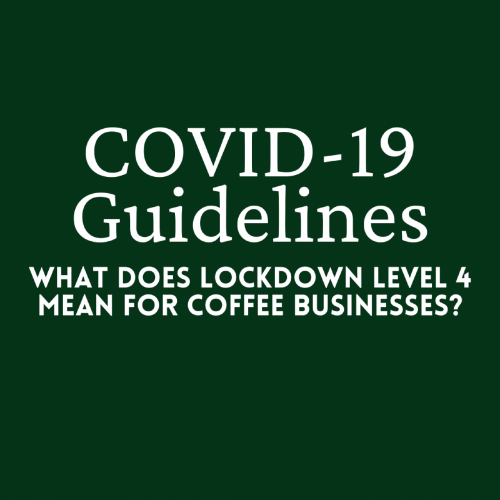 So the new Level 4 restrictions have been released and cafe owners were hoping for better news, and it seems the restrictions are up for debate. You can however continue to get beans delivered to you at home, see our growing list here.
The food service industry still has its hands tied: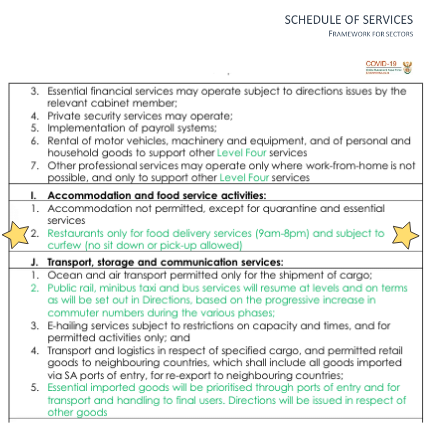 Restaurants can sell meals through delivery services, but takeaway collections from stores are not allowed. Which means that takeaway coffees are also theoretically a no-go? A few cafes seem to be planning to utilise radius based deliveries through platforms like Uber Eats so that they can serve their community, while some of the larger chain cafes that operate high street, corporate and garage forecourts sites seem to have found a work around to sell takeaway coffees at select venues. Everybody's trying to make a plan to bring in some sales.
We canvassed the industry for responses to this and these are a few of the responses:
Craig Charity (Lineage Coffee, Hillcrest, KZN) - "I can't see how Level 4 will affect us less than Level 5, We will only be able to start take-away's from Level 3 so for now we are focusing on online coffee bean sales and wholesale".

Amy Gardiner (Humble Coffee, Durban KZN) - "It looks likely that parts of KZN will remain on level 5 for the foreseeable future.
Regardless of this, "Level 4" doesn't look very different to "Level 5" for us.
I don't think that home deliveries will be as desirable as takeaway especially with our product offering. I also worry that opening up may put the business at risk even more as we would risk losing relief such as rent freezes and UIF support,
while outlaying costs that we may not recoup. This being said, we're still having a great time selling coffee & alternative milk through our online shop and I think this is what we will focus on in the coming weeks/months!
Angeline McLagan (Urban Espress, PE) - "Level 4 simply means that we are one step closer to having you, our valuable Coffee family, enjoy our delicious brew In the comfort of your own home or wherever you find yourselves in this lockdown period. A little happiness amidst the chaos"
David Donde (Truth, Cape Town) - "Level 4 is different for the different facets of our business."
For roasting, it means a team effort to roast with the same single minded objective of producing extraordinary coffee, at quantity levels well below pre COVID19 demand. Many of our hospitality clients will not be trading, some never again.
For the Cafe, we remain shut down for sit down. Renewed efforts for the pre-lockdown extraordinary offerings the team put together for in app delivery (Uber eats and Coffee Monster et al) will be rejuvenated and customer responses monitored and feedback amplified. For example A collaboration with Frankie Fenner Meat Market for a Steak with Cafe du Paris butter and fries via delivery and pickup was a winner, demand started just as we were closed.
Furthermore, we are doing our best to share income amongst staff as best we can, ignoring job descriptions and team functionality, while keeping the group together and families fed. We will keep to this policy if we can! For this we need customer support.
David Walstra - Thirdspace, JHB - "Level 4 is not what coffee shops were expecting and is rather bad news in terms of being able to interact with customers again.
It presents a rather bitter dilemma in that the larger contracted companies who are able to deliver on your behalf will be doing so by taking half your profit unless we do so ourselves. We all need to do a full cost assessment to figure out if it's worth opening up as it may be be costing us more in the long run (your landlord for instance may demand full rent because you're trading again and you're only able to trickle in a few thousand in delivering coffee and muffins) - we only need to look at the recent announcement by the Spur Group indicating it would be commercial suicide to do some sort of soft opening - the same could apply to cafes only allowed to do deliveries.
At the end of the day the ability to pivot if you've got online presence or if your able to weather the storm becomes paramount to be ready for the turnaround. New Zealand has just opened up and people are queuing around the corner at their favorite spot they've missed so much - we must never forget that our customers are missing us too and we'd be well advised to push to get to the other side as it will be a lot less crowded when we get there".
Thera Van 't Hof ( vida e caffè - National ) "At vida e caffè we are devoted to the safety and well-being of our customers and our teams. As we move into level 4 of lockdown we are excited to announce that we will begin re-opening some of our Forecourt shops in partnership with Shell, as well as opening in selected corporate environments where consumers are returning to work. For those working, studying and still on lockdown at home, we are offering delivery through our partners, UberEats and MrD, across selected suburbs and city centres. A huge vida thank you to our passionate team members returning to work to make this possible.

We continue to ensure our customers are creating their own favourite vida at home, through the ordering of our capsules and bean ranges online at Takealot and the Online Beverage Store. We're working on additional ways to rescue as much of our ingredients and surplus food as possible and continue to support our local communities through donations to SAHarvest food rescue, while donating coffee to essential healthcare workers and hospitals over this time."
SCASA:
Bernard Muneri (SCASA Chairperson) - The reality on the ground is the running of most Coffee shops overheads far outweigh the cost of sales that will be generated from Deliveries only trade. We remain positive and carry on engaging with relevant Government departments to at least lift and relax Level 4 lockdown further to allow us to come back to normal trade while we understand fully the devastation caused by the pandemic. Submissions and proposals to support our position as SCASA already sent to the Government. Remember, we are in this together and we urge all our members and communities at large to respect and follow provided guidelines to beat this COVID-19. Together we shall overcome, stay strong and keep safe.
We've also reached out to a couple other parties and will update this piece as they come in.