Everybody has come together to play their part in the crisis we're facing and for a brand built on uplifting the healthy side of deliciousness, Red Espresso, it is important to keep people's immunity strong. Their partnership with CANSA was started in 2015 and they've stepped it up to start a Buy One Donate One initiative to deliver to local cancer patients whom are all part of this high risk group. Just go place an order from their online store to support! In the coming weeks we'll be partnering with Red Espresso to bring you tips, recipes and ideas for incorporating healthy ingredients into your diet to keep you and your families strong over this time.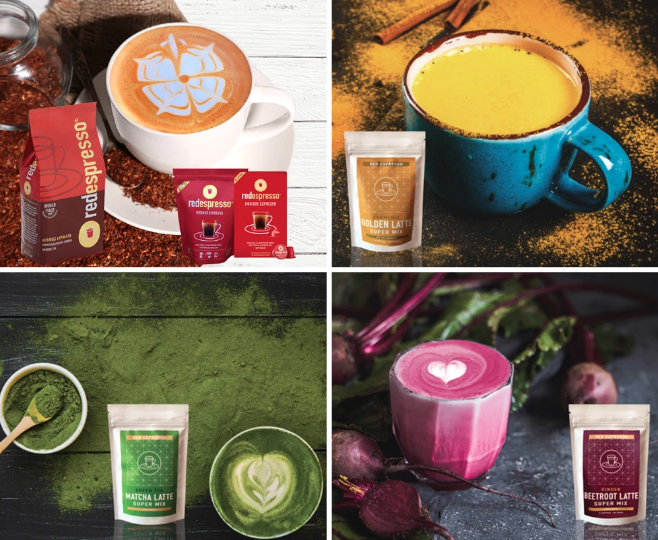 ---
FROM THE RED ESPRESSO TEAM:
To our red espresso® community,
Our thoughts are with everyone and we hope that you and your loved ones are all safe and well at this time.
The coronavirus is teaching all of us a sense of coming together as a family and as a community, of thinking of others and showing them kindness and compassion. And of showing courage in the face of uncertainty.
15 years ago, we started our family business with the mission to bring health and wellness into coffee shops and homes around South Africa. Now, during these difficult times, we believe we can make a difference and want to do our part to help our community stay healthy and strong.
You might not know this, but our award-winning range of deliciously healthy drinks are also known as rainbow drinks for their beautiful colours. They are our rooibos red cappuccino® and red latte®, golden turmeric latte, green tea matcha latte and crimson beetroot and ginger latte. Each one of these drinks is made from pure plant-based goodness and has a wide range of health benefits that can boost your immune system and help to prevent infection.
We've been brainstorming ways to make a positive impact locally and being part of the Rainbow Nation inspired us to find an answer.
Our online shop is open and we are processing and delivering online orders during lockdown. We're starting a Buy One, Give One movement of all of our rainbow drinks. For every rainbow drink bag or box sold, we will give a free bag to a local resident who is part of the high risk group*. Simply place your order on our online shop.
Stay safe. Stay healthy, South Africa.
The red espresso® team
Join The Buy One, Give One Movement
* We have been partners with The Cancer Association of South Africa, CANSA, since 2015. We will be giving our free bags of rainbow drinks to CANSA to deliver to their local cancer patients whom are all part of the high risk group. You can read more about our partnership with CANSA here. #DoubleRainbow #KindnessMatters #RainbowNation