We're dedicated to uplifting and supporting the coffee industry and all the people who are part of it, but we're also a part of that industry and we too need your support!
We are thrilled to bring you Issue 31, out latest edition, online. When the lockdown is lifted we will distribute the print version, but until then, if you're looking for some beautifully curated coffee content. We've got just the thing for you!
We wanted to capture what people are feeling at this time. Alone. Distanced. Going through their coffee rituals in a new or different way to usual. Some say red symbolizes danger or anger. Both abound during this pandemic. Red also symbolizes love and that's what we're choosing to focus on. We love coffee, we love our community and we love you, the people who make the world of coffee, and this magazine, worth it. Issue 31 is packed full of inspiration and escapism and incredible humans. Enjoy!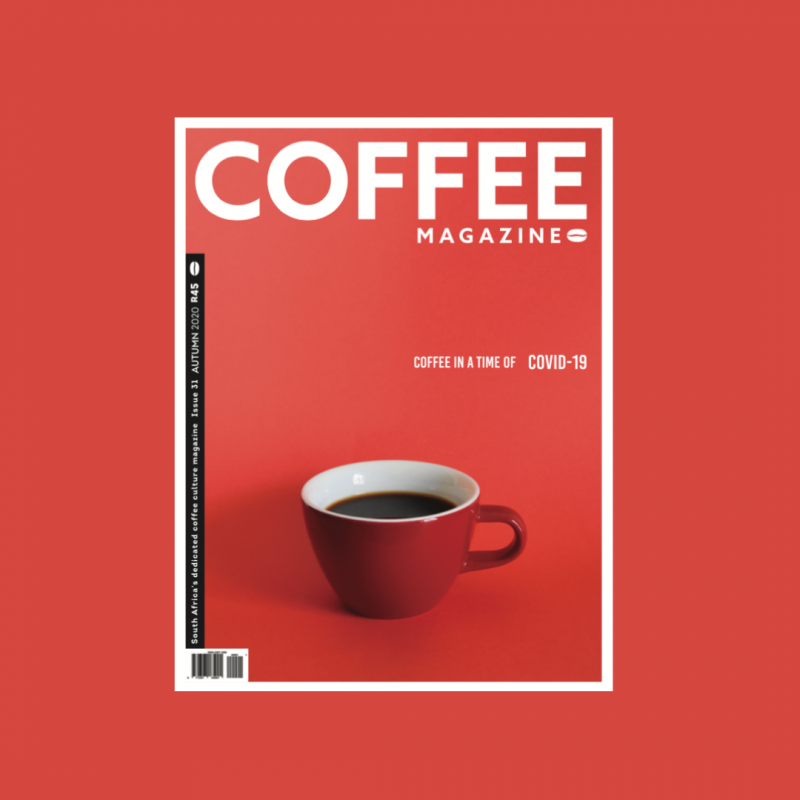 How do you buy it on Magzter? Easy peasy!
Click on this link, it will take you the page pictured below: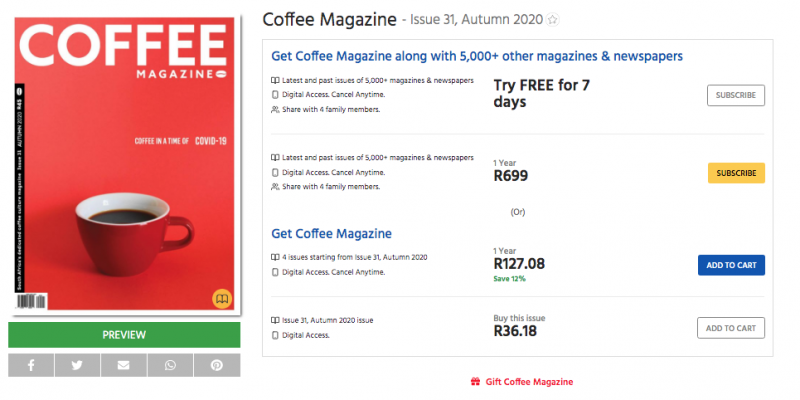 A single issue will cost you R36.18 (yes, it's random we know, $ exchange rate!).
What's in this issue?
Cover Story: Coffee in the Time of COVID-19
A new reality is upon us and the world will never be the same again, what does this mean for the coffee community, professionals and consumers alike? We explore the possibilities.
Discover: The History of Espresso Machines
A look back at how the espresso machine came to prominence and remains integral in our coffee lives, with one of the biggest vintage espresso machine collectors in the world.
Inspire: Breaking the Mould
We highlight some amazing coffee professionals who stepped way out of the zone of comfort to forge new ways of doing things and inspire us to see the world differently.
Taste: Going Nuts over Dairy
Exploring the rapidly expanding dairy-alternative market, the who's, the why's, the how's. There's no time like now to try something different.
Roast: The Process of Roasting Coffee
We asked some of our favourite roasters: What are the most important things consumers should know?
Travel: The New World
The view from a coffee professional working in the ever-expanding and wildly intriguing city of Dubai.
Origin Focus: Guatemala, where coffee is life.
We engaged with a couple of farmers on the ground, one from the Eastern region and one from the West, to see what the current situation in Guatemala is like.
Brew: Frothing Good Fun
An interview and tips from the new South African Latte Art Champion, Jeff Stopforth.
Human Interest: Making Her Own Rules
Exclusive interview with Jooyeon Jeon of South Korea, current World Barista Champion. A worthy ambassador for the coffee community.
Discover Great Coffee: Weird and Wonderful
Showcasing six of the most beautiful, unique and outrageous cafes across the world. From quirky London interiors to unusual Australian artistry, these coffee hot spots are bursting with flavour! Some travel wanderlust for you!