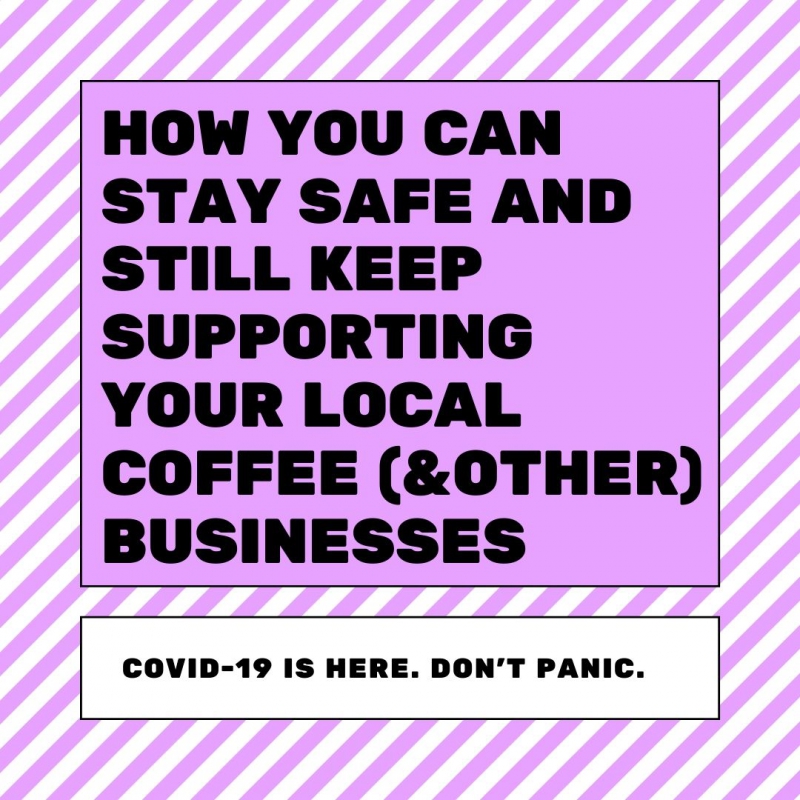 Right, so we're officially in a National State of Disaster, but as Douglas Adams wisely wrote, the best thing we can do is not to panic. Take all the necessary steps of course, but "Don't Panic." Panic helps no one and kindness and calm will go a long way in a time where there is a lot of uncertainty.
For the measures being taken by the South African government, you can read President Cyril Ramaphosa's speech in full here.
One of the areas of uncertainty is how long small businesses can sustain a period of social distancing.
As South Africans we generally deal with adversity with a strong will and a great sense of humour, so let's maintain those qualities throughout this strange time.
Cafes are communities and can be supportive (and EXTRA hygienic) safe spaces in this time. Most cafes are limiting seating and ramping up sanitisation protocols, but will remain open. Some new things are being carried out in the global community when it comes to cafes and roasteries. Our SA cafes are also being responsible, please try be a responsible patron, but most important, please still be patrons (even if via online portals)!
Follow our Instagram stories to see what coffee businesses are doing out there and who you can support.
Some of the out of the ordinary things you may be asked to do:
- Use a paper takeaway cup instead of ceramic or reusables cups/flasks. The virus can apparently remain on surfaces for quite some time, so this is just an extra measure that will mean people in hospitality won't need to handle used cups that carry traces of our saliva.
- Some cafes may encourage you to get your goods to go instead of sitting in the cafe.
- Cafes may ask you to use Contactless Payment instead of cash, so Zapper, Snapscan, Yoco Tap etc are preferable to transferring cash.
- A lot of places of delivering coffee beans to your door, take advantage of it and keep getting your favourite coffee for home and the office. Check in with your local caffeine slinger.
From the address please do the below in general:
wash your hands frequently with soap and water or hand sanitisers for at least 20 seconds;
cover your nose and mouth when coughing and sneezing with a tissue or a flexed elbow; and
avoid close contact with anyone with cold or flu-like symptoms.
Guidelines for hospitality industry:
The rules include strict limits on bars and shebeens. Any establishment that sells alcohol for on-premises consumption must close at 6PM, except on Sundays, when closing time is 1PM. The same closing times apply to liquor stores. Those establishments may also host only 50 people at a time, half the maximum number allowed at other gatherings. Even then, there may be no more than one person per square meter of floor space, which is defined as "adequate space". - From Business Insider
And from our side, please check your sources! Please be wary of sharing sensationalist or unresearched posts on COVID-19. Fake news is very detrimental.
This link to Business Insider is constantly updated with verified factual news.
Eat your fruits and veggies, drink lots of water, help those who have less access to resources and look after each other (even if from little social distance). We wish everyone the best in this time and urge you to above all, be kind. We'll get through this together! If someone in your community is concerned about getting it or spreading it, respect their decision to self-isolate.
Also, we're not so sure about the elbow thing as a greeting, but The Shaka? Now that we can get behind ;)