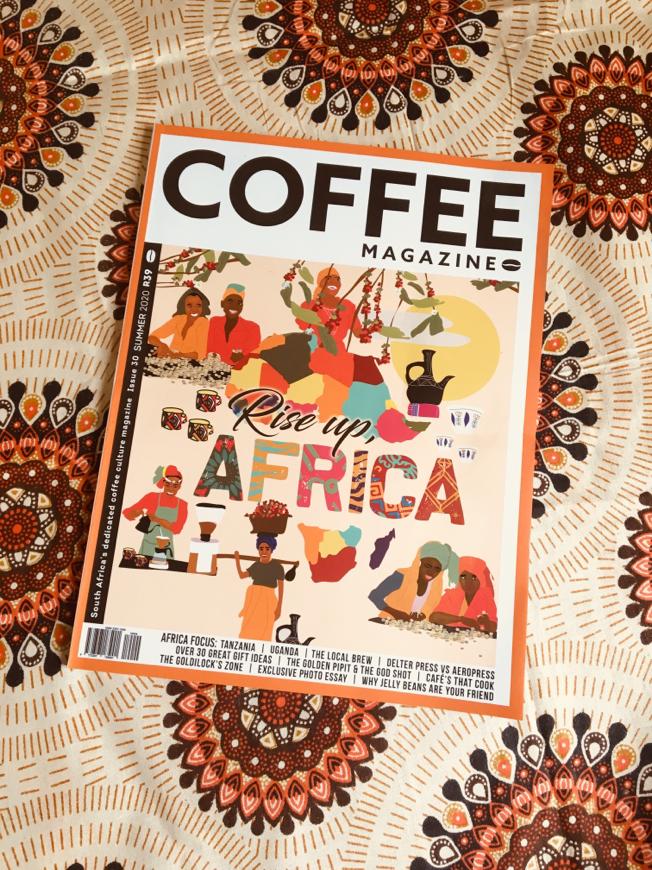 "And I'm so glad we made it, so glad we made it
You got to, gimme some lovin', gimme, gimme some lovin'
Gimme some lovin', gimme, gimme some lovin'
Gimme some lovin' everyday, yeah!"

When I (Mel, the Editor) first heard this classic track by the Spencer Davis Group, I misheard the lyrics as "gimme Summer lovin'" and I've never quite been able to shake the Summer from this feel good song 🌞The Summer 2020 Edition is our 30th Issue, our biggest yet at 100pages and as the song says, I'm so glad we made it!

We're so grateful that we get to celebrate this milestone by shining a light on the amazing coffee culture throughout Africa. Cover illustration by the super talented @phathudesigns and besides our Africa focus there are Foodie cafes, new brewing devices, our annual Ultimate Coffee Gift Guide, easy tips to train your coffee tasting palate, the affects of climate change on coffee growing and a birding adventure! See more details about the contents of this incredible issue below.
How can you get your hands on a copy, you ask?
Well, we have been growing our list of Distributors over the last 8 years and are proud to be supported by amazing cafes across the country who stock our title. We have also recently expanded to be in some select mainstream locations. Check out our Distribution List here to see your closest location.
Cover: Africa Rising
Anastasia Prikhodko investigates why you should make your next cup of coffee using beans from one of the many origin countries in Africa. Every bean holds a story and international interest in this incredible export is steadily on the rise.
Travel: The Local Brew
Drinking coffee in Ethiopia, Tanzania and Egypt is an educational and delicious experience. Let Matt Carter take you on an adventure!
Discover: Progress through practice
Interview with an expat coffee and tea farmer in Tanzania growing on the foothills of Mount Kilimanjaro and investing in the community
Origin: The Education of a Millennial in East Africa
Perspective is everything, as Benjamin Jenkin discovers while exploring coffee in Uganda. An eye-opening read on the state of things at origin.
Roast: The Jelly Bean Method
Easy and fun ways to improve your coffee tasting palate
Review: New Kid on the Brewing Block
We investigate The Legend (The AeroPress) vs The Rookie (The Delter Press) and make some surprising discoveries.
Culture: What does the Spirit of Africa mean to you?
Pang Isaac explores this through the lens of coffee culture. Feast your eyes.
Brew: The story of the Golden Pipit and the God Shot
Obscure obsessions collide in this tale of birding and brewing coffee in the bush.
The Ultimate Coffee Gift Guide
Ideas for the human in your life who absolutely can't get enough coffee or coffee related gadgets.
Environment: Coffee and the Three Bears
A cautionary, but optimistic, tale of the affect of climate change on coffee production by Dr Alessandro Craparo
Discover Great Coffee: Cafe's That Cook
Three of our favourite foodie cafes impart some of their favourite recipes. Exciting!