Percy Maimela breaks Guinness World Record for largest artwork made from coffee grounds
Local artist, Percy Maimela, recently achieved the Guinness World Record for the largest artwork in the world created from coffee grounds! The 33-year-old self-taught artist created a portrait of popular South African DJ, Black Coffee, using nothing but coffee. He teamed up with BrainFarm and Sound Idea Sessions to take on the challenge on Thursday 12th September 2019 at Sandton City.
The coffee portrait was 5x5 meters in size on a canvas sheet. Using roasted coffee and green raw coffee grounds, he had to cover the canvas with absolutely no negative space in order to qualify for the Guinness World Record title. He also completed it in less than four hours in public – which is no small feat! As Maimela said on his Instagram profile, "No tricks just pure skill and passion."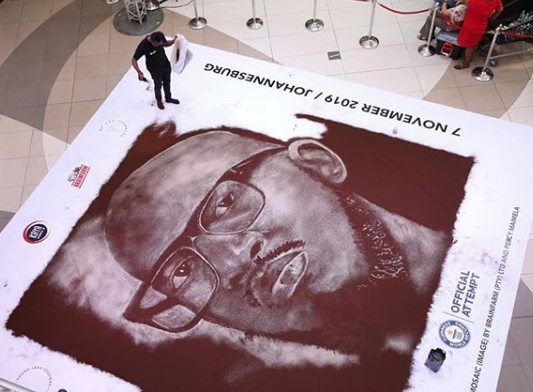 A huge achievement
Mostly known for using salt as a medium to create his portraiture art, Maimela dedicated his achievement to every South African who's scared of chasing their dream. He definitely embodies the Guinness World Records requirement that record-setters have determination, extraordinary skills and commitment. As humble as they come, Percy Maimela spoke with The Daily Maverick before his Guinness World Record attempt:
"The big dream is not about me. We were born, or we learn certain skills that we can use to grow ourselves, to become fully us. It's not about me, it's about those who come after me. We leave a legacy of people who know themselves and who can grow themselves; who don't wait for someone to hire them. It's a cycle. That's the big dream, to complete the cycle."
Congratulations to Percy Maimela on his massive achievement and amazing artwork. It's incredible to see what talented South Africans can do when their passion and purpose aligns. We also loved Bootlegger Coffee Company's response to Maimela's achievement: "Percy, this is amazing. âš¡Do you have any coffee left to drink at home? We'd love to send you some. Drop us a DM."
Sound Idea Sessions
Maimela's world record attempt was partnership with BrainFarm, a South African event agency and speaker bureau, as a lead-up to the inaugural Sound Idea Sessions event, a five-hour masterclass hosted by US growth hacking marketer and best-selling author, Ryan Holiday, with a 1-hour on-stage conversation with DJ Black Coffee, discussing building businesses with limited resources.