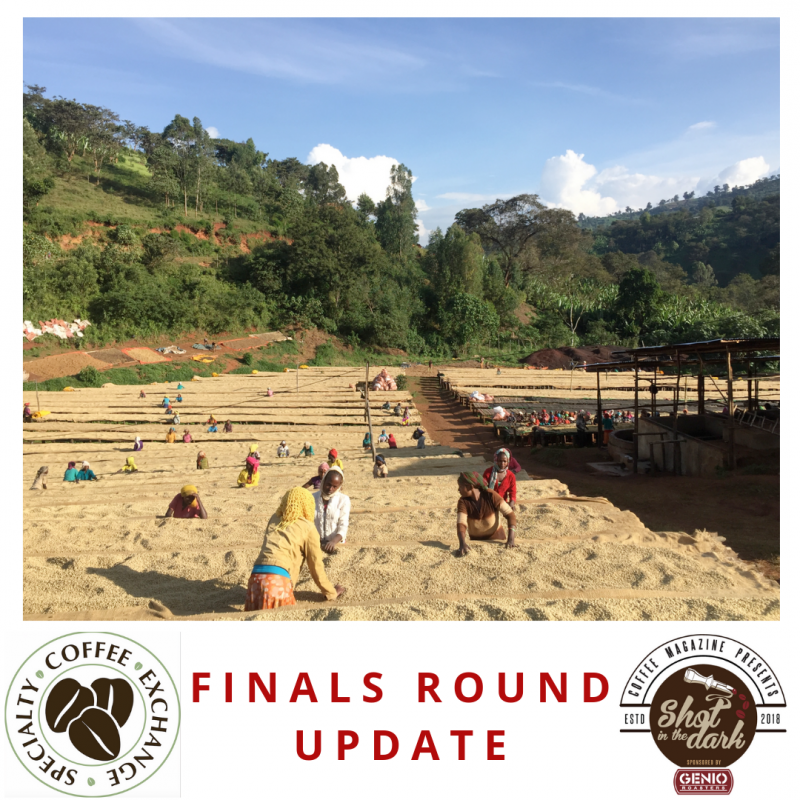 Excitement is building as Coffee Magazine's "A Shot in the Dark" presented by Genio Roasters, enters its Final Round. This week the 10 Finalist Roasters received their competition coffees and instruction for their 2 roasting tasks, and what coffees they are!
The supplier of the Finals Round coffee is Speciality Coffee Exchange and Grant Harrison was very excited to reveal that the coffee for the Cupping task is a Natural Ethiopian Guji Uraga, which is cupping at over 90 points! Grant cupped the coffee in Addis just a few weeks ago was very excited to share the information with us.
"Guji Uraga is an exceptionally high quality coffee bursting with flavour, complexity and a perfectly layered structure. It possesses all of the characteristics that we're looking for from an Heirloom Ethiopian, and for Shot in the Dark, we chose an exceptional natural processed lot." Said Grant.
Roasters all received this green coffee and they will try to roast it to its fullest potential, taking into account the feedback from the Judges in the Preliminary round. This 90plus will be scored using the Q-graders cupping protocol, exactly the same as the preliminary round. But wait there's more! Because this is the Finals, the Roasters will also be tasked with a second task: creating a blend for espresso – from the Tanzanian coffee used in the preliminary Round (supplied by Sevenoaks), a SL 14 and SL28 Ugandan Sironko Bugisu A, and a touch of the Uraga, if they choose to.
The Top 10 competitors will be submitting 500g of their Ethiopian Uraga for cupping and 500g of their Ethiopia/Uganda/Tanzania blend for espresso at Creative Coffee Week where the Finals Round will be judged by none other than Trish Rothgeb of Wrecking Ball Coffee Roasters, San Francisco.
| | |
| --- | --- |
| Region | Guji, Uraga |
| Processing | Dry Process (Natural) |
| Drying Method | Raised African Beds Sun-dried |
| Harvest date | Jan 2019 Arrival at Kerchanse Mill. |
| Lot size | 100 |
| Bag size | 60 KG |
| Packaging | GrainPro Liner |
| Farm Gate | Yes |
| Cultivar Detail | Heirloom Cultivars |
| Grade | 1 |
| Appearance | .6 d/300 gr; 15+ screen |
| SCA | 89 |
| Flavour Notes | Intense fruit notes like blueberry, peach and papaya nectars, with a chocolate covered, dehydrated orange slice finish.. |