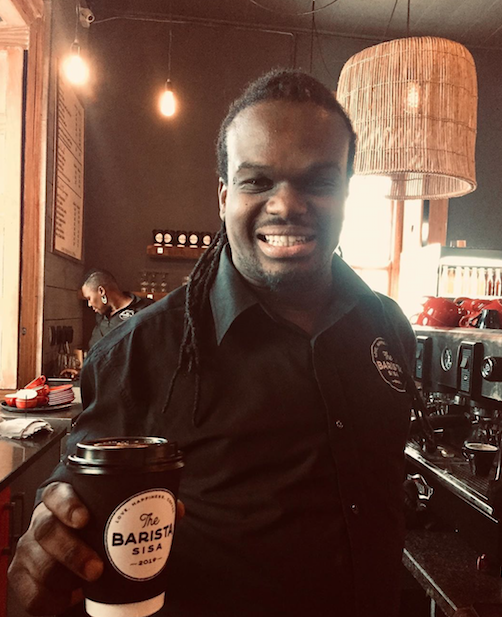 The Barista Sisa
Sisa Mapetu started out as a waiter in Port Elizabeth; today, he has his own coffee shop. The Barista Sisa journey started in 2010 – Sisa seized the opportunity to pursue a career in coffee, training as a barista and competing in the first ever Barista Championships in Port Elizabeth. He constantly grew his knowledge and passion for coffee with the long-term vision of running his own shop, and was even named Nelson Mandela Bay's top barista in 2011.
The competition helped to grow the coffee culture in Port Elizabeth, and The Barista Sisa coffee shop is a dream brought to life for Sisa Mapetu. He's passionate about growing the coffee culture in Grahamstown and sharing the love he puts into his coffee, and the happiness that it brings him with the coffee community. We chatted to Sisa and Melissa Roberts to find out more about his journey…
How would you describe your coffee shop to someone who's never visited?
Sisa: "The Barista Sisa is an authentically African, vibey coffee shop in Grahamstown, and thrives on adding love and happiness to every cup. We share the coffee experience with our customers and each one leaves the coffee shop with a feeling of love, happiness and coffee."
What makes The Barista Sisa special?
Melissa: "Our coffee shop showcases the African roots of coffee – coffee is African; it originated here and we want people to feel its roots deep in African soil. Sisa and his charismatic personality is the charming persona behind the brand that ensures each and every customer leaves feeling like they've made a friend."
Any favourite moments during your business journey?
Sisa: "I have so many! I'd say it was me competing for the first time in the Eastern Cape Barista Regional Championships where I came in second place and was crowned the Port Elizabeth Barista Champ – the highest ranked barista in Port Elizabeth. That was amazing! Meeting people who are passionate about coffee in the industry. They taught me so much about coffee and the importance of coffee in the world.
Coming to Grahamstown, where there was very little coffee culture and challenging myself to help develop it in the town. Opening The Barista Sisa was a very exciting journey and a very proud moment in my life. This has been my goal for so many years and after all my hard work, I have my name on the wall!"
Tell us about your beans or blends?
Melissa: "Sisa's Blend is our signature coffee blend. It's a blend of beans from three different African countries. A full-bodied coffee with a floral aroma and fruity side notes, with a lovely smooth, dark chocolate finish. We sell the beans in 250g bags as well so that our customers can bring the love, happiness and coffee of The Barista Sisa into their homes no matter where they are!"
What do you like best about your job?
Sisa: "Serving a coffee that wows the customer. Something I would love to drink myself and seeing how it changes someone's day and brings them back to my coffee shop again and again. I see how I can add something to each person's life with my coffee – brightening their day, making them smile with cool latte art, or giving the Rhodes University students a pick-me-up during their study breaks.
My team at The Barista Sisa inspires me. I love being able to share my knowledge with them and growing their passion and excitement for the industry. I want to share this with everyone as there is so much more to coffee than just making and drinking it. Importantly, what excites me is the journey from bean to cup and the process that I, as a barista, go through to make a great cup of coffee. The excitement is focusing on the process, the different seasons and the weather and how they affect the consistency of the grind and the extraction of flavour from the bean. The intricacy of the art of making and serving coffee excites me every day!"
You can visit The Barista Sisa at 38 Somerset Street in Grahamstown, or follow them on Instagram at @the.barista.sisa.