It is safe to say that when we walked into the Truman Brewery to attend our first ever London Coffee Festival, we were a tad overwhelmed. A highly-caffeinated hive of activity assaulted our senses as throngs of coffee drinkers darted from stand to stand eagerly lapping up all manner of coffee-related products. It was wild!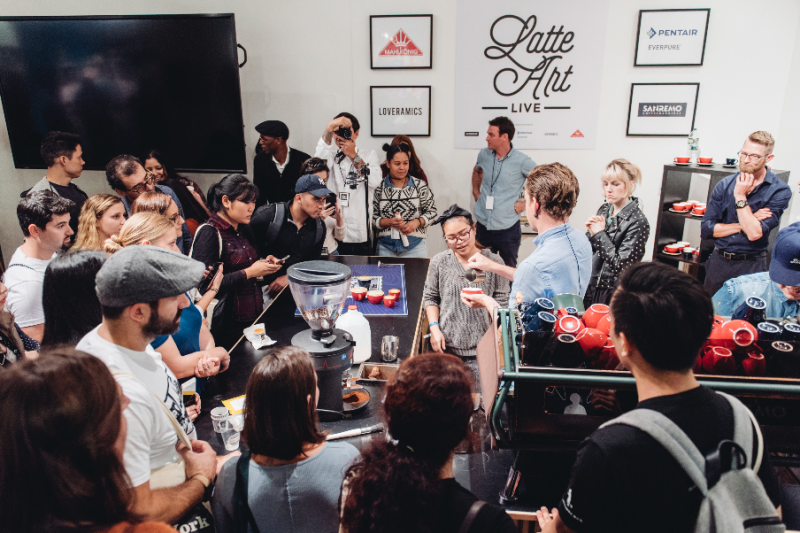 The Truman Brewery is a maze of staircases and mezzanine levels which just added to the coffee frenzy; you could never really be sure where you would end up and you were certain to discover something new just around the next corner. A literal rabbit hole of coffee. We watched Aga Rojewska be crowned the Coffee Masters winner as well as had the opportunity to judge her on the Latte Art Live stage, a competition which she also won! We drank coffee-infused beer and espresso martini's while listening to muso's keep the energy up with original sounds reverberating through the halls, discovered cups made from coffee waste and I bought my much-prized Commandante grinder. And then we wondered into a new section, where the walls were adorned with spectacular submissions from artists on the subject we were all gathered together to celebrate, coffee. Did I mention that it was wild?!
The Coffee Festival format was launched in London in 2011 and has since then expanded to include Festivals in Amsterdam, Milan, New York, Los Angeles and, from this year, Cape Town. That's right, our most coffee-soaked city will play host to this international affair: The Cape Town Festival.
Event Organiser, Jeffrey Young, shares, "We are delighted to be bringing the Coffee Festival to the African continent for the first time. Cape Town is a city of culture and creativity, and coffee and food play a huge part in the fabric of the city life. The event is a celebration of the vibrant African coffee culture, of the deep spirit of community that coffee fosters and of the career opportunities that it generates."
Taking place June 1st and 2nd at The Castle of Good Hope, the weekend-long event will feature coffee, local food, cocktails and live music and the organisers expect to include over 65 innovative exhibitors. It's an exciting event for coffee lovers of all levels as well as those working in the coffee industry. We're very excited by their choice of venue, a tourist destination that locals would not regularly frequent, steeped in history and adding a little intrigue to the event.
If the other Global Coffee Festivals are anything to go by, you can expect to taste your way through the Cape Town coffee scene with lots of exciting coffees to sample, boost your coffee knowledge in workshops, be a part of interactive demos and meet the top African coffee companies, artisans and baristas one-to-one.
We were very pleased to hear that The Coffee Art Project will also be coming to Cape Town, specifically showcasing photography this year and the creativity and talents of emerging and established local artists who have been inspired by African coffee. 100% of profits from this are donated to Project Waterfall, partnering with South African charities supporting local life-changing projects, such as Woza Coffee. The Woza Coffee School is a charitable trust that not only trains the youth in South African townships to become baristas, but connects them to their first job. Since 2011, Project Waterfall has raised over $1.5 million, bringing clean water to more than 37,000 people across seven countries.
We can't wait to see what the team brings to South African shores.