Khanyiso Dumisana was always a friendly face when we visited the Wale Street, Bean There Coffee in Cape Town. We were so excited to hear about his success in his own venture in coffee. The team at Bean There led by Jono Robinson always encourage the growth and improvement of their staff, something we have always admired about their operation.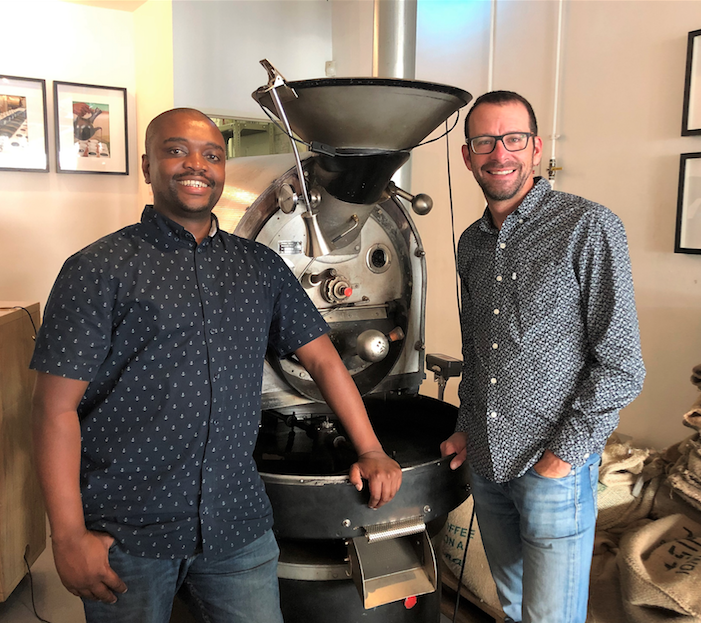 The South African market is a cutthroat place to set up shop and many entrepreneurs struggle to find their footing. For local success story Khanyiso Dumisana of Journey Coffee, his experience working for a fair trade coffee start-up provided the inspiration and support necessary to get his venture off the ground. His drive and ability to spot an opportunity has seen his business grow to be one of the top five purchasers of his former employers' beans.
"I've wanted to own a business since I was 13 – but I didn't know what it would be. I worked as a barista for a couple of years, landing a job at Bean There in Cape Town. I became a coffee roaster, and I learned the art of selecting, roasting and processing beans, as well as coffee cupping," says Dumisana.
During his time with Bean There, Dumisana carefully observed the behind-the-scenes of the business – how to run a coffee roastery and cafe, ensure the consistency of quality coffee and the importance of sourcing beans ethically whilst paying fair prices to farmers. After seven years with the company, he let his employers know that he wanted to take on his own market.
By that point, he knew he wanted to sell fair trade coffee; "It is aligned with my beliefs, it suits my brand – and I love that the beans have a story. I know exactly where they come from and how they've been sourced. I know that my suppliers have real relationships with the people who grow the beans."
Dumisana named Journey Coffee's unique blend after his wife Fundi, who he says has been vital to the company's success. The pair built the business to the point that it has stands at the Oranjezicht City Farmer's market, a top global accountancy firm, a number of school events, fairs and private events.
When he started out, Dumisana did not have a coffee machine – or much capital. "Bean There helped us get going, only charging us for the coffee we sold. It really helped us get a footing so that we could start to grow. We went from three staff to 10, including part-timers, and were soon able to buy our own equipment," he says.
"Fair trade stems from a belief in helping your partners in trade to grow their own businesses and improve their profits," says Jonathan Robinson, founder of Bean There. "From that standpoint, it only made sense for us to partner with and assist an entrepreneurial employee. It's paid off in a big way now that Khanyiso is one of our biggest customers."
The two still have a strong business and personal relationship; "Bean There is like my family – I pop in all the time, trying their new roasts and catching up. If they ever need an extra coffee machine, I offer mine up," says Dumisana.
Dumisana tries to train three new quality baristas a year – it's his way of giving other young people a step up. His new dream is to establish a training college, able to supply Cape Town's booming coffee scene with skilled staff and a commitment to fair trade goods. As the first Fairtrade coffee suppliers in South Africa, Bean There's approach to doing business is taking hold.