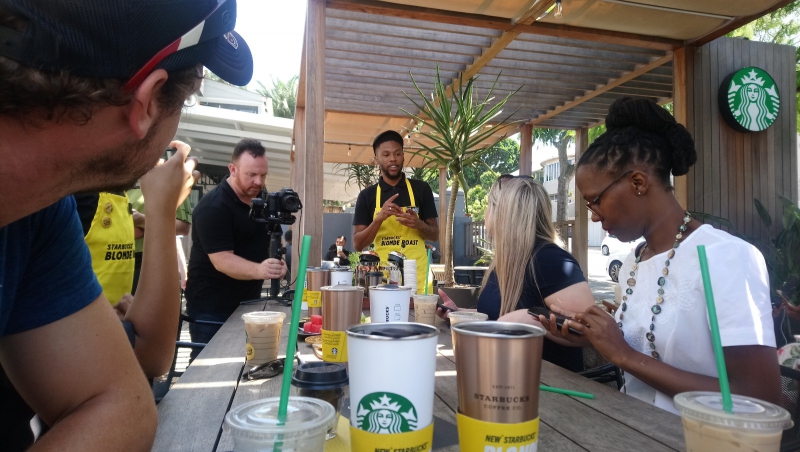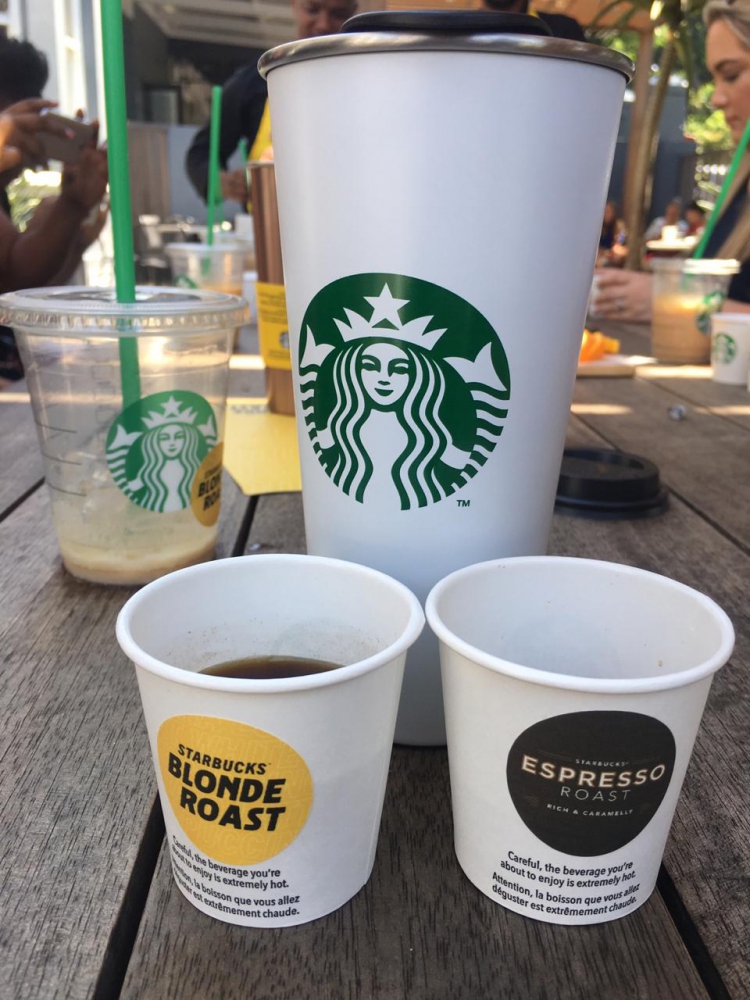 We were invited to a tasting at the Florida Road Starbucks for their recently launched (in SA) Blonde Roast.
It was a typically hot and sweaty Durban day so the iced Latte using the Blonde Roast, simple syrup and milk over ice was a very welcome drink and went down a treat.
Our hosts were Store Manager, Siyanda and Lead Barista, Teddy (pictured below). And what wonderful hosts they were. One thing I've always appreciated at Starbucks around the world is the customer service. And Siyanda and Teddy certainly do that legacy proud.
The reason for the media gathering was to see the difference between their Signature Espresso Roast and the Blonde. I have to say, when I saw the Espresso Roast grinds and beans I was a little taken aback. They are not dark roasted, they are dark roasted. Almost charcoal black. As Teddy explained, a traditional South African dark roast doesn't go quite that far and that's why he thinks the Blonde is going to be such a hit with SA drinkers.
The team brewed the coffees with plungers and we were able to taste the two side by side. The plunger is the wrong brew method for the Espresso Roast. As the name suggests it was designed for Starbucks signature beverages like their frappés and to pair with their range of syrups. The Blonde roast was pleasant in the plunger and would be a good alternative to try if you're looking for standard coffee drinks without any trimmings ie a good ol cappuccino.
The best part of the experience was seeing the other journalists experience a coffee tasting for maybe the first time and for them to learn new things about how to brew coffee. It was great to see everyone having fun with flavours!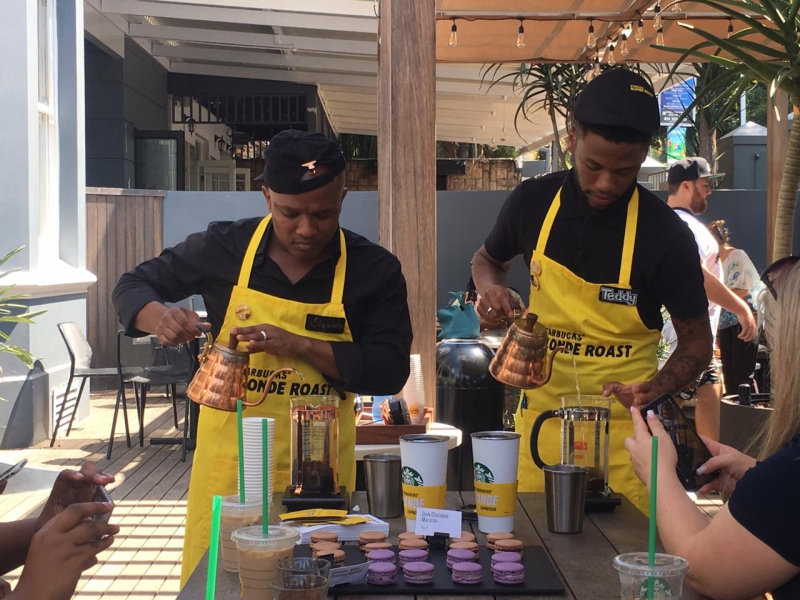 PRESS RELEASE:
STARBUCKS SENSATIONAL NEW BLONDE ESPRESSO ROAST –
AN INTERNATIONAL HIT – MAKES ITS DEBUT IN SOUTH AFRICA
Starbucks has announced that it will be serving the new international taste sensation Blonde Espresso Roast at all its South African stores from today, bringing customers an entirely new way to experience their coffee.
Blonde Espresso Roast has been added to the permanent menu, alongside enduring favourite, the Signature dark Espresso Roast. This is the first time the company has introduced a new core espresso option in more than 40 years.
Created by Starbucks master blenders and roasters – with more than 45 years of roasting experience – the new Blonde Espresso Roast has a smooth body that's balanced with citrusy notes. Clive Liversage – Managing Executive for Starbucks South Africa says the new coffee "is smooth and subtly sweet - perfect for those looking for something a little smoother, with no compromise on flavour".
The unique new Blonde blend brings together beans from Latin America (giving a round, smooth body), and East Africa, (bringing out flavours of lemon, orange and caramel); all roasted to the peak of their flavour.
Launched in 8,000 locations in the United States early last year, Starbucks Blonde blend has been an instant hit, and where the option of choosing between Blonde and Dark espresso roasts (as the basis for further hand-crafted choices - Starbucks Caffe Latte, Cappuccino, Flat White, Macchiato and Americano beverages) has become wildly popular.
Now you can experience it too. Just remember - from now on your first choice at Starbucks is "Dark" or "Blonde".
Footnote.
Starbucks is proud to have reached the milestone of 99% certified ethically sourced coffee through its Coffee and Farmer Equity (C.A.F.E) Practices, developed with Conservation International. C.A.F.E. Practices is a set of sustainability standards, which are designed to help farmers grow coffee in a way that's better for both people and the planet. Over one million coffee farmers on four continents have benefitted from the programme. Starbucks is also a founding member of the Sustainable Coffee Challenge with Conservation International, with an ambition to make coffee the first sustainable agricultural commodity in the world.