Meet Bernard Muneri, SCASA's new chairperson. A person with an absolute passion for coffee and the industry; an always forward thinking individual who would like to see South Africa's specialty scene grow and reach new dimensions.


Bernard Muneri (SCASA's new chairman) with Harry Mole, SA's 2019 Barista Champion

How did you end up working in the coffee industry?
It was a prerequisite for all TriBeCa Regional Managers over a decade ago. Before you become a Regional Manager for Woolworths Cafes, TriBeCa required one to be a Certified Barista. Ironically, l was certified by Ishan Natalie back in the days. The rest is history and so much learnt and still learning more about Speciality Coffee at the highest level.

What excites you about the coffee industry?
The industry is always evolving. Back in the day when we competed for example, it was more about performance focus than actual coffee flavours and sourcing the right beans. Nowadays, the focus is getting the best beans and doing justice to them on stage including achieving the best via better roasting techniques.

Has South Africa's coffee industry grown? Are we on par with the rest of the world?
Very much so. Through SCASA Barista competitions every year, we have seen baristas taking part and thereafter opening their own café/roastery. Nothing makes me more happier than seeing baristas develop into entrepreneurs in their own way. There is room for improvement compared to the rest of the world, but through yearly participation of our National Champions, WCE Judges Training headed by Teija Lublinkhof and also learning from the rest of the world's trends, we will get there. Work in progress.
SCASA Board of Directors from Right to Left: Bernard Muneri, Alessandro Morrico, George Bertolis, Lani Snyman (outgoing chairperson), George Karatzas, Neil Maree and Chris Rootman.

As a SCASA Board of Directors (BoD) member, what you like to see more of in the future (in the industry)?
Would be pleased to see more competitors entering to upskill their knowledge, more sponsors supporting our non-profit organisation and even government assistance where possible in getting teams to go to "Worlds" and learn more. Those who did not win this time should keep grinding. If l'm not mistaken Harry Mole our current SA champion competed for plus minus five years until he won, so never give up.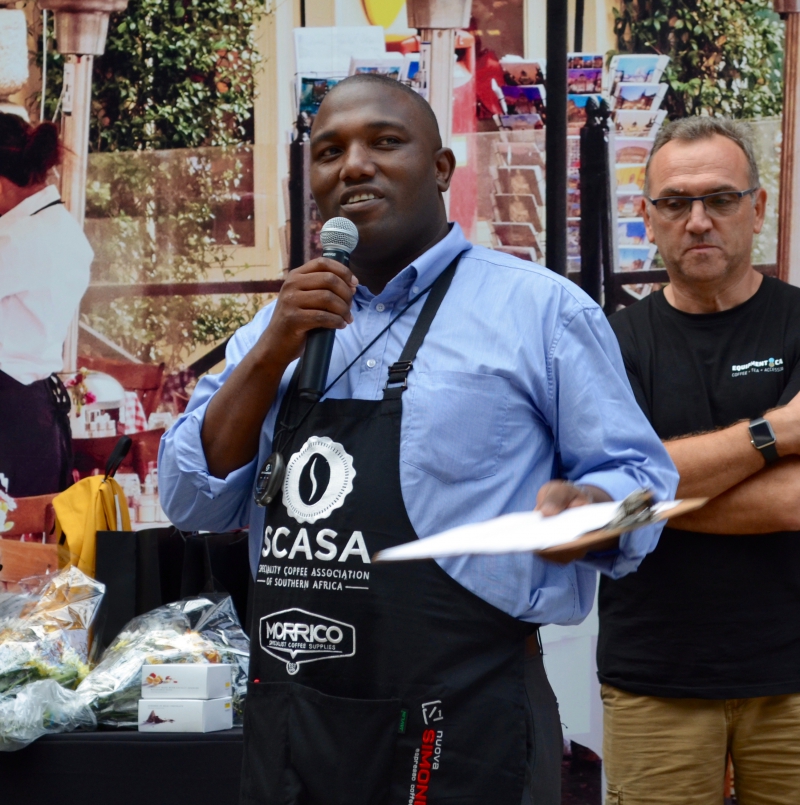 What skills in your opinion should a barista or coffee professional have to be considered good?
To me "Your attitude determines your altitude" in this coffee game.

What can coffee shops do to create more awareness for specialty coffee
Getting more affiliated with SCASA facilitated events and training programs. In this way, the sky is the limit as it's the right platform to understand speciality coffee in my opinion and learn from one another.

Any memorable SCASA coffee event moments you would like to share with us?
I think the 2010 Nationals in Gauteng. l coached the then South African Barista Champion Travis Scott and he won on his second attempt. We then went on to represent SA in Colombia at the World Barista Championship. Life changing experience. The rest of the events ever since then have always been memorable in their own way as the standard still rises with every competition.

What is currently your favourite coffee, how are you brewing it, and why?
Favourite coffee brewing in my house currently is Burundi Long Miles, mind blowing explosion of flavours. Roasted just to first crack. It's like a "money-in-the-bank" espresso. Enjoy it as a Cortado even better as the ratios are on point.

What's your advice or motivation to current and/or aspiring coffee professionals out there?
I was once a Barista Trainer, moved to competitions and grew and now l'm part of SCASA BoD, being chairman is a cherry on top. So everyone who works hard and put in unconditional passion for the coffee industry will be recognised and rewarded accordingly. If you love what you do, then you will never work a day in your life. The passion drives you.