These days, you don't have to go far to get your caffeine fix, with new coffee shops and cafés opening all the time growing the local scene with their own brand of coffee culture. And building your own signature brand identity is a big deal. In the next couple of weeks we will feature three up and coming Café Brands who are brewing up something special and blooming into multiple stores countrywide. They've got style and they mean business and we really like what these burgeoning empires are bringing to South African coffee!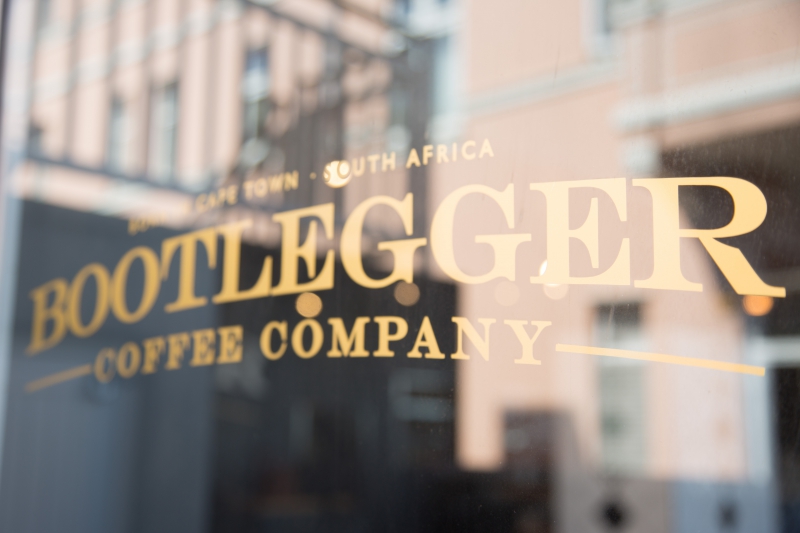 Bootlegger Coffee Company
Bootlegger Coffee Company was the brainchild of best friends, Pieter Bloem and brothers, De Waal and Antonie Basson. The three already owned a few other restaurants, bakeries, and coffee shops and saw the need for a premium quality coffee at a reasonable price for their own stores. They imported a small Giesen roaster from the Netherlands in 2012 and started experimenting and roasting coffee soon after.
Finding an ideal home for their growing coffee business became essential and when the iconic site in Regent Road, Sea Point, became available in late 2013, they jumped at the opportunity to secure the lease. The site was too big for a coffee roastery alone, so they decided to include a restaurant and coffee bar to complete the space and showcase the product. Bootlegger Sea Point began serving the signature Bootlegger Blend in November 2013. It was an immediate success and in just four years, the business has grown to 12 stores.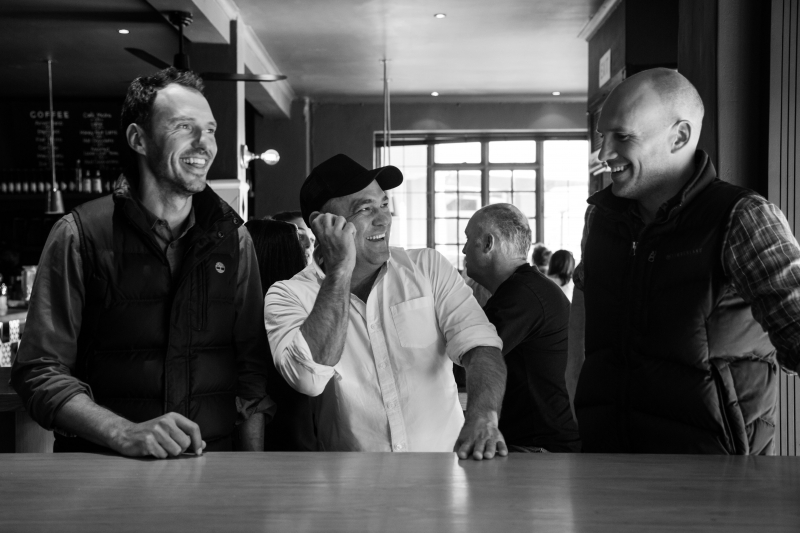 ---
Interview with De Waal Basson
Why Bootlegger Coffee Company? How did you come up with the name?
"Shortly after placing the order with Giesen, Pieter received a call asking what logo or name they should put on the side of the roaster. It dawned on us that perhaps we could roast and sell coffee to other stores besides our own – so we needed a name for this new Coffee Company. Two weeks and hundreds of potential names later, we still didn't have anything we all loved. The logo designer proposed we start with the character of the brand we want. He started asking questions like: is this brand/person male or female, and is the person still alive – yes or no?
The answers drew us to a rule breaker type of character. He was an American legend that died young and therefore will always be timeless. He was a rebel; charming, witty and loved by all. Women wanted him and men wanted to be him. He loved a good time with close friends and enjoyed great food and quality drinks. He never followed fashion, but became a style icon and a trendsetter. The word 'Bootlegger' was the perfect fit."
As a business, what's important to you?
"The first rule of Bootlegger is 'no bullsh*t'. For us that means 'No Compromise'. Perfection is the ultimate standard against which we measure ourselves. We strive for perfection in our relationships with staff, suppliers, and customers. We strive for perfection in our delivery of service and the products we offer our customers. We like to keep it simple and sustainable; we've done our research and we know our product."
What is your vision for Bootlegger Coffee Company?
"Only after opening our first store in Sea Point did we realise what an amazing sense of community a store like Bootlegger creates. We never really thought of opening more than one store, but seeing this power of community in action, we felt compelled to continue expanding. We are now standing on 16 corporate stores and have recently approved our first franchisee. We will therefore continue this expansion by carefully selecting franchisees that buy into our culture and our vision."
What sets you apart from other coffee shops and cafés?
"We believe in focusing on our offering and not worrying too much about what other people are doing. We also spend hours and hours on training our staff and we never forget what got us here in the first place: our coffee."
What has been the highlight of your business journey?
"Being featured in the Coffee Magazine :) In all honesty, there are so many small daily victories that add up and it becomes very hard to distinguish and celebrate the bigger highlights. Some of our biggest highlights have been:
Opening our first (and second) Giesen Roasters from the wooden delivery crates.
Roasting our first batch of coffee on our original Giesen W6 and testing it soon after, even though it was probably way too fresh and acidic!
Getting our first branded delivery van.
The Bootlegger birthday party at our Sea Point store is an annual highlight.
Every opening of every store has been such a highlight. It usually comes with times of extreme stress and extreme relief when the coffee and banana bread starts flowing.
Moving our office from a garage size building behind our Sea Point store to a more grownup space next door.
Moving our roastery to one big space in Woodstock and seeing all the bags of green coffee, roasted coffee, and machinery with one glance. Previously it was all stacked in different store rooms around Sea Point."
What's the most exciting part of the job?
"The coffee! Waking up and having your own product first thing in the morning is definitely a daily highlight. And then you get to have more of it throughout the day! Apart from the coffee, there are so many exciting things we've had to keep ourselves busy with. From finding sites and designing stores, to meeting and recruiting talented young people to join our company – it really is a non-stop joy ride."
There are always growing pains for an entrepreneur starting up a new business – what have your experiences been?
"One of the biggest challenges is saying 'No' to many of the opportunities and distractions out there. In the beginning, we pursued almost every opportunity that came our way and unfortunately this led to a lot of wasted time and money. We have now learnt to become a lot more disciplined and to remain focused on our core business. We've also learnt that getting the right people in the right positions is crucial. We wouldn't be close to where we are today if it weren't for our extraordinary management team and staff."
Give us the lowdown on your coffee and menu?
"The Bootlegger blend is a Medium City Roast consisting of Arabica beans from Guatemala, Tanzania and Cost Rica. The Guatemala is the base of the blend. It adds the body and depth to the coffee with subtle hints of dark chocolate notes and a full mouth feel. Our Guatemala is sourced directly from the Finca El Morito estate and is 100% Rainforest certified.Tanzania AA fills the blend with sweetness and a crisp citrus acidity. Costa Rica Bromelia Fancy has a slightly nutty undertone with a balanced taste profile. It adds fullness and rounds off the acidity in the blend, allowing for a smooth finish and a delicious aftertaste.
Flavour Notes include: Dark chocolate, caramel sweetness, and a fine citrus acidity.
On the food side, we start off by using the best quality, free-range, ethically sourced or sustainable ingredients we can lay our hands on. We have our own 24-hour central bakery that bakes and delivers all our croissants, breads, rusks etc. on a daily basis. Our menu can best be described as a bistro style, every day and all-day eatery. For those strong enough to resist our legendary banana bread, our other breakfast favourites include the truffle-infused mushroom and bacon rösti and the mince omelette.
There are also loads of healthy, vegetarian and vegan options with all kinds of superfood ingredients. Our lunch and dinner menu includes classic café style dishes like burgers, salads, and fish and chips, and some interesting additions like buddha bowls."
Any final thoughts?
"We never thought that our quest for good coffee would lead us down this incredible path of establishing a brand with such a loyal following. It's been an amazing ride and we are eternally grateful to all our staff, customers, landlords and other stakeholders for helping us pursue our dreams."