We are thrilled to announce that we have confirmed some incredible participants for this year's Creative Coffee Week line-up.
Save the Date: 27-29 June 2019
More details to follow soon, but in the meantime keep that weekend open for some incredible coffee fun!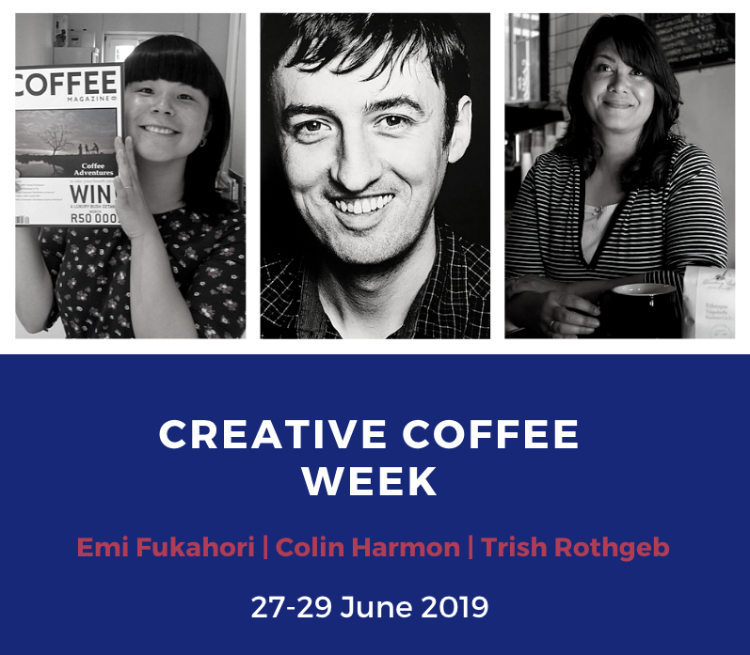 Colin Harmon is very well know as the author of "What I Know About Running Coffee Shops" a book that is wildly popular here in South Africa.
Colin Harmon built 3fe from a one-man coffee cart in a nightclub lobby to the internationally renowned business it is today. The lessons, stories and guidelines in his richly illustrated book offer a unique and honest insight into the day-to-day realities of what many people see as their dream job.
Colin is a four-time Irish Barista Champion and owner of Dublin's 3fe Coffee, one of the world's most innovative and progressive specialty coffee shops. His work in coffee has extended to roasting, training and consultancy work, as well as developing coffee equipment for the specialty market and beyond. We can't wait to have him share his knowledge and experience at Creative Coffee Week!
Emi Fukahori is the 2018 World Brewer's Cup Champion!
Emi Fukahori is one of Switzerland's most known baristas and cafe owners. Originally from Japan, the co-owner of MAME in Zurich took the speciality coffee scene in Switzerland by storm since her competition beginnings in 2015. Although Emi did not win in Seattle—her first time on the world stage—she kept on competing every year after, alongside her life and business partner Mathieu Theis (a top-ranking barista himself and 2016 & 2018 Swiss Barista Champion).
In the years that followed Emi's first Swiss win, the ambitious competitor went from Barista to Brewers Cup category. She took the third place at the Swiss Barista championship in 2016. Emi kept on working hard though and her efforts brought her third place in the 2017 Swiss Brewers Cup championship. 2018 was going to be Emi's year.
Trish Rothgreb is co-founder, co-CEO, director of coffee, and roastmaster of Wrecking Ball Coffee Roasters
Her experience in the industry spans over 30 years as a coffee roaster, green coffee buyer, and teacher of all things coffee. An avid traveler in coffee growing regions worldwide, she teaches "cupping" to coffee producers and coffee professionals around the world. She is also credited with coining the term "third wave coffee" and identifying the relevant concepts.
Trish is a licensed Q-Grader and credentialed Q Trainer by the Coffee Quality Institute. She has served on the SCAA's Roasters Guild Executive Council, was a charter member of the World Barista Championship Board of Directors and a founding member of the Barista Guild of America.
From 2013 to 2016, Trish worked on staff at the Coffee Quality Institute (CQI) as the "Director of Programs: Q and Educational Services," in addition to her work with Wrecking Ball Coffee Roasters.