One of the exciting things about A Shot in the Dark as a roasting competition is the mystery and intrigue around the competition coffee. When we ran the inaugural competition last year, the invited Roasteries knew very little about the competition coffee except that it was an 80+ and it came from Nicaragua. It was only when they actually received it, along with an information sheet from the coffee producers Specialty Coffee Exchange and Gold Mountain Coffee Producers in Nicaragua, that they really knew what they were working with.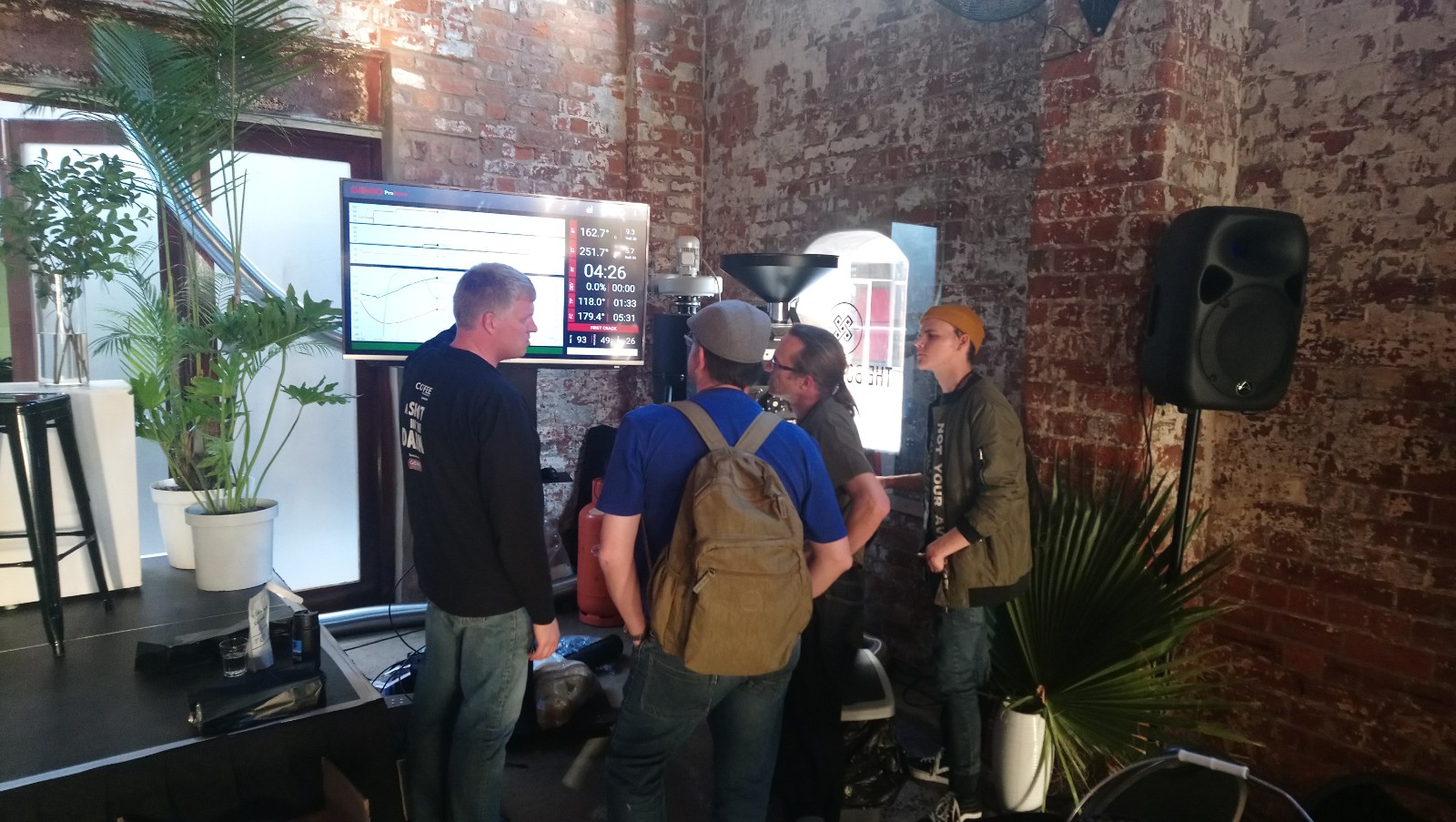 Neil Maree from Genio, chats with some of the Roasters at last year's A Shot in the Dark competition held at Creative Coffee Week in Durban.
This year, as we scale the competition up, we are inviting ALL roasteries in SA to enter and because of the immense level of interest we decided to ask one of SA's most successful green coffee businesses to partner with Specialty Coffee Exchange, Genio and ourselves to make the event bigger and better....enter Carol Corlett and the team from Sevenoaks Trading!
We caught up with Carol from Sevenoaks and Grant from Specialty Coffee Exchange to find out more about their involvement in A Shot in the Dark 2019:
"Sevenoaks started the business with imports from Zimbabwe, that was our first origin" says Carol. "It was also the place I fell in love with coffee. Jeremy Wakeford, my best friend, mentor and coffee guru made me a plunger coffee in Mutare at the Mill and it was love at first sight. That cup of coffee I shall never forget for as long as I live! Our business grew from a few pallets of coffee in a garage in June 1999, to where we are today, almost 20 years later. We are pretty excited about A Shot in the Dark and just in general about this new year as well!!"
The Coffee Mag: This is such exciting news that Sevenoaks is going to be the Official Sponsor of the A Shot in the Dark's coffee for the Preliminary Rounds! Can you tell us why Sevenoaks decided to get involved in this event in 2019?

Carol: Myself, representing Sevenoaks and Nicodemus in his own capacity were honoured to be invited to the Creative Coffee Week last year and one always wonders what a first time event will be like? Well, I have to admit that the excitement, the vibe, the coffee community getting together like that, blew my mind! Its times like that where I realize how absolute privileged we all are to be part of this industry. The part Sevenoaks plays is on the green bean side, so the best way for us to support this initiative is to supply the beans for the roasting competition, hence our involvement. As a "young" coffee country South Africa there is still so much scope and we'd like to contribute in any way to grow the industry.

TCM: It's a big year for Sevenoaks, 20 years young! Tell us a little about this milestone.

Carol: 20 years have flown by, it feels like yesterday that Konrad Brits (Sevenoaks was his brainchild – sadly not part of the group anymore) and myself sat waiting for our first coffees. Today we have a staff complement of more than 20 people and an office and warehouse in both Johannesburg and Cape Town. Here's to the next 20 years!

TCM: You have been in this Industry a long time and you've been a role model for so many people. What is it about Coffee and Sevenoaks as a business that you love so much?

Carol: To me the biggest treasure is the staff and the people (customers and suppliers) with whom I have built relationships with over the years. Without all of them, this business would not have come this far and grown this much. It's an incredible exciting time, with growth still possible each day. I mentioned Jeremy Wakeford, who has over 53 years' experience in coffee and he always says he still learns something new each and every day. So can you imagine what is still out there for us to learn! Will never get tired or bored and just know that without coffee my life would not have been as full and adventurous as it has been. Coffee and adventure flows through my veins, so nowhere else I'd rather be than right here.
Grant Harrison from Speciality Coffee Exchange adds: "The First Edition of A Shot in the Dark in 2018 was a great experience for all, in my opinion. There was healthy competion between the Roasters and all really applied themselves to the tricky honey coffees we supplied. The entire Creative Coffee Week was a great platform for open discussions about our industry and where we want to drive it."
TCM: Without revealing too much, can you tell us a bit about what you have in mind for this years finals coffee? when was it harvested, it's cupping score at origin and why you think it'll be an exciting coffee for the competitors to get their hands on?
Grant: All I'm saying is it's a 90+ "Wild Forest" coffee, currently being harvested at origin.

TCM: Last year Ben Weiner, from Gold Mountain Coffee in Nicaragua joined us at Creative Coffee Week and spoke extensively about the role of the producer in the coffee used for A Shot in the Dark. Why do you think was so important to the Roasters?

Grant: It is not often Roasters in SA get to meet a Specialty Coffee producer and farmer, especially on their home turf, and learn about the efforts and challenges in producing a higher scoring specialty coffee at farm level. Coffee is after all about relationships from farm to cup.
If you want to enter A Shot in the Dark, watch the video from last year, read up on our Sponsors and more, then click on this link to visit the dedicated webpage.