From Barista to Business Owner: Sihle's Brew
When Sihle Magubane was just 16 years old, he was juggling two jobs on top of his schoolwork, as well as taking care of his two younger siblings. A chance cappuccino at the Hilton Arts Festival changed his life…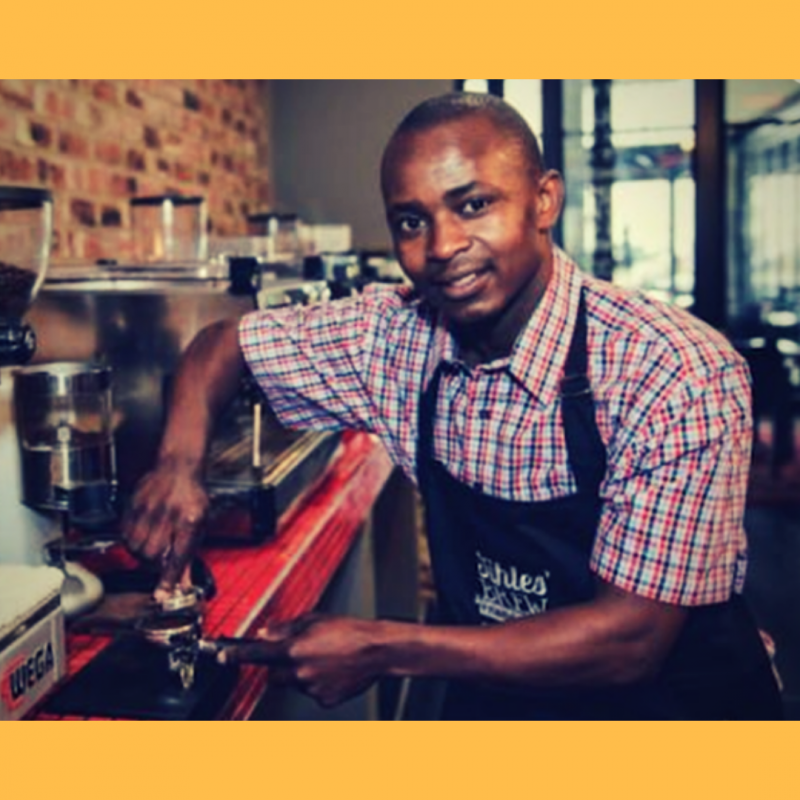 How did you get introduced to coffee?
"When I was 16 years old, my mother passed away – she was asthmatic. I had to juggle work as a gardener and a pizza maker in Durban at a place called Caminettos. From Monday to Friday, I would attend school during the day and after school, I would work as a gardener in Asherville. One day, I got a call from my friend, who asked if I wanted to make extra money. We worked at the Hilton Arts Festival in KZN. I was helping with cleaning and serving coffee to the guests. I drank a cappuccino for the first time and I couldn't sleep for four days, but that's where my love of coffee came from."
How did you get started in the industry?
"I did not have money to study. But I met Roberto Monterrege from Ciro, and was offered the opportunity to be trained as a barista. He said I would have to relocate from Durban to Johannesburg for the training – so I packed my bags and left after writing my final matric exam paper in 2003. I was trained by Roberto and also worked at different coffee shops until I joined Pick n Pay as a product specialist in coffee, opening all the concept stores. I then joined Ciro Coffee Academy as a barista trainer. The only knowledge I had was coffee, and I decided to excel in it and make it work to the best of my ability."
In 2012, Magubane branched out to create his own business – Sihle's Brew. For the last six years, he's been personally selecting, blending, roasting and retailing beans under his own brand…
What's the story behind Sihle's Brew?
"My passion was coffee, so I established my company in March 2012 and am still trading today. I opened the first coffee shop at North Riding, called Sihle's Brew Barista Love. My coffee brand has been built based on this passion, to create amazing and different taste profiles. I also want to help other underprivileged people, to give them a skill and knowledge of how to run a successful coffee company. My vision is to create jobs and sustainability."
Tell us about your coffee?
"We source our coffee from the best coffee producers in the world – a mixture of African beans and Central American, from Ethiopia, Kenya, Tanzania, Guatemala and Brazil. We have five signature blends of 100% Arabica, including the Original (light chocolate toffee with a hint of tropical fruit) and Signature (dark chocolate hazelnut with spicy note) blends."
What's been the highlight of your business journey?
"To serve former president Motlanthe and being one of the top four performing students at Gordon Institute of Business Science (GIBS), from 2014 to 2015. I had to pull away from the business for two years to study business at GIBS, but that has shaped my business."
What's the best part of your job?
"I like to interact with my customers directly, where I meet different human beings and share ideas of how to grow our country's economy. I believe the coffee scene can grow our country if we work together."
What does your average day look like?
"My day can start as early as 12am if there's outstanding paperwork I need to do. But usually I work from the office from 7am to 12pm, and spend the rest of the afternoon looking after customers or events."
What is your coffee of choice these days?
"An espresso or americano!"