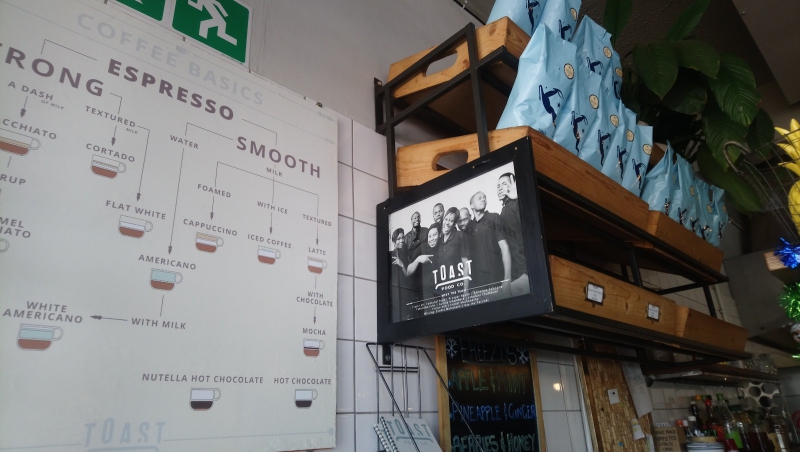 Toast Food Co is a must for anyone visiting Pretoria. If you need a decent coffee, a dose of positive vibes and very yummy breakfast then this is the spot for you! Situated on the corner of Jan Shoba & Lynnwood, Toast is one a few small businesses in this bustling little street-side centre. There's plenty of parking and you can sit at the outside tables or inside.
Jabu, the barista, is most likely the first person you'll encounter as you walk in. His radiant smile and positive energy is much like the espressos he serves - bound to give you a lift - and yet it is his latte art and presentation of the milk based coffees where Jabu has made a name for himself. Jabu recently won the South African version of the Almond Breeze Latte Art Video Challenge, so we were keen to meet the man behind the milk pitcher. It was an extremely hot day on our visit, so we sat in the cool, dark interior with the other locals and soon enough our Flat whites arrived - one was "Pegasus" and the other a beautiful multi-tiered tulip.
Anthony Wingfield, the Owner came out to have a chat with the regulars and introduced himself to us and gave us a bit of a back-story to Toast and the Team who work there. There is definitely a strong sense of pride in the Cafe and the ethos of customer service that Jabu and Ant have instilled there and you can see why the locals love it.
Toast use TriBeCa coffee and serves a great Flat white, cappuccino and latte. Their menu is good, hearty cafe fare and the portions are generous. I loved the honey glazed bacon that they serve with their brekkies and the grilled cheese even defeated Mel (and that's saying something).
We would highly recommend a visit and we look forward to seeing the brimming potential of some of the other Toast staff come to the fore on the barista competition stages soon. Watch this space!