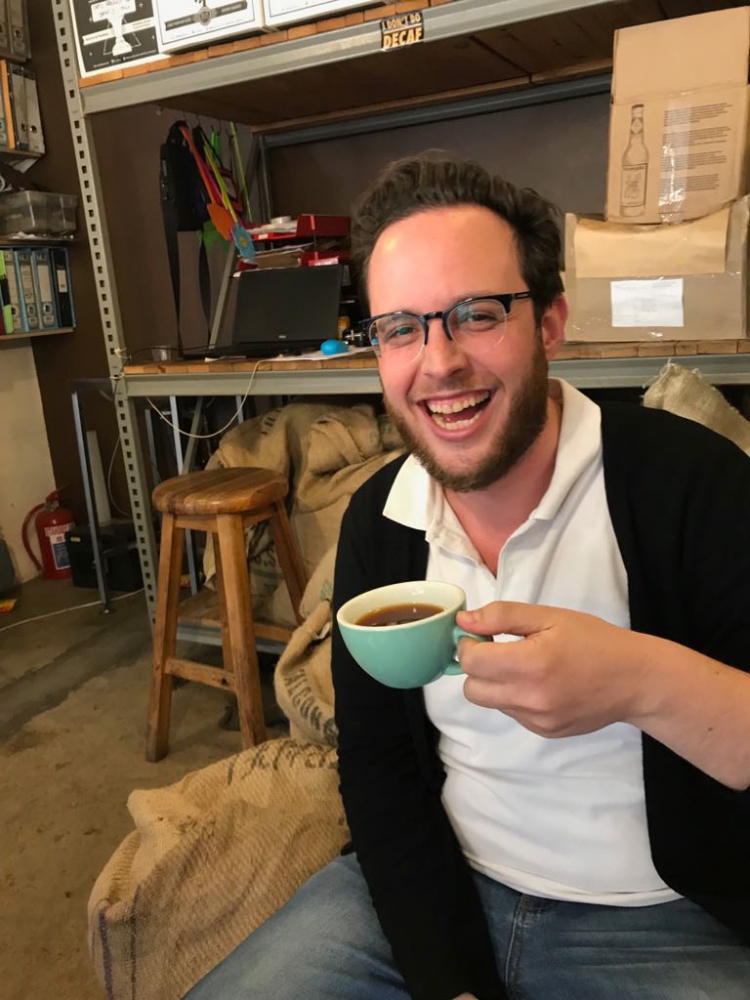 We last caught up with Ori Cohen in 2012 in Interview with a Barista. A lot has changed since then… Ori is now responsible for Business & Brand Strategy at Doubleshot Coffee & Tea (small batch coffee roasters and artisanal tea blenders). We chatted to Ori recently to find out how life has changed since 2012…
"In 2012 I was just a year into my degree at varsity, and had only just started tumbling down the coffee rabbit hole. I was somehow in between my first regional and national barista championships. Since then, I finished up my degree, got married, joined Doubleshot full-time, and became a partner in the business."
You studied Brand Building and Management at Vega – what made you decide to enter the coffee industry?
"Having grown a massive love for coffee, I had decided long before my studies were up, that ultimately, I wanted to enter the coffee industry. My degree taught me a great deal about business and it's a diverse field that keeps me just as excited as coffee does, so I get to do really cool stuff every day, surrounded by delicious coffee. How could I not be happy?"
You've been with Doubleshot Coffee & Tea for four years now? What's that journey been like?
"The journey has been a quite a crazy one. I've gotten to meet really interesting people, taste outstanding coffees from around the world (and taste our own best coffees against them), and develop other exciting products like our craft iced teas and artisanal concentrates range. These are obviously littered with more difficult and mundane experiences, but overall, getting to be surrounded by character-filled coffee and great people makes it all worthwhile."
What does your average day look like?
"No two days are the same. It will always start with an exceptional coffee, and have cuppings of coffees and teas interspersed between product development, meetings with customers and, very possibly, a trip to our iced tea and chai factory."
What is your coffee of choice these days?
"I'm loving our current Aeropress Project selection – a natural process Ethiopian (Kayon Mountain). It's a gorgeous coffee. Full of sweet berries and a bit of litchi."
You also brew your own beer? How does the art of craft beer compare to speciality coffee?
"There are many parallels whenever you compare anything that involves tasting, whether it's food or beverages. We build recipes that bring out contrasts and complements of tastes and flavours. In coffee, it's your roast profiles, brew ratios, grind sizes etc; and the same process goes into building a beer recipe. Some beers are made to be balanced and accessible, while others are brewed to be unbalanced and appeal to a smaller market. Your understanding of the ingredients you have available, and your brewing equipment, will determine how you can control the outcome – and the same is true when it comes to roasting and brewing coffee.
As a side note, there are some interesting parallels in how some ingredients react. Hops tend to respond in a somewhat similar way to coffee. On a simplistic linear coffee extraction, coffee first extracts more acidic compounds, then sweeter ones, then eventually extracts bitterness when tending towards over-extraction. Likewise, when brewers add hops to their boil, the longer the hops are in for, the more they will turn bitter, whereas if they keep their hops in for a short period, they'll get a lot more fruits and aromatics… A disclaimer: this is very oversimplified – I'd be happy to explain further over a coffee or beer!"
How do you see the coffee scene growing/changing in South Africa?
"I see people constantly wanting better coffee. They want to see more of the process. They want to ask questions and get involved; and they want to taste and try better coffee in new ways. The current strain on the economy is concerning, as this is ultimately a luxury; but that definitely won't stop us from pushing on with our mission to bring exciting coffees to South Africa!"