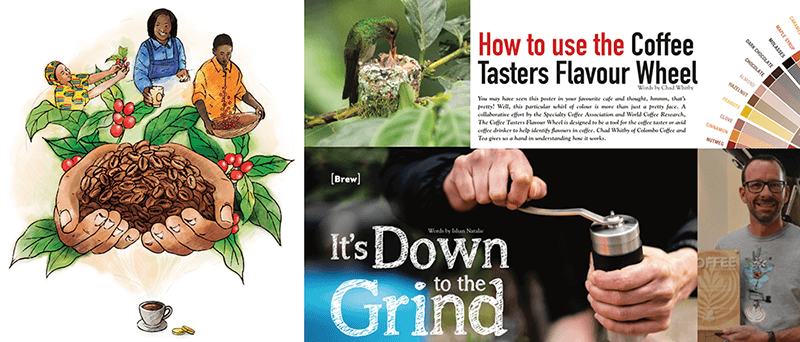 Cover: The Extraordinarily High Cost of Cheap Coffee Pg 10
If we hope to uplift the people behind our cup of coffee we need to take a good, hard look at what we're paying. David Donde from Truth Coffee, asks some tough questions of us, as consumers of coffee beverages. Strap in and hold on!
Origin: Dreams vs Reality Pg 16
A South African man's journey into specialty coffee in Ecuador and out the other side as the reality of the specialty coffee industry set in.
Industry: Coffee Magazine Awards 2018 Pg 24
Presented by Selati Sugar. We had an incredible opportunity to celebrate the South African Coffee Industry and all the wonderful people in it. Find out who won top honours at the inaugural ceremony!
Brew: It's all in the Grind! Pg 34
Hand grinders may seem like a lot of hard work, but Ishan Natalie, 3 time SA Barista Champion, can assure you that this labour of love is totally worth it.
Roast: A Shot in the Dark pg 40
South Africa's First Coffee Roasting Competition and why it's important to coffee drinkers everywhere.
Culture: Let the Music Move You Pg 48
Part 3 of 4. We challenged Lem Butler to tell us about the Record and coffee that never fail to move him. This is our favourite in the series so far. An education in music and coffee!
Travel: Appreciating the Balance Pg 52
Japan is initially overwhelming, but its
Interview: Reviving an Ancient Coffee Route Pg 60
Mokhtar Alkhanshali cultivates Yemeni coffee through civil war and unbelievable conditions and the results are sensational
Taste: How to use the Coffee Tasters Flavour Wheel and The Role of Q Graders Pg 66
With Chad Whitby and Mbula Musua
Discover Great Coffee: Movers and Shakers pg 72
Brands that are forging their own path and making their mark on the SA coffee market.
Kick: Diving into Coffee pg 80
Interview with the most successful Paralympian in SA history, Natalie du Toit and her connection to coffee.