MAME
Josefstrasse 160, 8005 Zurich, Switzerland
---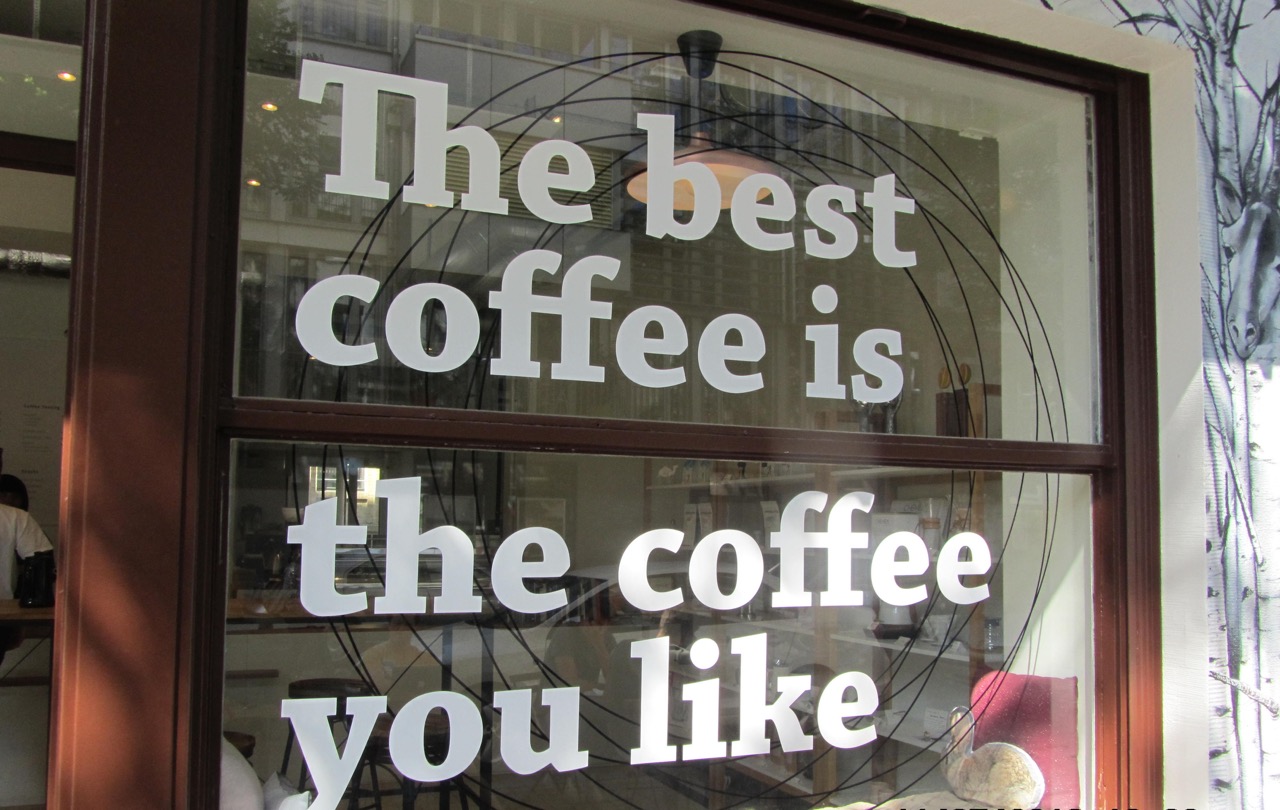 "The best coffee is the coffee you like". This motto adorns the window of MAME Coffee Shop in Zurich, where I recently found myself indulging in a caffeine high…
After a few days in Switzerland without any access to good coffee, entering MAME Coffee Shop in Zurich is like reaching sanctuary. Zurich is as cosmopolitan as it gets – a constant buzz of motion and activity – but the buzz is just a little less busy in Kreis 5 (District 5), the up-and-coming formerly-industrial quarter.
Here in Zurich-West, old industrial spaces have been transformed into a modern and trendy neighbourhood of apartments, parks, art galleries, restaurants, and an eclectic mix of businesses and stores creatively built under the arches of the railway viaduct. It's the perfect place to slow down and enjoy a cup of coffee.
We find MAME on Josefstrasse – a modern space with a long centre table and stools where you can watch the magic happen behind the counter. One whole wall of the shop is dedicated to the art and science of good coffee, with every accessory you might need to hone your barista craft.
Chocolate, fruity, or floral?
Emi Fukahori is the co-owner of MAME along with Mathieu Theis, both Swiss Barista Champions. Emi is behind the counter when we walk in, and happily explains our coffee tasting options to us. With a choice between the Flight, Filter Trio, Espresso Trio and the "Crazy" barista selection for coffee fanatics, we decide on the Flight and Espresso Trio. The next big question is chocolate, fruity or floral – what flavour profile do we prefer?
Emi talks us through the options. The beans from Brazil bring the chocolate flavour for those who like their coffee with less acidity, the Columbian beans bring the fruity flavour for the more adventurous, while the Ethiopian beans bring the complex floral notes for those who want to try something new. Fun fact: MAME means 'beans' in Japanese.
Good things come in threes
The Flight is a set of small pours from one single origin served three different ways – as a filter coffee, espresso and cappuccino. I choose chocolate, and am presented with three beautiful cups on a small bamboo board. Emi guides me to sip from the filter coffee to appreciate the taste, but then move on to the espresso and cappuccino before going back to finish the filter, to truly appreciate the subtle differences.
The Espresso trio is a tasting of all three flavour profiles – the chocolate, fruity and floral – and it's an adventurous experience if you're not a big coffee drinker. It really opens your eyes to the dynamic quality of coffee – not to mention keeping your eyes open for a good few hours after that much caffeine.
Our visit to MAME is short but sweet – we have to say goodbye, but not before taking a photo of Emi with an old copy of the Coffee Magazine, which she had just by chance on the MAME bookshelf dedicated to all things coffee. A crazy coincidence when you find yourself 13,000km from home!
If you too find yourself in Zurich, MAME is a must-do for any specialty coffee lover. I can honestly say it was the best coffee I've ever had, and I'm glad I got to tick it off my coffee bucket list.