The first winners of the Coffee Magazine Awards presented by Selati Sugar were announced on Saturday 28th July at a Civic Reception at uShaka Marine World Aquarium. Surrounded by beautiful creatures of the deep, we celebrated the South African Coffee Industry and all the wonderful people in it.
It was also a wonderful way to congratulate the Selati Barista Scholarship students on completing their studies.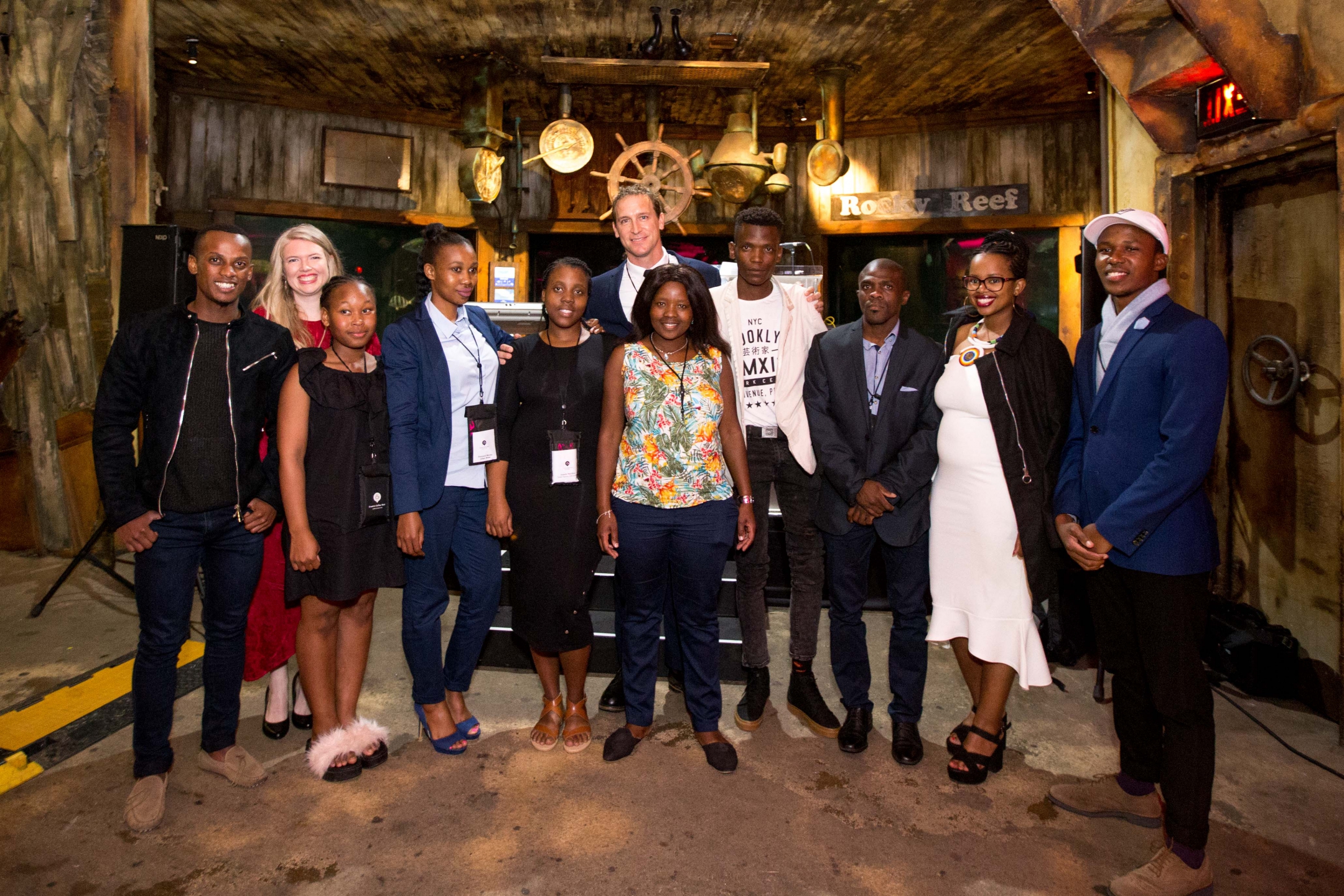 Huge thanks to Mr Eric Apelgren from the Intergovernmental Relations Department of the City for hosting the Civic Reception at uShaka and welcoming our international guests so beautifully.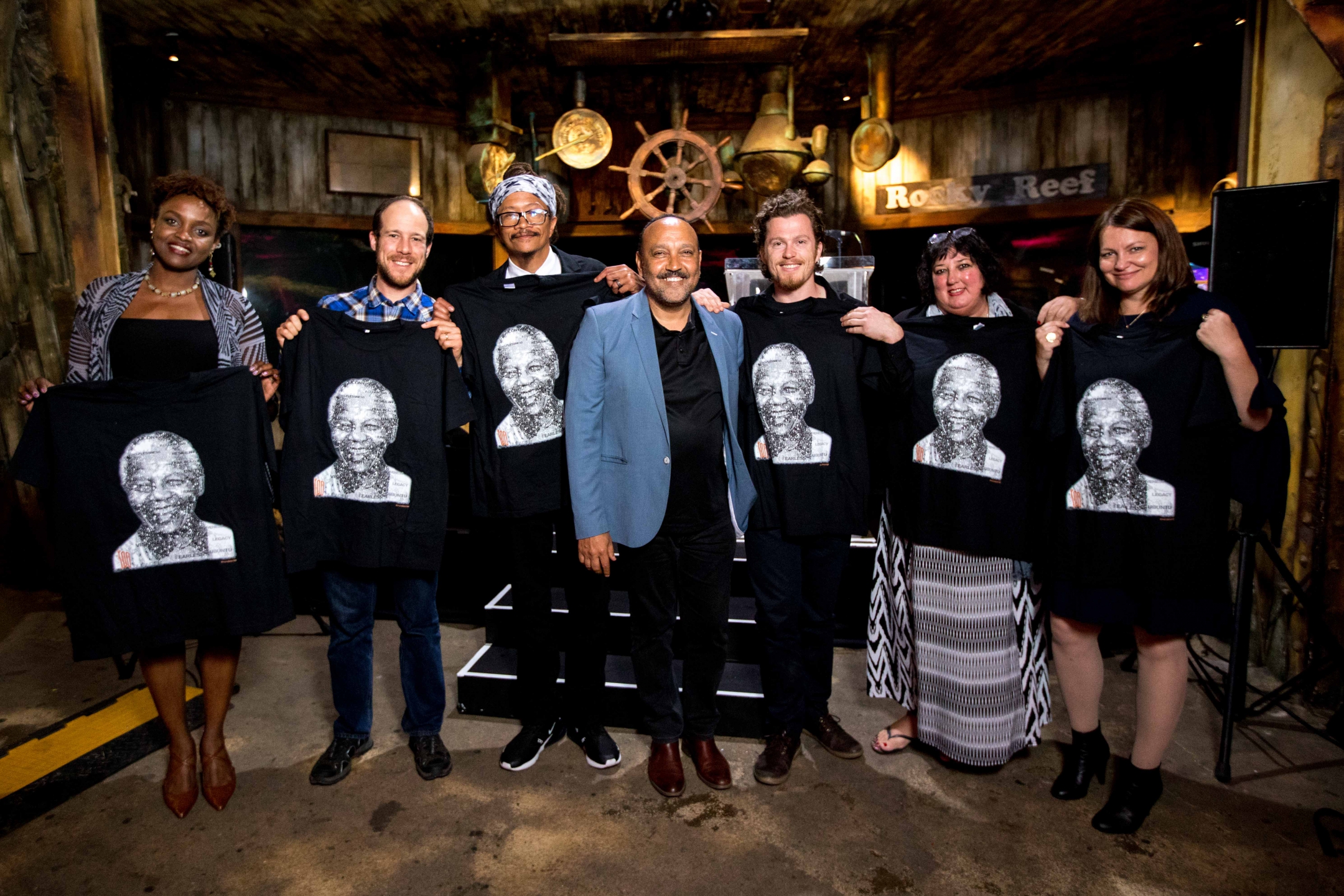 This platform was a long time coming and deciding on this first set of nominees and winners was extremely challenging. We know we are limited by our own experience, but we knew we had to start somewhere.
The first winners and nominees of the Coffee Magazine Awards are all extremely deserving and we look forward to the future of this platform as it evolves and changes and expands to include more people; perhaps a panel of judges! A Reader's Choice Award! A backdrop that isn't a shipwreck! You live and you learn!
We wish everyone could win, but that's not really how Awards work. As with any Awards there are always many opinions and we welcome them, but we started this thing to uplift the coffee industry and we're off to a good start.
A huge thank you to all the incredible sponsors of Creative Coffee Week, Selati Sugar (RCL Foods), FNB, City of Durban, Innovate Durban, Sanremo SA, Koldserve, Genio Roasters, MONIN (See full list here) as well as support from all the people in the industry who made it to Durban to attend.
Thank you to prize sponsors Watercare Africa (IX Water Filters) and Jonsson Workwear (R2000 Jonsson Depot vouchers) who sponsored particular categories!
So without further ado, please give it up for your CMA Winners 2018:
Dedication to Education Award
This award is handed out to the person or company who has dedicated their time to coffee education.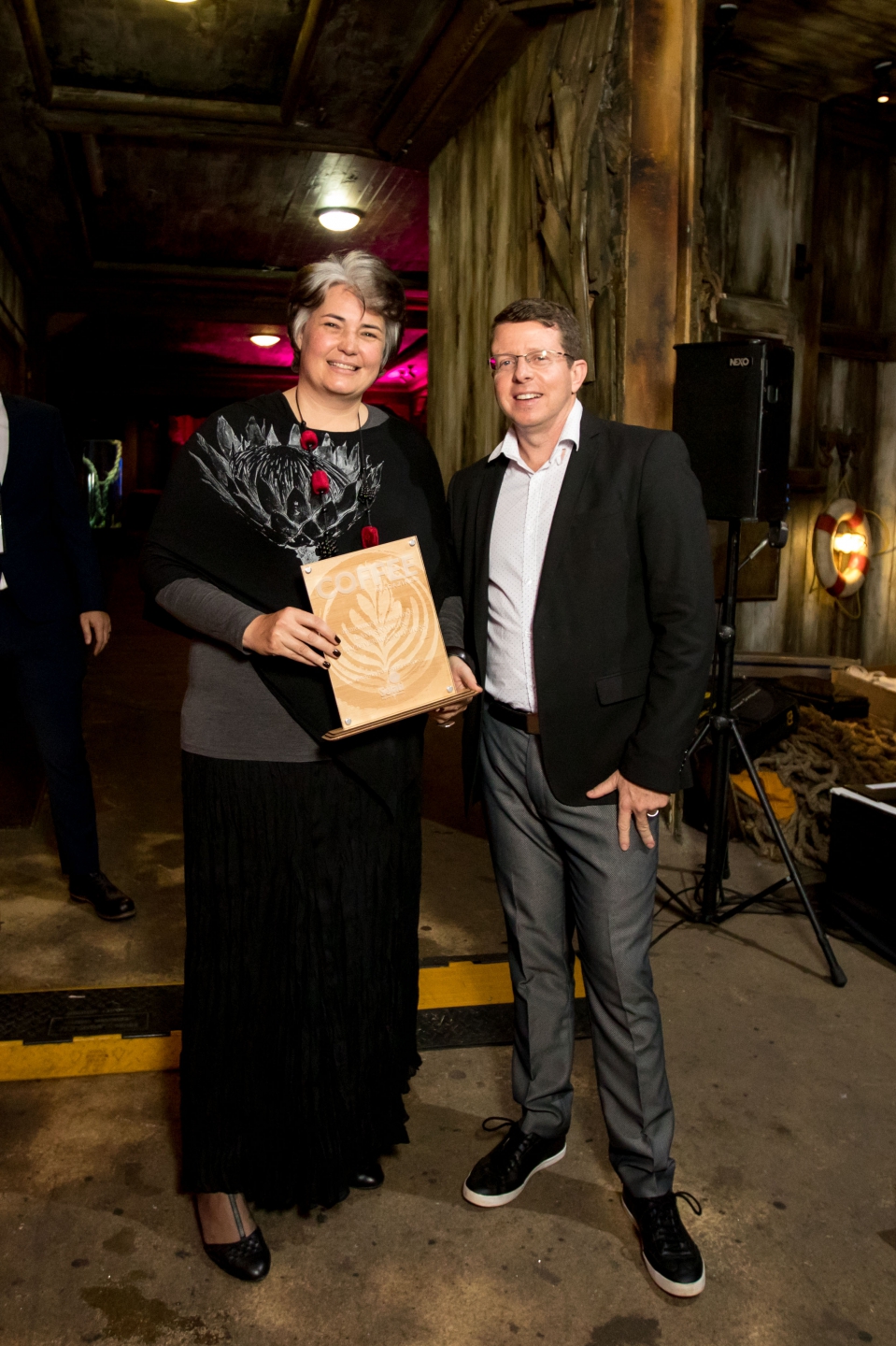 Lani Snyman pictured with Mike Honeywell (FNB)
WINNER: Lani Snyman – Ciro Beverage Solutions. UNISA Barista skills course, SCA and AST training in SA.

Carol Corlett - Sevenoaks Trading - Green Bean training and Q Graders 2018 courses.
Johnson Sehoro and Lizaan Alberts – Ciro: Deaf Barista training programme 2017/18.
Shaun Aupiais – Red Band Barista Academy and ongoing training in E Cape.
Jaco De Witt – Roast Republic: Barista Business Incubator Project
David Basset – Woza Coffee - Empowering unemployed people through coffee.
Best Cafe Design
The spaces created for coffee add equally to the experience of enjoying that coffee. These are the nominees for the best designed Cafe spaces in South Africa: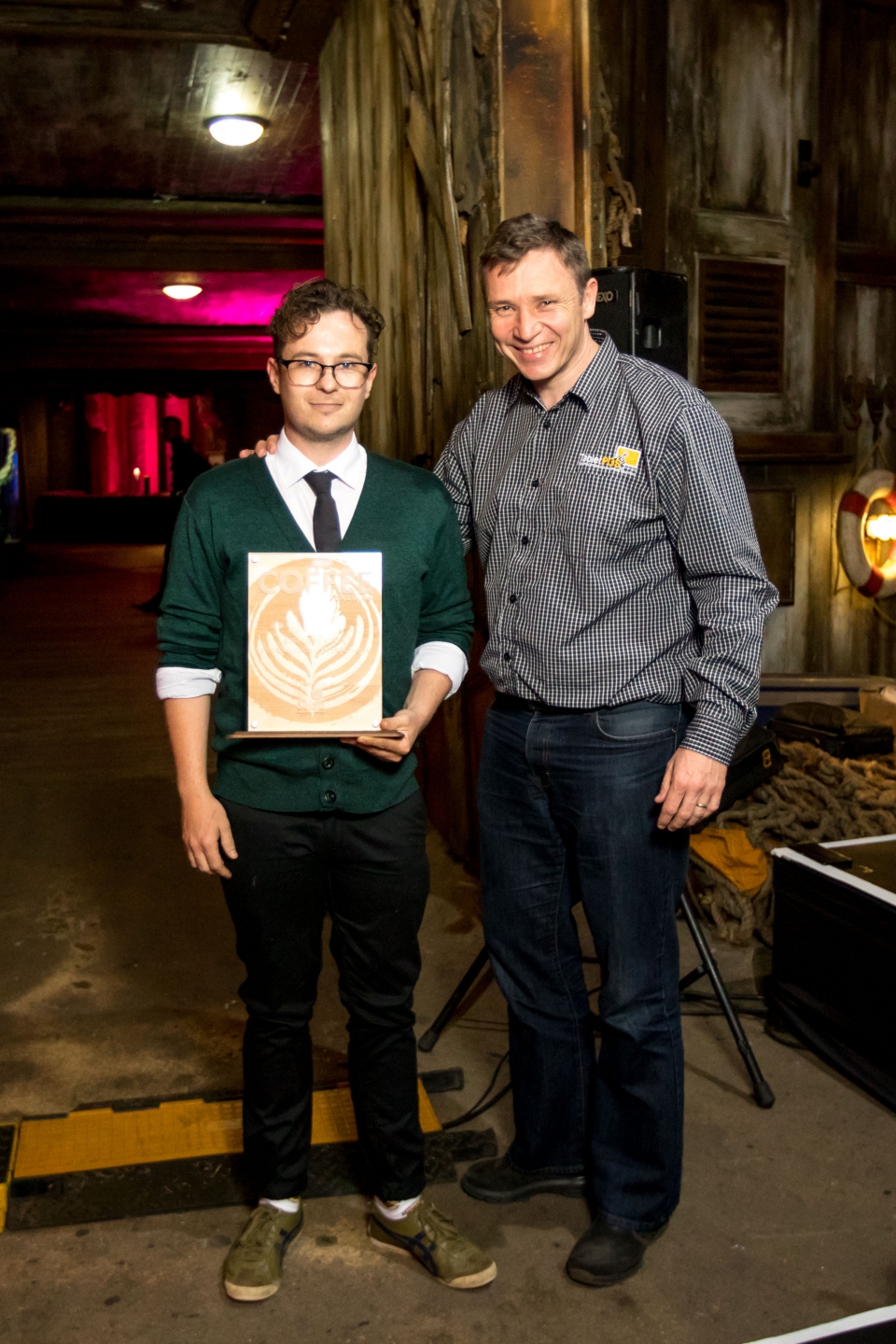 WINNER: Big Dog Café by Terbodore - Franschoek

Naked Coffee – Sandton City
Deluxe Coffeeworks Roastery - Buitenkant Street
Industrial Coffee Works - Centurion
Truth Coffee - Buitenkant st
Father Coffee - Rosebank
Excellence in Coffee Award.
This Coffee Professional strives for and achieves excellence in their chosen area of the Coffee Production Chain. They are innovative, are recognized as a leadership figure in their field and are constantly inspiring others around them.
WINNER: Jonathan Robinson – Bean There
Donovan McLagan - Urban Espress
Ishan Natalie – Starbucks
David Donde – Truth Coffee
Cuth Bland – Bean There
Charlie Denison – Cultivar Coffee
Neil Maree – Genio Roasters
Best New Cafe
Café's are meeting places, they are spaces of community, business meetings, collaborations and first dates. We see new Café's opening every month and the standard is increasing year on year – from better equipment, higher quality beverages, better service, to choice of design and outfitting, to creative seating, flow and ambience. Great toilets and bathrooms, and a fitting menu. Most off all though the criteria for this was based on the Café that opened in the last 24 months that has created something special where before it there was nothing. The nominees are: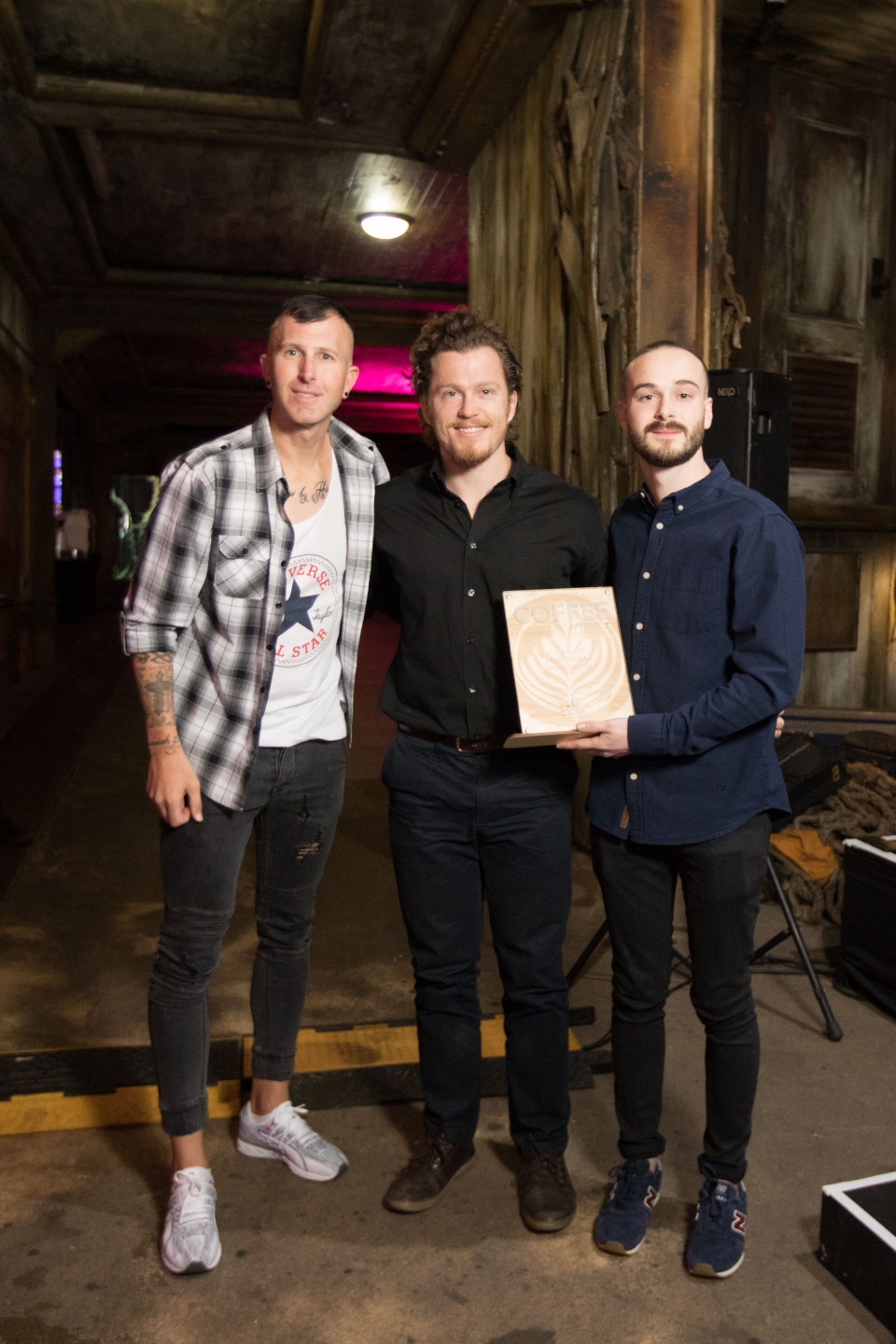 WINNER: Dear Maria – Bedfordview
Ground Coffee House – Hilton
Skyline Coffee - Durban
Flynn Coffee - Johannesburg
Pauline's – Sea Point

Best New Roastery
This category seeks to recognize Roasteries that have opened in the last 3 years and are gaining reputations as up and coming in the South African scene
WINNER: Thirdspace - Fourways
Pause Coffee - Wilderness, E Cape
Alchemy Coffee – Welgemoed, WCape
Faba Roastery – Bloemfontein, Free State
Humble Roasting Co – Durban, KZN
Citizen Coffee Roastery – Wynberg, CT
Tulip Coffee – Hermanus, W Cape

Best Alternative Brewing Experience
Aeropress, Chemex, Siphon or V60 pour-over to name a few! These are the nominees for the best alternative brewing experience in South Africa for 2018:

Winner: EspressoLab Microroastery– Cape Town
Travel Designer – Cape Town
Origin Coffee Roasting – Cape Town
Father Coffee - Rosebank
Vintage - Centurion
Barista Trainer of the Year
These nominees are the very best Barista Trainers in the land. They teach and inspire, they train and they serve. They impart wisdom learned from thousands of hours behind the espresso machine and their subject matter is technique, science, aesthetic and service.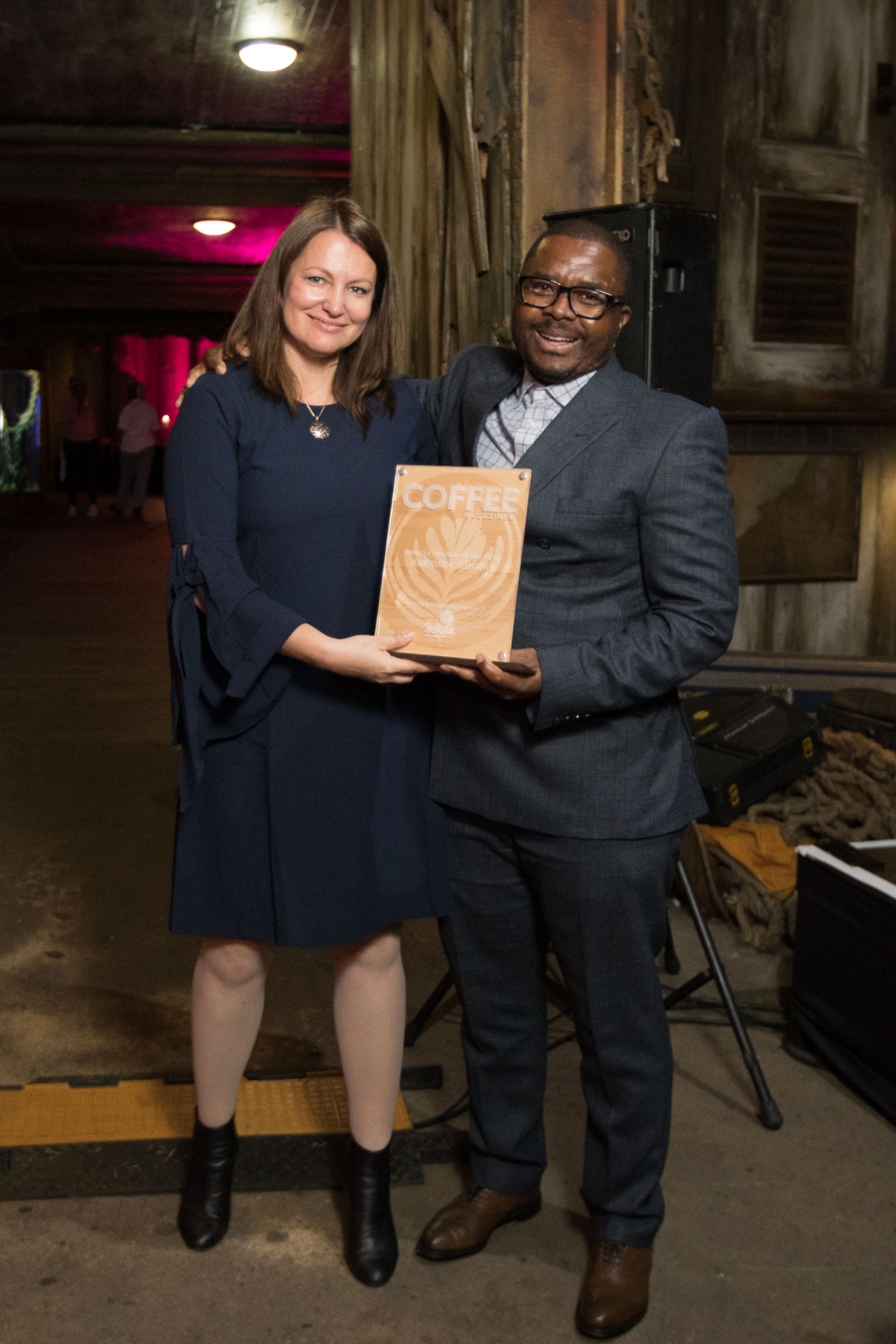 WINNER: Johnson Sehoro - for Ciro Beverage Solutions

Bilbo Steyn - Starbucks
Ishan Natalie - Starbucks
Khulekani Mpala - Wiesenhof Coffee
Shaun Aupiais - Famous Brands
Wency Masawi - Nino's

Coffee Personality of the Year
These coffee professionals approach whatever they do with optimism, effervescence and inspiration. They fly the flag of the coffee community high and get involved in all areas, remaining wonderful throughout.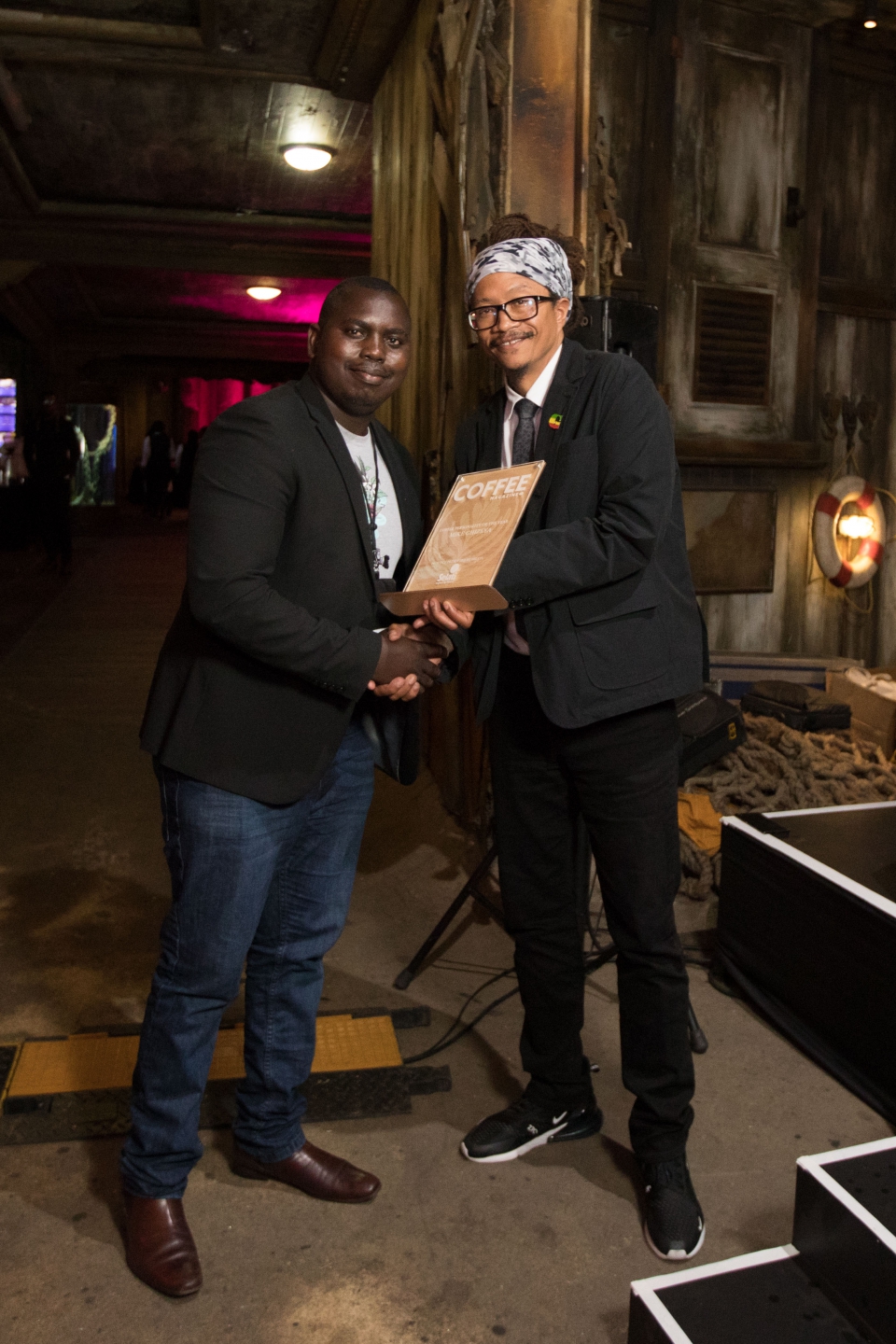 WINNER: Mike Chizeya - Micoffee
Angeline McLagan - Urban Espress
Chad Whitby - Colombo Coffee
Nicodemus Nabakwe - Sevenoaks Trading
Sihle Magubane - Sihle's Brew
Harry Mole - TriBeCa
Coffee Team of the Year
The Coffee Team of the Year award recognizes that it is people that make a coffee company great – From the Owners who create a happy, respectful and creative ethos, to the staff who live the brand daily. The successful team is one in which all the people in the space from the lowest to the highest uphold the same values and consistently serve with excellence and are rewarded well for doing so.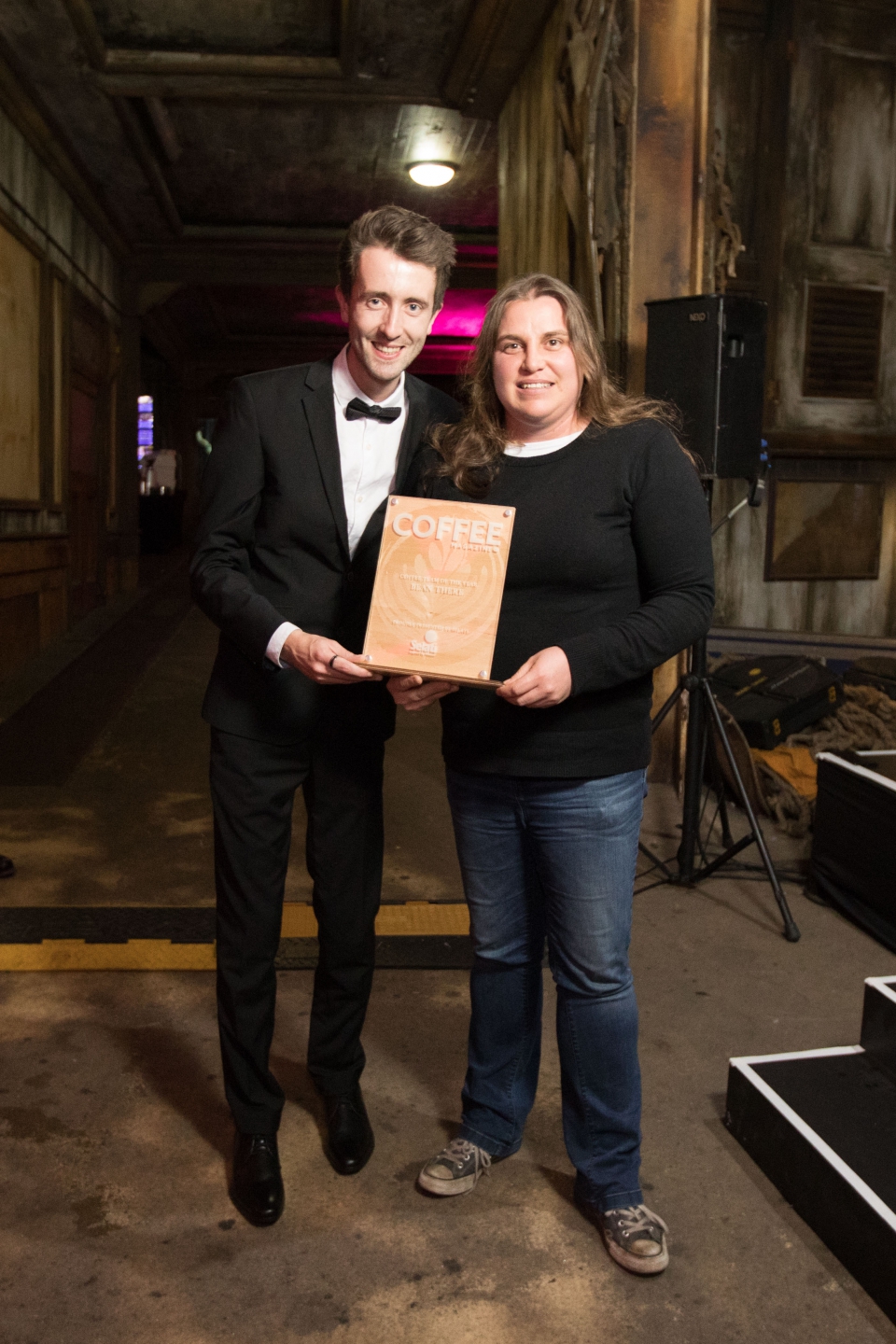 WINNER: Bean There Coffee Company
Lineage
Rosetta Roastery
Starbucks SA
Truth Coffee
Tribe Coffee
Colombo Coffee & Tea
Cafe of the Year
This award goes to the establishment that has consistently created an amazing cafe experience for its patrons, serves great coffee and food, with excellent service, has great ambience, design and most importantly, a loyal community of patrons.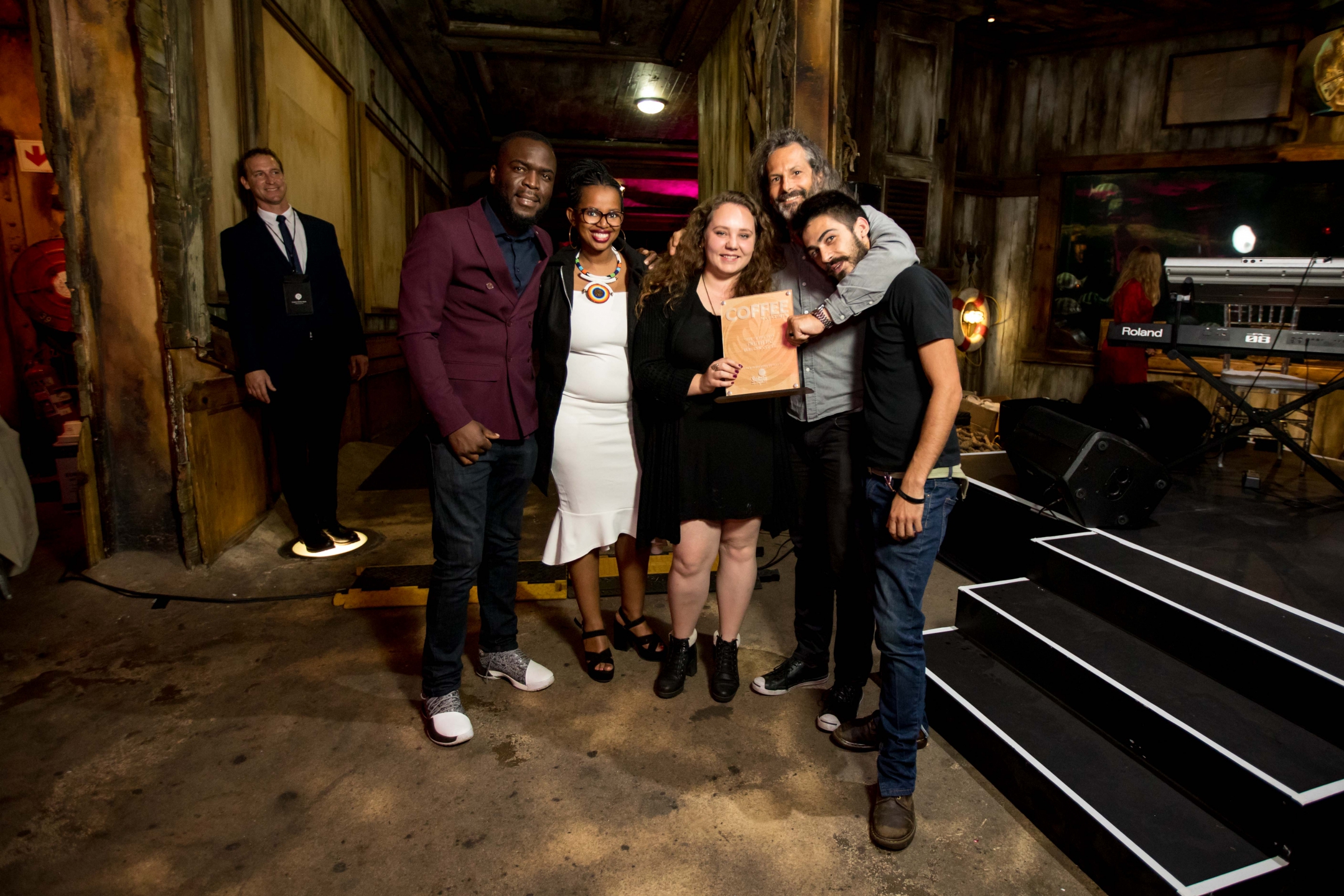 WINNER: Truth – Cape Town

Starlings - Newlands
Krust Café – George
Pablo Eggs-go-bar – Melville
Coffeeberry – PMB
Urban Espress – PE
Jason's - Greenpoint

Roastery of the Year
The nominees in this category are the Roasteries in South Africa that have forged the path for speciality coffee in SA. They continue to push the boundaries of coffee roasting by sourcing the best coffees, investing in the latest technology, by collaborating, sharing and engaging with the global roasting community, by educating, informing and inspiring their customers – wholesale and retail and finally, by putting the highest quality coffee into the market that can make South Africa stand amongst the best coffee roasters in the world.

WINNER: Rosetta Roastery
Rock & Roller
EspressoLab Microroasters
Bean There
Father Coffee
Origin Coffee Roasting
Barista of the Year
Barista of the year is not limited to competitive coffee competitions but is the barista all-rounder. He/she is the barista who epitomizes what it means to understand, to respect and to serve amazing coffee experiences. They are masters of extraction, technique and technical understanding, but most of all they cherish that it's not just about the coffee served, but in the serving.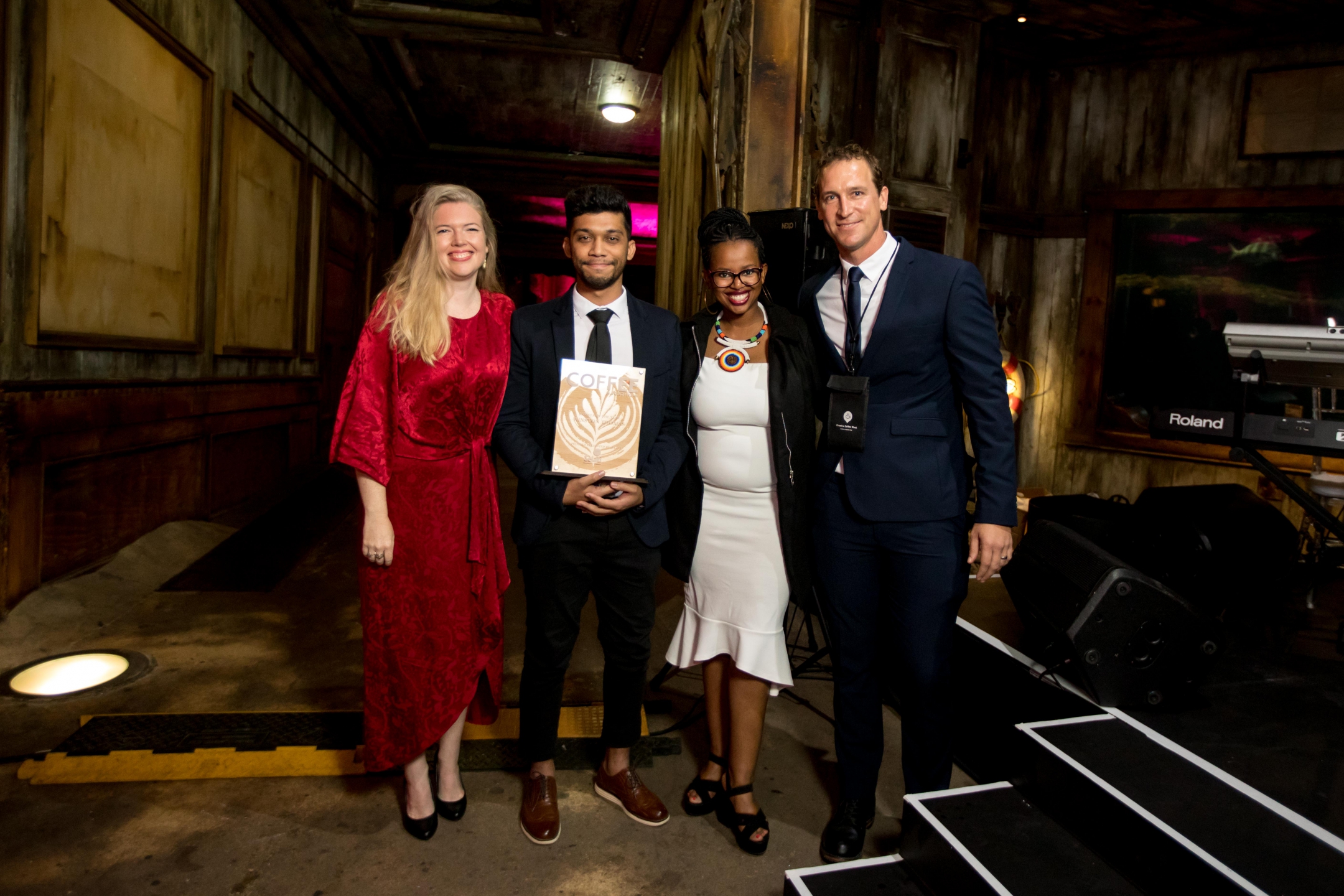 WINNER: Winston Thomas - Independent

Nigel Kamhanda – Infood Coffee Society Jbay
Simnikiwe Mhkize - Rosetta
Ken Machenge - Tribe Coffee
Innocent Chakanyuka – Truth Coffee
Lydia Oyier - EspressoLab