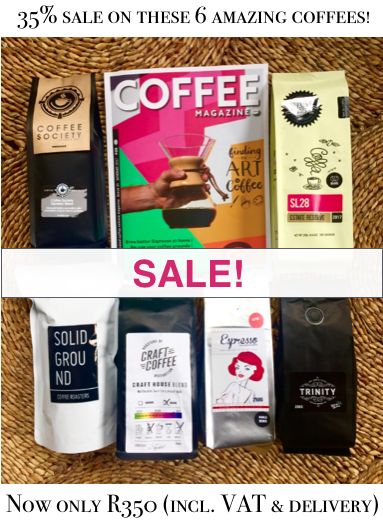 These are the awesome coffees you will receive within 3 days of payment being received:
Savior Brand - Durban
Savior Brand started a coffee business almost 4 years ago as a "bolt on" to their leather studio in downtown Durban. They started their coffee offering with some amazing micro lots from Long Miles Coffee Project. Taste being as subjective as it is, after many, many conversations with coffee roasters around the country and drinking their coffee, the Savior Team eventually chose a roaster and developed a blend, known as
Trinity
. You can expect a light chocolaty flavour, that is well balanced, with a rounded smooth aftertaste with little or no acidity.
Infood Coffee Society Roastery - JBay
Situated right in the heart of the surf village in Jeffreysbay, Infood was formed out of a desire to bring the best coffee to the people. With a wide selection of artisan roasted coffees from Africa, Central and South America, the
"Coffee Society Blend"
was born. It consists of 4 single origins: Ethiopia Sidamo, Ethiopia Anderacha Organic, Uganda Bugisu Organic and Colombia Excelso Supremo. Expect a well-rounded, balanced and delicious espresso, which goes perfectly with steamed milk and as a pourover.
Craft Coffee - Newtown
Craft Coffee's House blend
is a delicious 3 bean blend from India, Guatamala and Brazil gives a delightful floral, chocolate and sweet spice aroma on the nose and tastes fantastic as an espresso or manually brewed coffee. Expect Vanilla, dark chocolate and hints of toasted hazelnuts with a brown sugar sweetness. It is medium bodied, smooth and balanced with a tingly acidity on the palate. Roasted under the close scrutiny of former SA Barista Champion Lovejoy Chirumbasukwa, and the Team at Craft Coffee, who pride themselves on experience, quality and consistency, you can expect something special from this coffee!
Solid Ground Roastery - Somertset West
This little gem of a roastery in Somerset West is proud to offer a rich, medium bodied
Colombia Supremo
with a dark intensity. "We recommend this coffee particularly as an espresso for mornings and after dinner, as it is bursting with flavour and has a super clean finish." Think dark chocolate, caramel and citrus flavours.

Beaver Creek Coffee Estate - Port Edward
Originally developed and grown in Kenya and Tanzania, this
SL28 Bourbon cultivar grown right here in South Africa
has adapted to the sub-tropical climate and is harvested from May to September. Once picked, the ripe cherries are pulped, fermented, skin dried and placed on sun-drying racks for two weeks. The outer shells of the beans are then removed and depending whether they are to be sold ground or whole, are roasted to a medium +.

Culinary Coffee Roastery - Lanseria
The Alpha Blend
is the signature blend from Culinary Coffee. It is a 100% Arabica blend of African, Asian and South American beans and this blend has no additives and no cheap filler beans. The Alpha blend is electronically roasted for consistency. Expect a well rounded, delicately balanced coffee.