You're the new SA AeroPress Champ and you're going to Seoul! How does that make you feel?
I am grateful of Caffina the Coffee goddess, who has embraced and blessed me with opportunities in coffee, and now has crowned me with the title of South African AeroPress Champion and she's sending me off to battle for the World AeroPress Championship! I am deeply humbled by the opportunity and the upcoming experience, but at the same time, worried about meeting expectations. Here's to bringing back the title to honour Caffina!
Um, Ok Chang. Thanks for that.
(Ed's Note:
check this out for more on Caffina
It may or may not be a real thing, unless you're Chang!)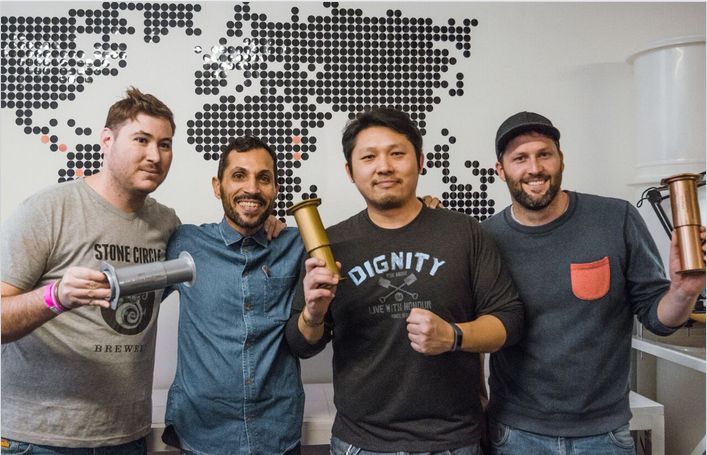 Chang, with his Golden Aeropress, (3rd from left) the trophy for numero uno AeroPress barista at The SA Champs, held at Espresso lab earlier this year.




What do you love about the AeroPress and what is your top tip for people using one for the first time?
Like every manual brewing device the opportunity of discovering great flavour is between you and your brewing equipment. AeroPress has made it simpler for any coffee lover that wishes to know more about manual brewing a great and fun way to enjoy their favorite coffee anywhere. For the first time user, first pray to Caffina for guide and wisdom! Then, go to your favorite Roastery (Uncle Bear Coffee, of course) to show you the basics and pick up some beans. You can also
watch it on YouTube
on how to, but most of all: Have Fun! (And use good water - 88 Celsius.)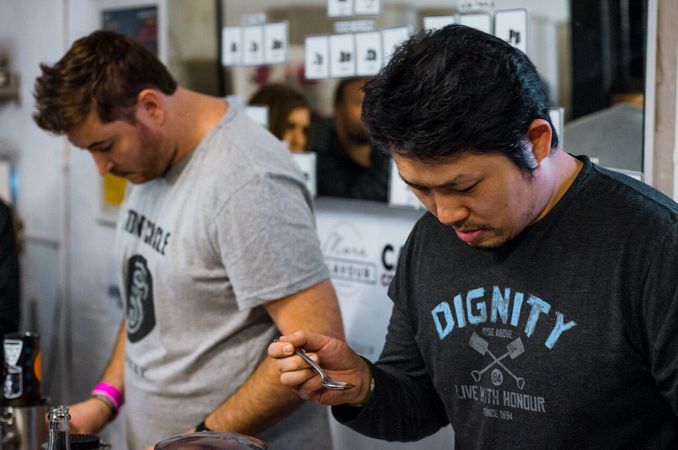 What was the moment in your coffee journey that you decided opening a cafe was in your future?
Caffina (in her ineffable graciousness) said to me, "Go! And spread my love to all! Enlighten them with my glory and show them what is COFFEE!" But I don't have enough to set up, I said to her. She said to me, "Ask, and you shall receive!" That is when I realize there is a cafe waiting for me.
Ok, so that was when Uncle Bear Coffee Company came about?
On a very ordinary day, I was communing with Caffina and Syphon coffee, I asked her for a name for the cafe because so many names have been taken already, either locally or internationally, when my niece runs towards me and ask what is it that I am doing? I explained to her and let her smell the aroma, she took a deep sniff on the nose and said, "Uncle Bear Coffee".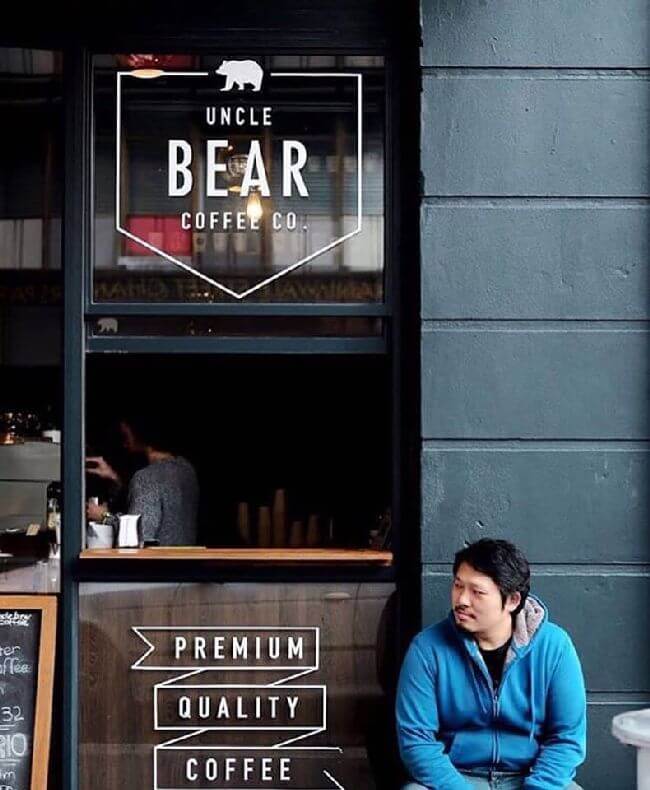 And you're roasting now? How has that experience changed your perspective on coffee?
Yes I am! The more I learn about coffee through roasting and brewing, the more I feel humbled on the this journey. The more I KNOW, the more I DON'T KNOW.
Good Luck in Seoul Champ!

You can follow all the action here: http://www.worldaeropresschampionship.com/