Discover Great Coffee: The Great Free State Road Trip

Words by Melanie Winter
Amazing driver and travelling companion Ulrike Starke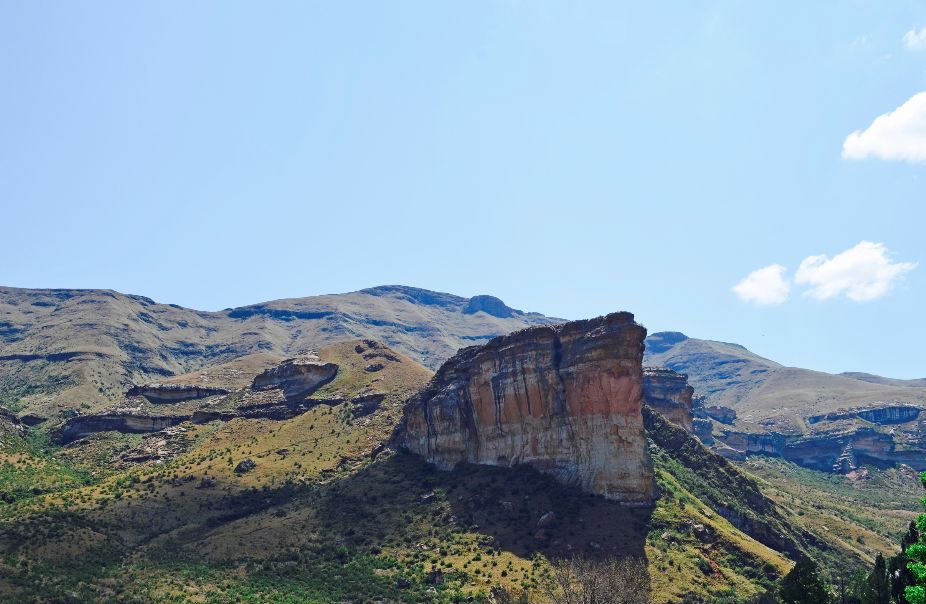 We trekked from Durban to Bloemfontein via Harrismith then back through Clarens over a weekend, to see what the Free State coffee scene has to offer. I know what you're thinking, really? The Free State? And my answer to you is: yes, you better believe it! Our travels were peppered with 70's floral wallpaper in the Hobbit Boutique Hotel, a Currie Cup Final, four seasons in one afternoon driving along the N1, an amusing allergic reaction and the magnificent sandstone hills of the Golden Gate. Every location we visited had it's own unique vibe and community and it was so refreshing to see unadulterated passion and damn, that uniquely South African scenery can't be beat.
Dom's with Love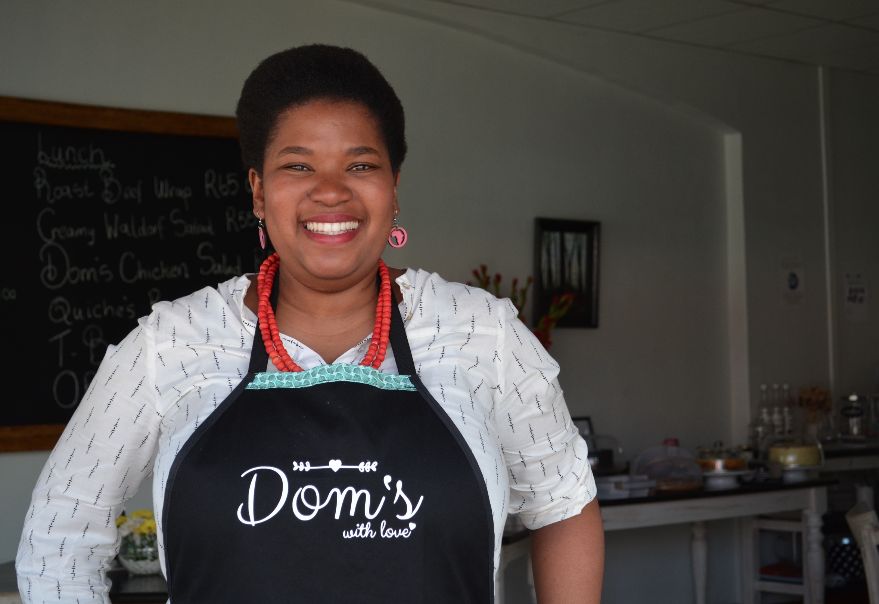 Who would've guessed it?! We trundled into the bustling metropolis of Harrismith, only ever known to me as a halfway stop between Durban and Johannesburg with dodgy directions from Google leading us literally down a garden path. After a phone call to Dominique to correct Google's errant ways we arrived at the shopping complex that is home to the humble and enchanting Dom's with Love. Dominique Molete is pretty much an ecstatic bundle of enthusiasm and as the name of the café suggests, love. "One of the most important things to me here is service, I want each person to feel special and have the most amazing experience, my customers get my full attention!" A mother of five (FIVE!) she has realised her dream of owning a restaurant and café with the full support of her family and has quickly wiggled her way into the hearts of the locals. Mbuso served up a beautifully crafted double cappuccino and an excellent Americano for my vegan travelling companion. They use Dom's Blend, specially put together by Highland Coffee Roastery (you'll hear more about them in our Clarens leg of the trip!). We were beyond blown away by the hospitality afforded us and thoroughly enjoyed her eclectic food offering.
6 Rosepark Lifestyle centre, Hamilton Street
Harrismith
---
Stereo Cafe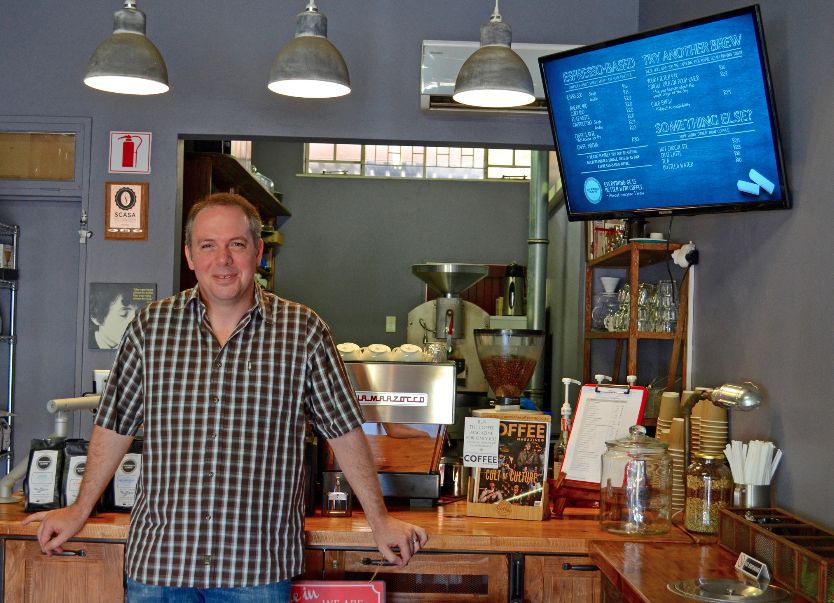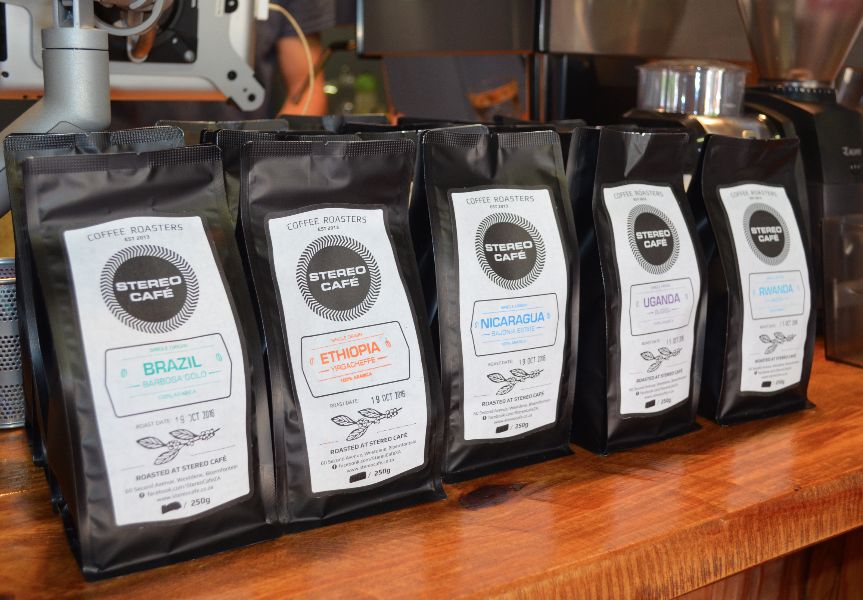 We spent the evening in the, shall we say, interesting Hobbit Boutique Hotel, a place with links to the house that J.R.R.Tolkien was born, quite an auspicious claim to fame! What I was more interested in was its location around the corner from Stereo Café where we intended to begin our exploration of Bloemfontein Coffee.
James Kilbourn owns one of the original Genio Roasters and it has been hard at work for many years now as James converts Bloem locals to a new way of thinking one delicious coffee at a time. He began by selling coffee at markets and they now have a lovely hole in the wall espresso bar and roastery in the Westdene area. James is thirsty for any information around coffee roasting and growing his craft and that is hugely evident in the time he takes to travel to meet other roasters and that he invests in educating his customers.His sincerity and love of music are endearing and entertaining in equal parts and this is a gem of a coffee spot to visit. Estian extracted some delicious coffees for us and I took a bag of Nicaraguan beans home with me.
60 Second Avenue, Westdene
Bloemfontein
---
Marmelade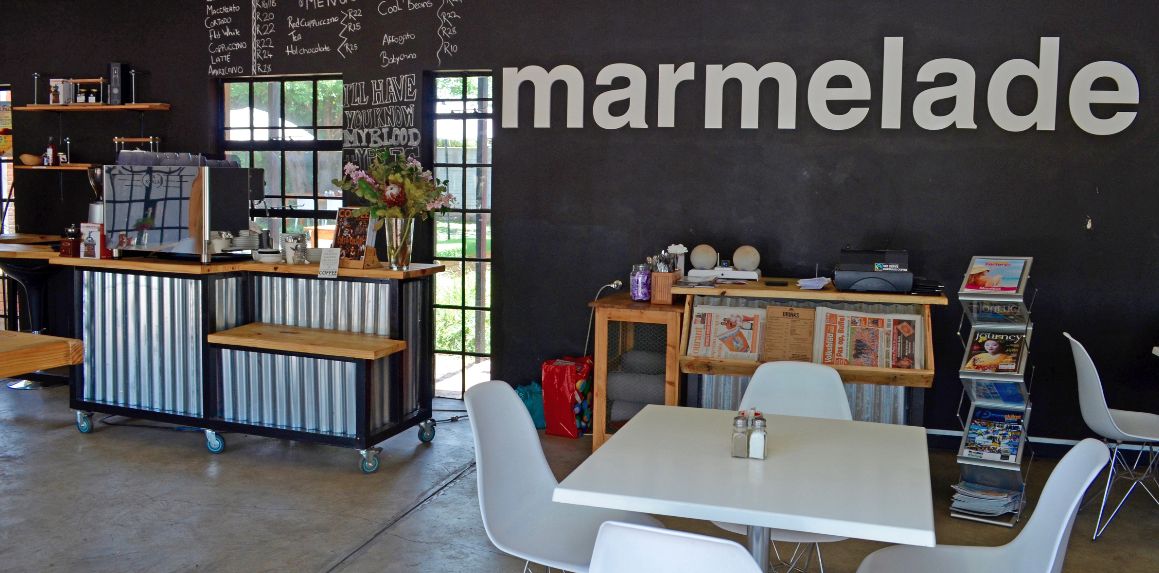 By mid-morning it was sweltering and the streets were filling quickly with the blue and orange flags of the Bulls and Cheetahs supporters frothing for the afternoon's Currie Cup final. Overwhelmed by the machismo bearing down around us we sought solace in the shady courtyard of Marmelade Café and Deli. They have recently switched roasters to Bloemfontein Coffee Roasting as Leani Hugo explains, "We wanted to support a local roastery and the team from Bloem Coffee Roasting have been very attentive to our needs." A popular fixture on the Bloem coffee scene, Marmelade have a beautiful La Scala machine that sits front and centre as you walk in the door, a promise of good coffee to come, and we were not disappointed.
30 Louw Wepener Street
Dan Pienaar
Bloemfontein
---
Coffeetalks Café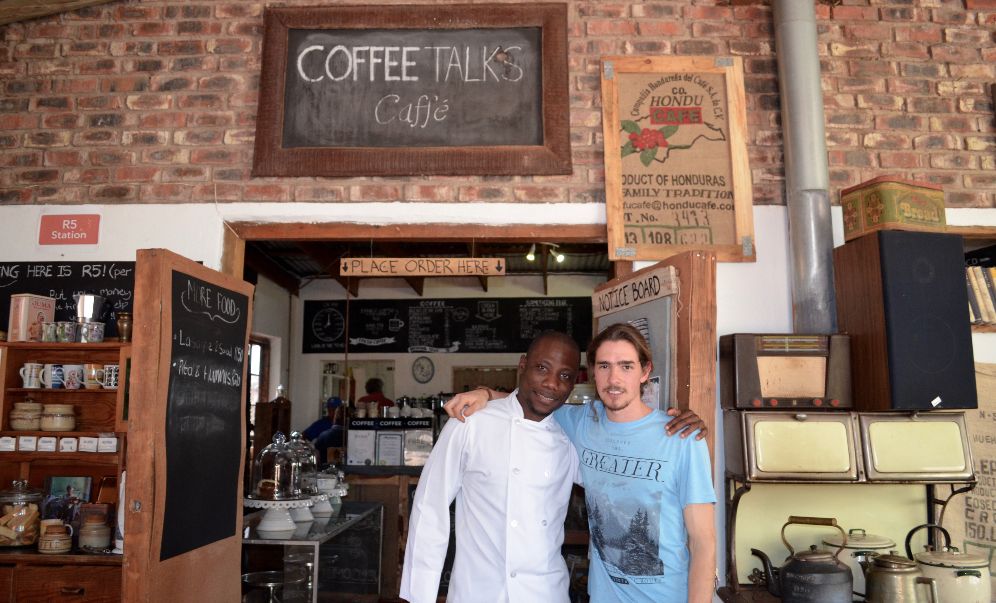 Wikus Botha Jnr is an ambitious young man, but he's not aiming for the usual rewards attached to a successful coffee business, he his happy just to provide the service of excellent coffee to their patrons. His family runs Mizpah Lodge in the outer reaches of Bloem and Ulli's first comment was that it was like stepping across the world into a Mediterranean landscape and mindset. Wikus kindly invited us to Coffeetalks despite them being officially closed for the Sabbath and took us on a tour of the amazing, comfortable space they have created here. After doing a bit of travelling and experiencing good coffee abroad, Wikus made it his mission to bring great coffee home and found help and guidance from Masterton's Coffee&Tea Specialists based in Port Elizabeth. Wikus Snr proudly tells us, "My son makes the best cappuccinos in town. Everyone says so!" This is such a relaxing environment that you can't help but settle in to one of the many nooks and crannies while the vinyl plays. Wikus has also newly established a juice bar, which will go down a treat as the temperatures in the highlands rise.
6 Ray Champion Drive, Rayton
Bloemfontein
---
Jaru Coffee/Royal Roastery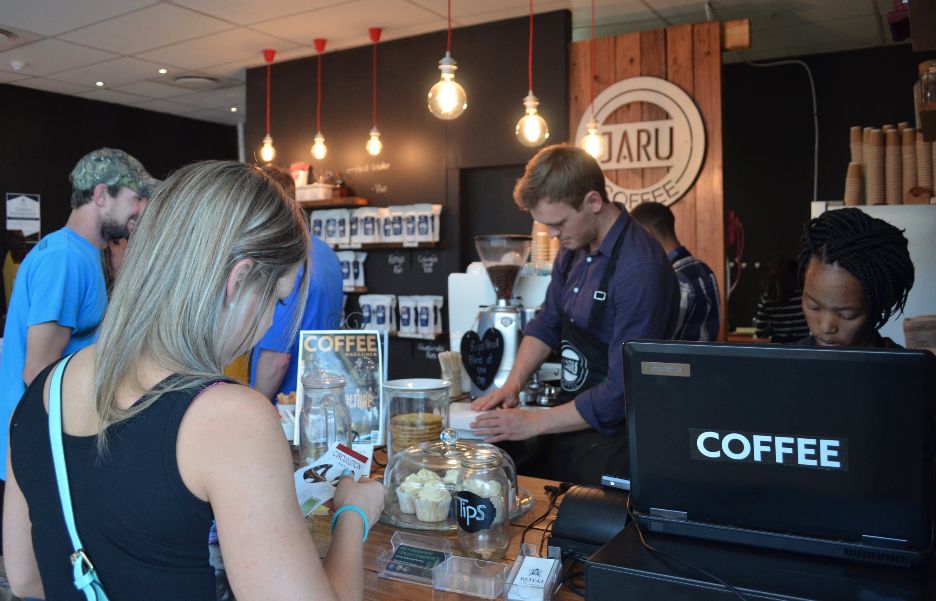 Nestled in the food court surrounded by such South African classics as Spur and Steers, the location in the Mimosa Mall may not have appealed to me, but the beauty of being in such a bustling environment is the opportunity to reach a broad spectrum of people and the enthusiastic team at Jaru is up to the challenge! "We just fell in love with Coffee and everything it entails, so we decided to buy a second hand 2 group Espresso machine and we started this small little mobile stand for the love of it. But soon it just started to grow so fast that we decided to get a shop and we figured that a mall will be a great place with a lot of feet and then on 11 December 2015 we opened Jaru Coffee in Mimosa Mall, " Janco Holtzhausen, one of the three owners of Jaru explains. A dainty yellow roaster in store powers Royal Roastery, the sister company and beans supplier to the café. Well-trained and super friendly staff makes Jaru an oasis of delicious coffee and good vibes.
Food Court, Mimosa Mall
Bloemfontein
---
Highland Coffee Roastery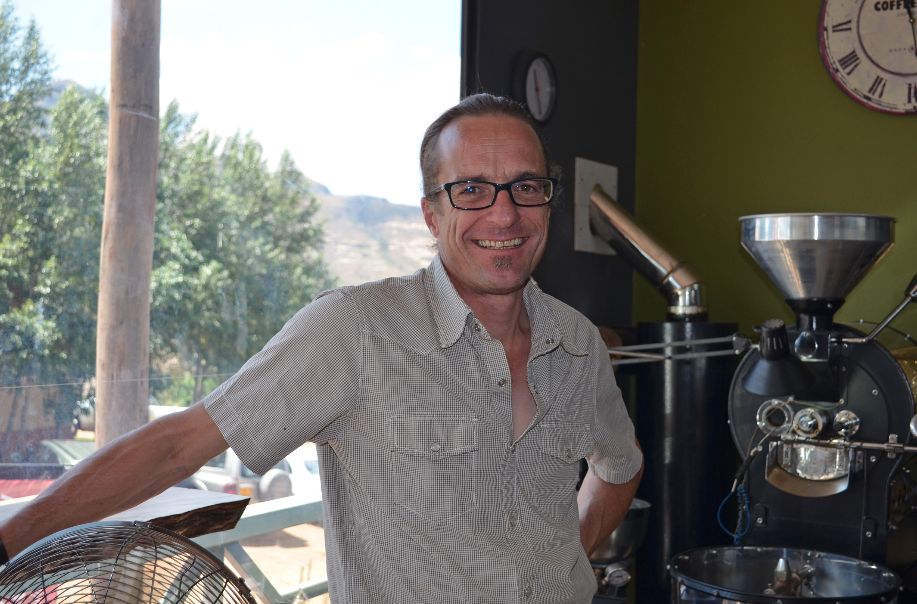 It was an entertaining stay at the Golden Gate Hotel just outside of Clarens. There was an 'incident' just before we had arrived, blackened walls, fire blankets and four or fire extinguishers lying outside a room on the way to where we were staying. We giggled to ourselves as the porter assured us all was well and we settled in to appreciate our view of the illuminated mountain. In the morning we skipped the awful hotel coffee and headed straight into the hideaway magic of Clarens. The town has grown incredibly in popularity in the years since Chris Pefanis opened his roastery and he has a brand new spot on the town square corner. Chris is a fantastic character and approaches coffee with an almost zen-like happiness that rubs off on you as you enter the building. He really is just so happy to be where is he is and talks with great romance about watching the sunset over the mountains as he does his afternoon roasting with a beer from next-door Clarens Brewery in hand. The have just a acquired a beautiful, red La Spaziale 3 group machine to cope with the weekend crush and Gillie Mokoena, the barista is getting the hang of it to make sure their coffee maintains the same high standard we've come to expect of the Highland team.
Cnr Market Street and Roos Street
Clarens