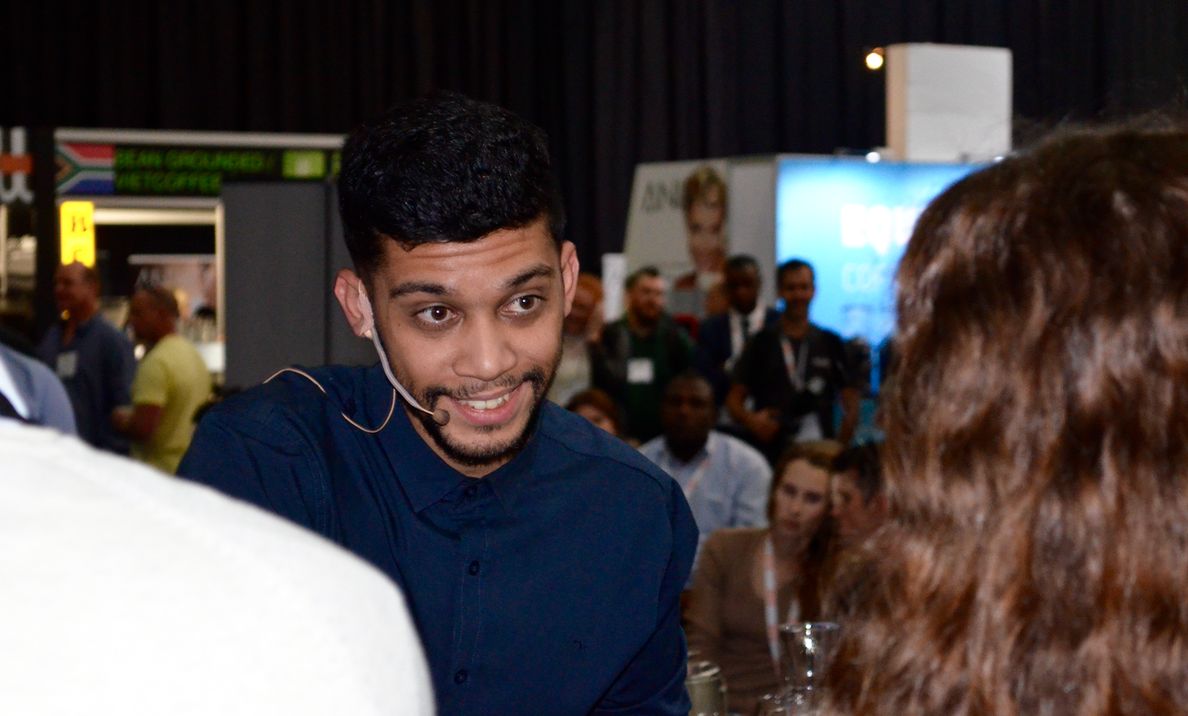 Say hello to Winston Thomas, the barista who will be representing SA at the World Barista Championships in Seoul, South Korea this November. Yes, barista competitions exist! And yes, South Africa takes part in an international gathering of the best baristas in the world! We chatted to Winston, a week after he was crowned to see if it's all sunk in yet...
What made you compete in the first place? Did you know what you were getting yourself into?
The opportunity to learn. Origin has such a great educational system, but I feel like I gained my core coffee knowledge from competition. You end up spending so much quality time with the coffee that your knowledge just improves exponentially. Also the community made we want to compete, at every level, regional, national and international, the community of coffee people.
Did I know what I was getting myself into? Up until they raised my hand on stage, yes, I think I knew, but now I've got no idea, but I'm excited about the abyss ahead!
Was there a moment in Dublin that switched on the proverbial lightbulb for you?
Ja, I think that the one think I felt was lacking at Worlds was a strong African presence, and I just thought that even if I'm not the person to make that presence felt, I want to help, I want to be a part of making that happen. And ja, you saw me, sitting making notes for days while I watched, I made a promise to myself to step it up.
You quoted Lem Butler, US Champ 2016, in your competition speech, I too watched his performance at WBC 2016 and got chills. Were there any other performances that impacted you at Worlds, technically or emotionally?
Ja that quote was actually f
rom Lem's Farewell letter at the end of his term of being National Champion
, but ja the way he presented himself on stage really appealed to me. The other one that stood out was Ben Put (Canadian Champ). I watched him from the start of his prep time, little things like using a take away cup for this test shots, an extra knock box on his trolley, he was a big inspiration from start to finish. And I think the humility of the Top 6 really stood out for me, they all had that in common.
Ah Ben Put also had one of the best soundtracks at Worlds! I think you had one of the greatest too, actually you and Harry, number One and Two in the end, coincidence? I think not!
(laughs) Ja I used to be a DJ, music is very important to me, especially on stage, I want to get the crowd into a good atmosphere and it keeps me calm when I know I have great tracks ahead.
Track List:
Papa was a Rolling Stone - The Temptations
Marvin Gaye - What's going on
James Brown - Get up off of that thing
You make my dreams come true - Hall&Oates (500 Days of Summer is one of my best, I'm a romantic movie guy!)
How did you train in the last few weeks before the competition?
We hit a few curveballs in the week before Champs, the coffee flavour notes changed when I got to Joburg, I think because of altitude, so I had to change my signature accordingly. But I think the biggest thing I focused on at the end was mental training, getting focused for that 15 minutes, because in the end it all comes down to that 15 minutes on stage.
100m sprinters say most of the hard work is not on the track, most of it is getting your head right, but its gotta all come out in the race in that 10 seconds. So ja, I just focused on getting my mind right for the sprint.
If you could pick any coach in the world, who would it be?
Ooh tough question, I think I would've said Sasa Sestic before the competition, but now on reflection, I think somebody like Gwilym Davies or Lem Butler, someone who I relate to more in circumstance or journey and demeanour, but that also knows how to go all the way. In this industry you've got to understand where you fit in or what your place is. Like Craig Charity, he's a technical guy, his passion is all things technical and I get lost while I'm trying to keep up and Wayne knows a lot about a lot of different coffee topics, I think my strength is that I'm emotionally driven and I think that's the kind of coach or person I would draw inspiration from.
Charles Babinski, who came second in 2015, also based his set around serving an average consumer in his cafe in a very non pretentious way, do you think the coffee competitions have relevance to the consumers you spoke of in your set? What have you learned through your experiences on stage that will positively impact the consumers at the end of the day?

Well definitely from a service perspective. The competition has very formal service parameters and you can't help but take this back to the espresso bar environment. When I got back behind the bar on Sunday, my movements were different. Small things that make a difference to how you make coffee, for example I'm always known for having milk on my face, from tapping the milk jug to get out the excess bubbles, but after competition I instinctively use my hand to cover the top of the jug when I'm tapping. And this goes through to dosing and tamping the coffee more consistently, just in general giving the customer a better experience.
Because coffee is ever changing, the competition will change and has gone through times where it has become too abstract for the consumer, but I think some of the trends mirror what's going on in the market. This year the NutriBullet was a big hit in many people's sets.
Best coffee you've ever;
Made:
It was a Kenya Gakuyuini AA. I was behind the bar at Origin, I pulled a shot of espresso, made one adjustment, and right there was probably the best espresso I've ever made.
vs
tasted
: Oh it was actually in Dublin, I'll never forget it. It was a short milk based beverage like piccolo/cortado, the person working the LaMarzocco bar at the World of Coffee expo made it for me. I have no idea what coffee he was using or where he was from and it was served to me in a take away cup, but it tasted exactly like a Milky Bar chocolate, and that is a personal favourite of mine!!!
Favourite piece of equipment currently?
Ah I was so lucky to have the new version of the OCD tool on stage with me. I'm having a lot of fun with it! I'm using the technique that Lex Wenneker (Dutch Champion) used at Worlds. It's a highly effective tool.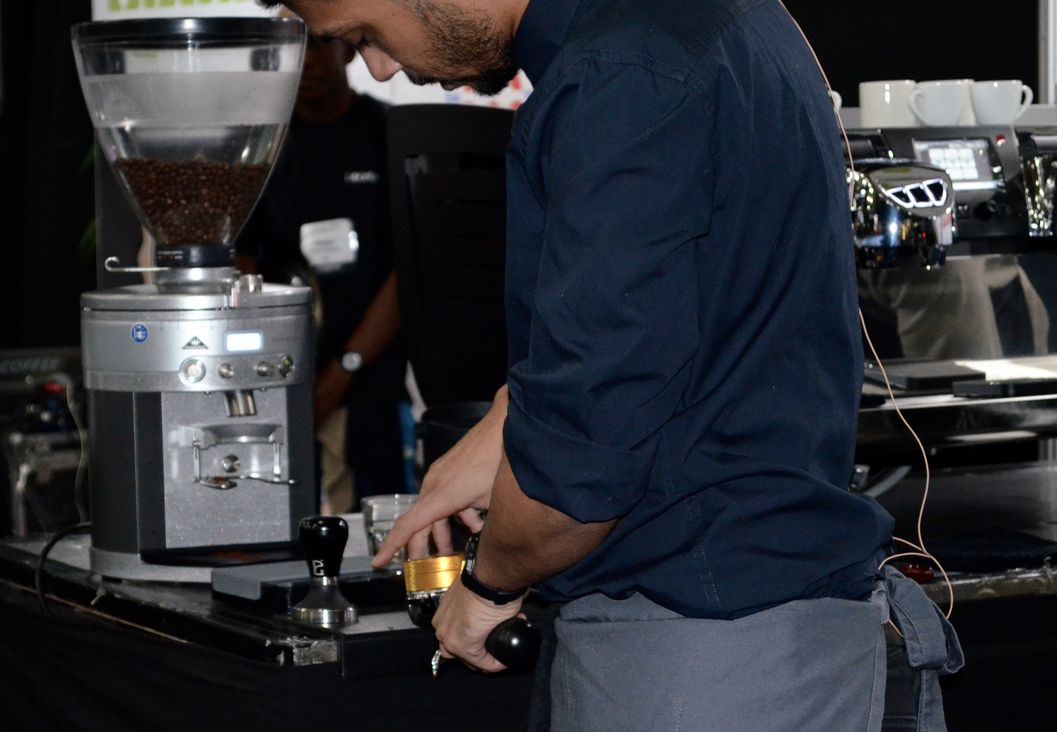 On stage with the OCD tool, ensuring even distribution of the coffee before tamping.