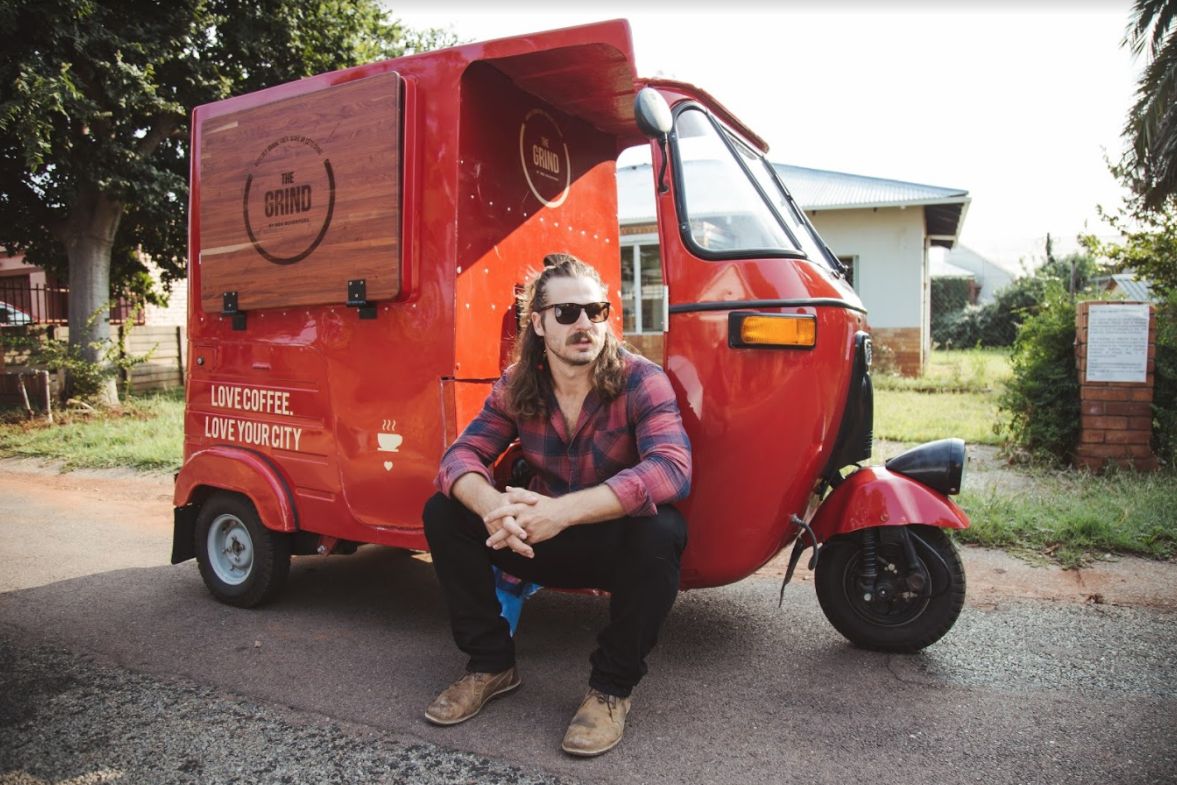 The Grind
is an umbrella brand that brings worldly journeymen together in an attempt to, as a creative individual, enjoy the finer things in live in a "kinda classy, kinda hood" setting.
Our first order of business, Artisan Coffee.
It all started when I decided to take a break from my office job as a manager of a filling station. The pressure and stress of working for a huge corporate company that can't seem to understand the struggles of the man on the ground got to me, hence, I decided to resign (with no real future plans).
Myself and my wife took a trip down to Johannesburg on our 48 Sportster, and the meditating effect of driving a rumbling motorcycle on the stillness of the open road shot an idea into my mind. Why not start artisan coffee in Polokwane? I've had a growing relationship with coffee since the day I started my first job in 2006, and with Polokwane not having a proper coffee shop I just couldn't have bad coffee anymore.
Locations to put up a coffee house would be very challenging in Polokwane, and the rent for these shops are pretty much insane.
So I remembered that about two years before that, my wife showed me a picture of a Tuk Tuk that sells bakery goods out of it (which she actually wanted to do). I remembered that one of my friends had a Tuk Tuk at his house, and the wheels in my head started turning. Upon our arrival back from Johannersburg, I scheduled a meeting with him to get this project up and running. a Mobile Artisan Coffee Tuk Tuk.
I immediately booked a professional barista course from the world famous Truth. Coffee in Cape Town, rated the best coffee shop in the world both 2015 and 2016 by The Telegraph in Britain.
Within two months our Tuk Tuk was built and ready for action, and we started our first official day of trading on the 1st of July 2016, with a massive and overwhelming reaction. The people loved it, and they wanted more. Support flocked in from all over, not only in terms of purchasing coffee from the Tuk Tuk, but people offering to make gourmet foods, help with branding and signage, companies phoning to ask if we could come and stand in front of their offices, everything. The community came together and made it their Tuk Tuk, not mine.
Located in Polokwane, we travel around our lovely city throughout the week with our Tuk Tuk's providing a relaxed break from the daily rat race, for journeymen to come enjoy a brilliantly brewed cup of coffee, some grooving tunes and real human connection, something we have realized has gotten lost in the age of smart phones and wifi.
By using social media as a platform, we send out our ever changing location via Whatsapp Broadcasts, Facebook and Instagram posts, to keep excitement as to where the Tuk will be today, as well as generate social marketing for the local business that provide us with spots to stand at.
Some days we organize homemade gourmet foods for our customers, including but not limited to sweet and sour semi spicy ciabatta's, salted caramel cupcakes and greek inspired beef kofta pitas with zingy tzatziki.
Running a Tuk Tuk as a coffee shop has its own set of challenges. Weather plays an important factor, as we have gotten sunburn as well as soaked in the rain. It also has an influence on our grinders, as the blades expand and contract due to the temperature of being exposed to the elements, meaning we have to adjust our grinders very regularly. But I wouldn't have it any other way...
We cater for any and all events where good coffee is needed over weekends, including having done numerous weddings, festivals, fun runs, high tea's, markets, fund raisers, film launches and cycle events, all over Limpopo and Gauteng. (Not saying we won't go anywhere else.) Our services in terms of the coffee Tuk Tuk's are very simple.
Our Tuk Tuk's are stocked with Eco Cups, 100% biodegradable cups in which we serve our Flat White's, Americano's , Espresso's, Latte's, Flavoured Latte's, Red Espresso's, Chai Tea's, Hot Chocolates, Iced Coffee's and Iced Teas. The coffee grounds are kept in the old bean bags, which we then give out to whomever needs compost for their gardens, our way of giving back to mother nature.
In Jan 2017 we launched the concept of Mandala Coffee's. A Mandala Coffee is a coffee paid for by a customer for a disadvantaged person. Meaning, a customer would come to the Tuk Tuk and ask for two Flat Whites and a Mandala Coffee. We then make the two Flat Whites, and ring up the Mandala Coffee's. Being on the street all the time with the Tuk Tuk's, we get passed by the homeless and poor quite regularly. Mandala Coffee's give us the opportunity to offer them a warm cup of coffee, free of charge.
If we have an excess of Mandala Coffee's, we make a payout of the cash and sponsor it to a local charity, helping the disadvantaged and needy wherever we can.
Since our start up in July 2016, we have also collaborated with local and innovative coffee roastery, Bayhound Coffee Works to build a "The Grind in partnership with Bayhound Coffee Works" Tuk Tuk, where they get the opportunity to create more awareness around their beans through our mobile design.
Their passion and creativity has inspired us and knowing that there are more like minded people in our beautiful city has drawn us to them. But that is not all from The Grind.
Look out for our website www.the-grind.co.za which will be live soon, where we look forward to unveiling a T-shirt brand, exciting developments in a collaboration of artisan coffee and craft beers, a barista school as well as permanent pop up shops.
We would like to thank Coffee Magazine for giving us the opportunity to be a part of your exiting magazine from as far as Polokwane, showing that humble beginnings and innovation in coffee truly get recognized by the masters of the trade. We truly appreciate the opportunity, and thank you from the bottom of our hearts.
Last but not least, we would like to thank our amazing support structure in terms of our customers in Polokwane, and elsewhere. We might have only started the coffee revolution in our lovely city in 2016, but without your continued support and need for quality coffee, we wouldn't have been able to continually and consistently bring you the best artisan coffee in Limpopo (at least).
#thegrindrepresent