For the past two months we have been careening down a path of coffee nutters, beans of various origin, the competitive world of coffee, different methods and machinery and all on a consistent caffeine high. We have travelled the highways and airways. We have sweated waiting for hi-res images to find their way across dodgy internet connections. We have drunk coffee. We have drunk oodles of blow-me-down, fantastic coffee. It has all been to get to this point.
That glorious and terrifying moment when you sign off the colour prints and there is officially nothing more that can be changed. The next time you see it (and the at least 9999 other copies) will be when it is perfect bound, glossy and ready to be delivered to you.
Done.
Phew! AAAAHHHH! What the?!
So much has happened in such a short space of time. There has been little time for reflection in powering forward to get this magazine print ready and beautiful, but at the beginning of the comedown I am filled with an overwhelming sense of gratitude. Gratitude to our loved ones who have been a constant support. Gratitude to the incredible people in this industry who have offered us their knowledge and their time and their generosity of spirit.
To all the people drinking coffee everyday, who demand more from their beans, who share our love and passion and who are growing the culture at their local and in their homes: this will blow your mind. This is the start of something. Spread the word, the countdown to your copy of TheCoffeeMag has begun. You are a part of this. This is yours, a platform to share experiences, meet like-minded people and get involved with all things coffee-related.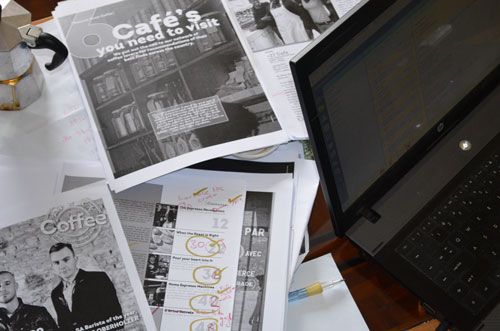 The desk in TheCoffeeMag office. I promise there's a desk under there.

Tomorrow we start on Issue 2, due out in December.
There's also the small issue of a celebration, a little party perhaps. We'll keep you posted...
We still have a long way to go, but going into print for the first ever issue is something quite special. We're taking a moment to relish it. Join us :)