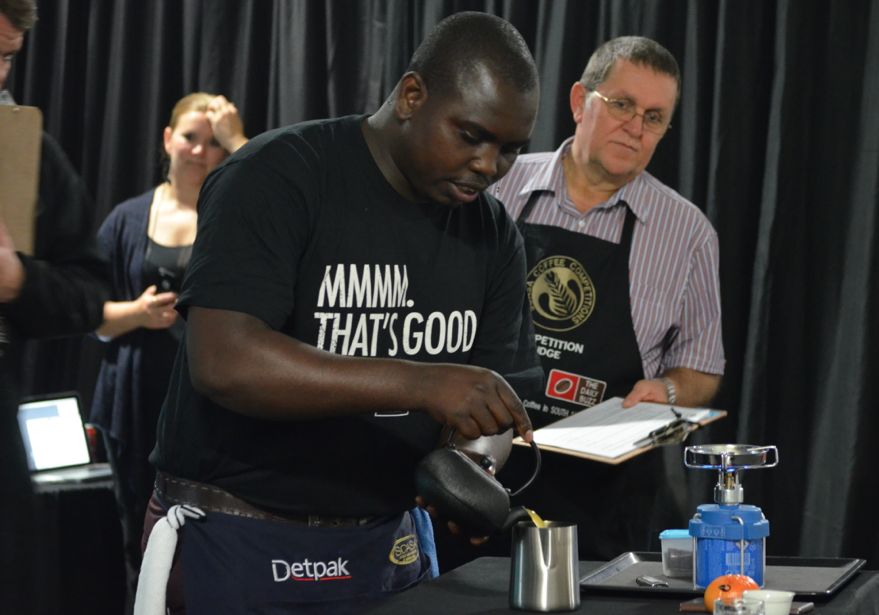 Mike on stage at the Eastern Cape SCASA Regionals 2014
The "Heart" behind the espresso machine – Mike Chizeya of Micoffee
Words by Garneth Jaggers

---
I have not known Mike for decades but it sure feels that way, he has a way of creeping into your heart with his kind and gentle soul.
As I write this article, I must say I am filled with joy as thoughts and words flow to mind of this successful Port Elizabeth success story.
When mentioning this article to Mike he repeatedly said he does not like attention, often people just say this but Mikes humility shone through and I realized how special this guy actually is. Mike Chizeya a 37 year old Zimbabwean born entrepreneur got into the coffee industry about 10 years ago as a barista then a barista trainer and now as a coffee shop owner and businessman.
He is a husband and a father, brother and a teacher but one of the most incredible attributes Mike has is that "he is a friend to every single one of his customers," says regular, Reino van Eck.
Mike started out with just a machine, grinder and a counter. This is not a lot for any business, but the difference is Mike's skill and the love for his craft. Here we are few years later with probably one of the best cups of coffee in Port Elizabeth and the Cape and a second coffee shop has opened with +/-10 staff members and I'm sure it won't be the last.
Another one of Mike's customers, also a businessman in the Eastern Cape, Mark Kahn when I asked him what he thinks about Mike and his business, all he could say was, "Mike is a true success story". I have visited Mike's coffee shop on numerous occasions and it is quite incredible how Mike knows every single customer, not just their name but when they stop he already prepares their drink and also enquires about the previous conversation they had. "Heaven only knows how he remembers all of it, but he does".
Micoffee has become the new buzz in Port Elizabeth where a variety of different people from different walks of life come together without fail every single morning to enjoy a cup of PE's finest brew. It has also become a hot spot for networking and relaxing at the same time. This is not just a coffee shop, not just a brand, not just a phase or a season but a dream that has materialized on the doorstep of Port Elizabeth. As Port Elizabeth we should be very proud.
To get back to the coffee, Mike is a very accomplished barista and barista trainer, he assisted and was instrumental in my Journey to the
SCASA
National Barista championships in 2015. I have observed him standing back and making space for his staff, the younger baristas which he trained, allowing them to grow into their own as baristas and also their respective brand as a different brand. I love this about Mike it is truly the sign of a great leader to pass on your skills and encourage others to do well. Mike has also trained his wife to be a great barista and she is running the second branch that opened up a few months ago in Newton Park Port Elizabeth.
I have contacted Mike previously for a few events that took place on Sundays, however Mike refuses to work on a Sunday, he keeps this day holy for church, family and for rest so all in all it seems like he has got his head screwed on straight.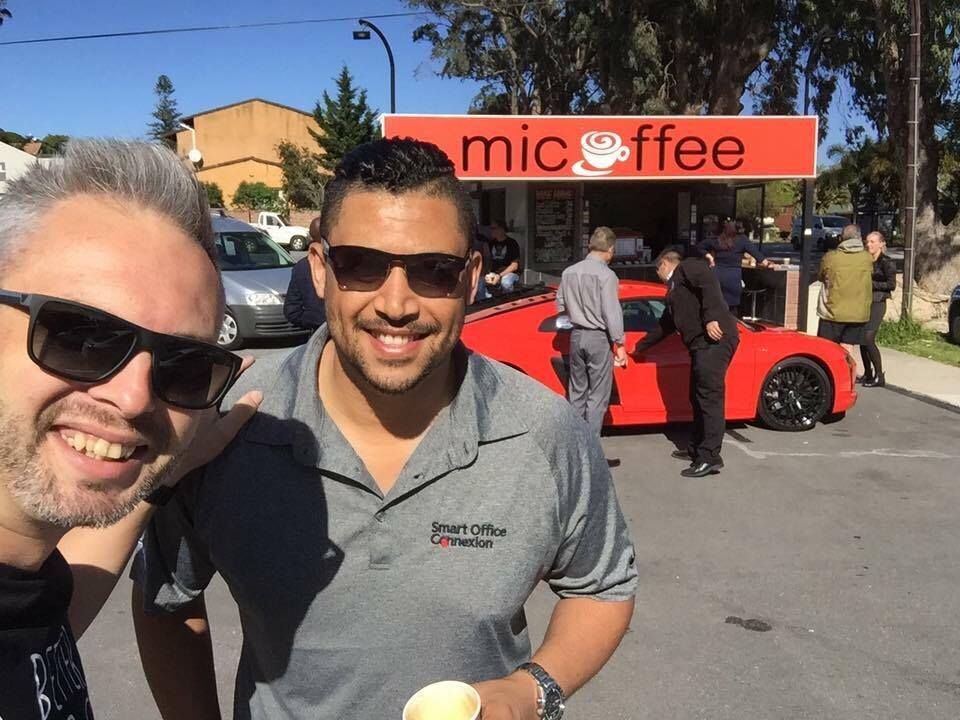 I asked a few questions about his business and again he tried to avoid answering, but I managed to get a few answers out of him.
"Mike what are your goals for your business?", I asked him, he replied as joke, " I want to take over South Africa!" We both laughed but I don't think this is too far-fetched, it seems like whatever Mike touches turns to Gold! In my personal opinion I would say South Africa watch this space, there is a great cup of coffee coming to your doorstep.
What were your thoughts the very first day you opened were your nervous?
"Not at all, I was thinking is that this is the start of my journey, I try to appreciate every moment"

How do you feel about the support you have received for your business in the Eastern Cape?
I feel motivated and its a daily reminder that am doing what I am supposed to be doing.
Any advice to others?
Do it for the love and passion. Walk away from your comfort zone and explore and lastly keep smiling and stay humble.
This is just a short article on the incredible man that so many of us in Port Elizabeth has come to love, support and are able to call friend. The next time you are in the Newton Park area or in Walmer, find Micoffee online, taste it and I think you will soon find out why it has become such a success in Port Elizabeth.