On this page...
The Good Food and Wine Show Durban, plays host to the SCASA Coffee Competitions' KZN Regionals Barista Championship at a dedicated Creative Coffee Theater. The competition promises to get pulses racing and not just because of the high caffeine content!
T
he World Barista Championships is the world's most prestigious barista competition, welcoming participants from over 50 countries who have won regional and national-level competitions to represent their domestic coffee talent on the world stage.
So there is everything to play for, as the National Barista Champion goes through to compete at the World Barista Championships to be held in Seoul, South Korea, next year.
Tim Krynauw (Ciro) is one of this year's favourites to win the KZN Barista Competition, placing second in 2015 and 7th at the SA Nationals.
This competition is all about performance, skill and passion for coffee, as well as being able to pour delicious coffee under pressure, with a total of seven highly skilled judges watching the barista's every move as they produce 4 espressos, 4 cappuccinos and 4 signature drinks, all in under 15 minutes!
The Barista Competition is not the only coffee event that will be taking place. Visitors to the show will be able to witness the Cup Tasters Event, which is a test of the senses and there is also the popular Latte Art Event, where the baristas impress judges with their milk pouring skills, producing flawless tulips, rosettas and hearts to name but a few delightful patterns.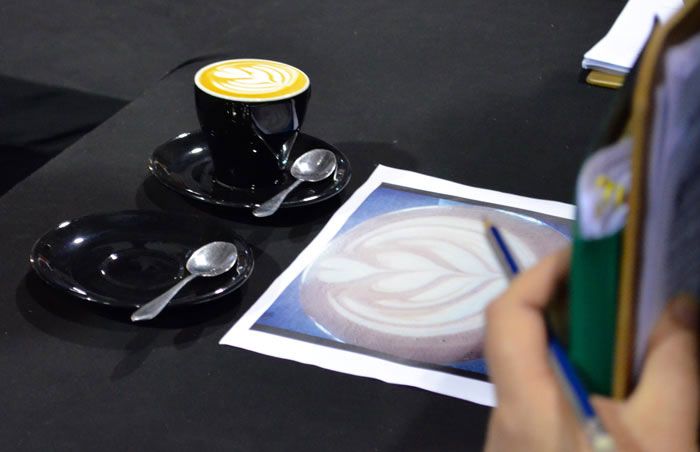 The Latte Art competition in KZN always has a very high standard - Will the Famous Brands baristas defend their stanglehold on the Latte Art title or will Wency Masawi (Nino's ) go one better than second to become the KZN Champion in 2016?
The public will have the opportunity to meet some of the provinces' best coffee talent. If you've ever wondered about the world of Specialty Coffee, this is your chance to pick the brains of some of the best in the business from 28-30 October at The Good Food and Wine Show.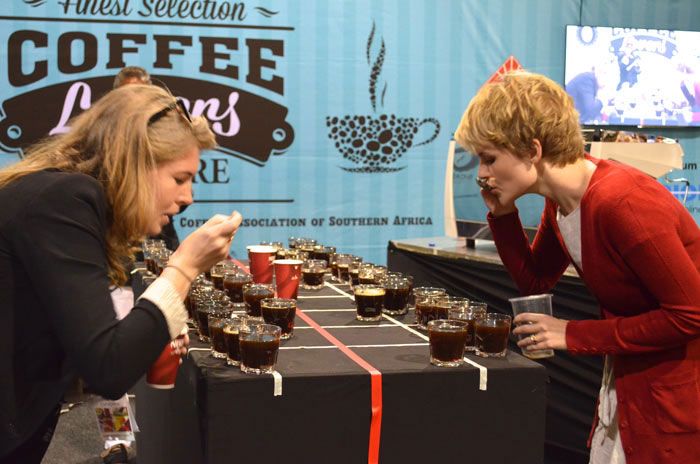 Coffee Magazine Editor, Mel Winter (Left) placed 2nd behind Nino's Bernard Muneri in 2015.


Friday 28th Day One
10am: Semi-finals Barista Championship
5pm: Cup Tasters Semi-finals
7pm: Almond Breeze Barista Smack Down
Saturday 29th Day Two
10am: Semi-finals Barista Championship
5pm: Latte Art Semi-finals
7pm: Almond Breeze Barista Smack Down
Sunday 30th Finals Day
10am-3pm: Barista Championship Finals
3pm-4pm: Cup Taster's Finals
4pm-5pm: Latte Art Finals
5pm: Monin Minute
5.30pm: Prize-giving
To enter click
here
to become a coffee competition judge click
here
---
What else is happening at the GF&W in Durban 2016?
SOUTH AFRICA'S BEST CHEFS FOR DURBAN GOOD FOOD & WINE SHOW
Top South African chefs and food personalities will be taking to the stage when the Durban Good Food & Wine Show comes to town later this month. They include KZN's spice sorcerer Sandren Govender, David Goette (who has eaten brownies with Dan Aykroyd and cooked for Ronald Reagan), Indian cooking authority Asha Maharaj and the talented Vanessa Marx who won Eat Out's inaugural Rising Star Award in 2013.
The theme for this year's new-look Durban show is Fresh, created by the show's curator, Hannerie Visser, and is all about one of the biggest current food trends. Increasingly people want to eat fresh seasonal produce and they want to know where it comes from.
Others who will be delighting the crowds at the country's premiere food, wine and lifestyle show are former The Greenhouse chef and TV regular Clement Pedro, health and wellness expert Lisa Raleigh, Top Billing presenter Lorna Maseko, "Gourmet Bushie" Sherwyn Weaich and Deborah Andrews. They join a stellar line-up – already announced – which includes George Calombaris, Siba Mtongana, Jenny Morris, Sarah Graham, Siphokazi Mdlankomo, Neill Anthony and J'Something.

The show offers more value-for-money than ever before with nine theatres offering entertaining programmes in which your favourite chefs cook up a storm, included in the ticket price. It's on a first come, first served basis.
Says Vanessa Marx: "It's a great opportunity for the public to interact with foodies and chefs. The knowledge they gain from attending the demonstrations is extremely valuable as they get to watch chefs creating dishes first hand and see how easy it can be to make fabulous food at home. These shows are a platform to expose the public to new ideas and trends, products and wineries. It connects the food and wine industry with the public.
"One of the biggest trends worldwide is sustainability and food awareness and this is where the Good Food & Wine Show is bang on target. People are becoming more aware of what they are eating, where it comes from and as well as the effects on the environment. Chefs are starting to source better produce; using local, free-range and smaller producers."
It is a sentiment echoed by Lisa Raleigh: "The Good Food & Wine Show is an iconic event that has been bringing the public together nationwide for years! It is a purely sensory experience across all arenas of the food and drink industries – the new, the traditional and the delicious. I firmly believe variety is the spice of life, and that is exactly what the GF&WS offers its audience – there is something for everyone. I am especially thrilled about the introduction of health-focused foods to the show in recent years as this is obviously where my passion lies. I will be demonstrating how to prepare healthy recipes at both the baking arena and the Live Well Eat Well Theatre. I'll be showing the audience how to sneak more green into family foods, add some nutrients to indulgent favourites and focus on healthy – yet hassle-free – meals."
Deborah Andrews, wife of former rugby star Mark Andrews, wants to make things easier for mothers with her demonstration Lunchbox Lifesavers: "As mums we appreciate the importance of a nutritious school lunch for the growing bodies and minds of our children but the thought of trying to convince our children to eat the 'healthier' stuff can fill us with dread. There's no need to spend hours creating a culinary masterpiece, instead just a few moments with a cookie cutter on a sandwich, a ribbon around an apple, or grapes and strawberries on a cocktail stick, can make all the difference to putting a smile on their face
and will drastically increase the odds of your child actually eating the lunch that you pack!"

MEET THE CHEFS & THOSE TAKING PART AT THE DURBAN GOOD FOOD & WINE SHOW 2016
ASHA MAHARAJ
Eat Well, Live Well Theatre
Asha is a renowned Indian cookery authority who travels the country giving cooking demonstrations, hosts a magazine programme on Radio Lotus, demonstrates on TV, has written five books, including a bestseller on eggless baking, and she has written for the cookery pages in the Extra section of The Sunday Times. She says the secret of a good Durban curry is "paying attention to spicing; there is a different masala for each curry".
CLAIRE ALLEN
Short Chef, Skinny Chef Theatre/Chefs Open Theatre
An entrepreneur by the age of 17 and a successful business owner at 28, Claire Allen is the definition of a self-starter. Cape Town based Claire was born to a family of cooks in Dundee in KZN, where her passion for food was nurtured from a very young age. Claire entered MasterChef South Africa in 2014, and was blown away by the experience. She has since spent the time travelling the world, growing her palate while learning new recipes, and cooking techniques. Last year she launched Short Chef Skinny Chef with Siphokazi Mdlankomo.
CLEMENT PEDRO
Baking Theatre/SABC3 stand
Clement was set on a career in the business world before he found his true passion. A three year stint to become a professional chef followed at the Cape Town Hotel School. He has worked as a chef at 5 Flies, The Conservatory and The Greenhouse when it was South Africa's number 1 restaurant in the country. Clement has worked on Taste magazine and came to the attention of television viewers as a chef on Afternoon Espresso. He was the winner of the Spekko Rice Celebrity Chefs Cook-Off last year. His dream: "To get people to enjoy cooking and sharing food together. Cooking should be taught in schools."
DAVID GOETTE
Cooking with Chefs
David is the national culinary arts executive of the International Hotel School (IHS). Originally from the US, he has accumulated a variety of certifications and accolades over the years, including his Le Cordon Bleu Degree at the coveted California Culinary Academy. He has eaten and cooked in restaurants all over the world – including Dubai, London, Australia, Japan and Tanzania…to name a few. He has eaten brownies with Dan Aykroyd and cooked for Ronald Reagan while having had the opportunity to meet and work with some of the best chefs in the world. He is passionate about hospitality and culinary education in Southern Africa.
DEBORAH ANDREWS
Cooking with Chefs/Eat Well Live Well Theatre
Deborah is the wife of former Springbok rugby player Mark Andrews, mother of three and founder of the Moms Matter website and magazine. She is passionate about children and food: "As mums we appreciate the importance of a nutritious school lunch for the growing bodies and minds of our children, but the thought of trying to convince our kids to eat the 'healthier' stuff can fill us with dread. There's no need to spend hours creating a culinary masterpiece, instead just a few moments with a cookie cutter on a sandwich, a ribbon around an apple or grapes and strawberries on a cocktail stick, can make all the difference to putting a smile on their faces."
GEORGE CALOMBARIS
Chefs Open Theatre/Chefs Table
One of Australia's top chefs, George Calombaris' style of cuisine has earned him many accolades and much respect from culinary aficionados at home and abroad. His Greek heritage was central in his upbringing; indeed it's his trademark today. With many accolades to his name and a string of restaurants, Calombaris is also known for his cook books, his contribution as a judge on MasterChef Australia and his entrepreneurial skills.
JENNY MORRIS
Chefs Open Theatre /Cooking with Chefs/Wine Theatre
Jenny Morris - aka the Giggling Gourmet - is one of SA's most-loved food personalities. She is an author, magazine writer, radio and TV presenter, celebrity chef, teacher, caterer, restaurateur and culinary tour guide who has had an ongoing love affair with food since she was a child. Not only has she conquered radio but Jenny has made several television appearances both locally and internationally. Her first show for the Food Network was Jenny Morris Cooks Morocco. It was the first occasion that a South African chef fronted their own show on the channel. She opened her own restaurant, Yumcious, in Cape Town last year.
J'SOMETHING
Chefs Open Theatre /Cooking with Chefs
Portugal-born Joao Da Fonseca is better known as J'Something, the lead singer of South African band Mi Casa. But he's also a passionate cook and in 2014 showcased his love of food with the13-part series Something's Cooking on Mzansi Magic which went on to reach over two million viewers. His follow-up series What's For Dinner on SABC 3 reached 10 million viewers. When he's not collaborating with chefs to demonstrate his cooking skills and love for soulful food, J'Something can be found working on his first cookbook or co-hosting a radio show.
KAMINI PATHER
Chefs Open Theatre /Cooking with Chefs/Eat Well, Live Well Theatre
Kamini (pronounced like harmony with a 'K') won the title of MasterChef SA in 2013 and has since been living her food dream. She is an ad-hoc guest presenter on Cliff Central, she's hosted a bi-weekly food segment on GoodHopeFM, as well as a weekly segment on Heart FM, and she's demo'ed in the Celebrity Chef's Theatre at the Good Food and Wine Shows in Johannesburg and Cape Town. In 2015, Kamini's highly anticipated food-travel show Girl Eat World debuted on Food Network EMEA and, after a successful run, the show also aired on SABC 3 and Netflix US.
LISA RALEIGH
Eat Well, Live Well/Baking Theatre
Lisa is a self-motivated entrepreneur with a passion for health and wellness. Now approaching 15 years in the wellness industry, Lisa started a more public career as the blue team trainer back on SA's The Biggest Loser and as the wellness consultant on SABC 3's daily morning show, Expresso. She writes frequently for magazines and online platforms and published a bestseller titled No Fries on Us. Her latest passion project, Mumentoes, is an online hub of content dedicated to helping new families improve their health and lifestyle.
LORNA MASEKO
Chefs Open Theatre/Baking Theatre/SABC3 stand
Lorna is used to breaking perceptions and stereotypes, first making it into the spotlight as the first professional ballet dancer of colour in South Africa. This multi-talented powerhouse has since made her way from the stage to our TV screens, becoming one of SA's most sought-after personalities. Lorna has always had a passion for cooking, and in 2015 she became one of the top finalists for Celebrity MasterChef South Africa.
NEILL ANTHONY
Chefs Open Theatre /Cooking with Chefs and Chefs Table
Cape Town-based private chef Neill Anthony, who trained in the kitchens of Gordon Ramsay, Marcus Wareing and other big international cooking greats, gets invited to cook in the homes of prestigious clients, socialite friends and fun-loving acquaintances transforming their dining experiences into exclusive and private dinner extravaganzas. Partnering with local TV producers Okhule Media has been the foundation of his TV journey. His 13-part Food Network TV series Private Chef broadcast locally and internationally has been the launch pad for his international exposure.
SANDREN GOVENDER
Eat Well Live Well
Head chef of the Sun Coast Towers Hotel, Sandren is the spice sorcerer at its Jeera Restaurant, a national award-winner for elevating Durban Indian cuisine to fine-dining heights. Super-Sandy, as he is known to his staff, buys his spices whole and his chillies fresh and – rare among such senior chefs - roasts, grinds and mixes them all himself, creating a different personal blend for each curry on his menu. Sandren grew up on a KZN North Coast sugar farm; his granny was his great inspiration. He trained in Switzerland and worked all over the world, including Mauritius and at the Waldorf in London, before returning home to KZN.
SARAH GRAHAM
Chefs Open Theatre/Eat Well Live Well
Sarah is a well-known cook, food writer and TV show host. She grew up on a small wildlife conservancy in Zimbabwe and this instilled in her a food philosophy built on creating simple, healthy dishes. Sarah started her food blog, A Foodie Lives Here in May 2010, and later that year was the first local food blogger to be awarded a cook book contract by Penguin Random House. Sarah has filmed two cooking shows that have aired locally and internationally. She is currently writing her fourth cook book and planning another season of her TV series Food Safari.
SHERWYN WEAICH
Baking Theatre
Sherwyn has travelled across South Africa and Europe cooking alongside local and international chefs, learning and creating experiences through food. Known as the 'Gourmet Bushie', he has worked on Ultimate Braai Master which currently broadcasts internationally on the Travel Channel in more than 13 countries across four continents as well as on Expresso and etv Sunrise. He writes a weekly food column and online food blog with over 3.4 million readers and 1.4 million copies released across Gauteng and his hometown of Kwa-Zulu Natal.
SIBA MTONGANA
Chefs Open Theatre/ Chef's Table
Siba Mtongana is a passionate and dynamic food enthusiast who brought style and charisma to South Africa television food scene. She is well known for her show Siba's Table on DStv's Food Network, which debuted in September 2013 and was an instant hit worldwide. It is now broadcast in more than 130 countries in across Europe, the Middle East, Africa, the US, Australia and Asia. She's an award-winning food writer, an author, and has a degree in Food and Consumer Sciences, with majors in Food, Food Science and Nutrition.
SIPHOKAZI MDLANKOMO
Short Chef, Skinny Chef Theatre/Chefs Open Theatre
Siphokazi Mdlankomo captured the hearts of South Africans as she cooked her way to the final of the third season of MasterChef South Africa. Growing up near Umtata her mother and grandmother taught her everything about cooking. She reflects on her MasterChef journey: "I learnt a lot on the show, from patience to creativity and respecting the ingredients I use in my cooking. I also realised I have talent and that I have lot of fun in front of the camera – and would love to work as an on camera chef teaching others how to cook. Last year she launched Short Chef Skinny Chef with Claire Allen.
VANESSA MARX
Eat Well, Live Well
Vanessa grew up in the Eastern Cape. She attended The Institute of Culinary Arts in Stellenbosch for two years, graduating with a Grande Diploma in professional cooking and baking. Vanessa travelled around Europe, working as a private chef before moving to London where she worked as a chef at food and wine bar, Vinoteca. She won Eat Out's inaugural Rising Star Award in 2013. Vanessa is the co-owner of Culture Kitchen, an events and festival pop up kitchen, caters for private events and undertakes freelance work and consulting in Johannesburg.
THE GOOD FOOD & WINE SHOW DURBAN
Dates: Friday October 28 to Sunday, October 30.
Venue: Durban Exhibition Centre, 11 Walnut Road, Durban
Hours: Friday, October 28, and Saturday, October 29, 10:00-21:00; Sunday, October 30, 10:00-18:00
Ticket Prices:
Early bird: R85
Adults: R100 at the door
Students: R70
Age 13-18: R50
Children under 12: Free
Senior citizens: R70. Free entry on Friday, October 28.
Weekend pass: R150
International chef table: R800
Local chef table: R300
Wine Tasting Prices:
Wine Combo Ticket: R130 (Includes show entry, wine tasting glass and five wine tasting vouchers)
Wine Glass and tasting: R 50 (Includes GFWS glass to keep and five tasting vouchers)
Tickets:
Available through Computicket (
www.computicket.com
) or at the door.
The Good Food & Wine Show is bought to Durban by the following sponsors: Durban Tourism, SABC3, Core, Rolkem, Clover, Qantas, Taurus, Total Gaz, Sun Coast and Bidvest.
Go to:
www.goodfoodandwineshow.co.za
@goodfoodSA
@Good Food and Wine Show SA
---

WIN TICKETS!!!

To win a set of Double tickets to Durban Good Food & Wine Show 2016 - fill in the form below and then tag a friend on fb using @thecoffeemag and @GoodFoodandWineshowSA



---