Want an easy way to taste 6 different coffees from 6 different roasteries? Look no further, the Discover Great Coffee Club has got your back!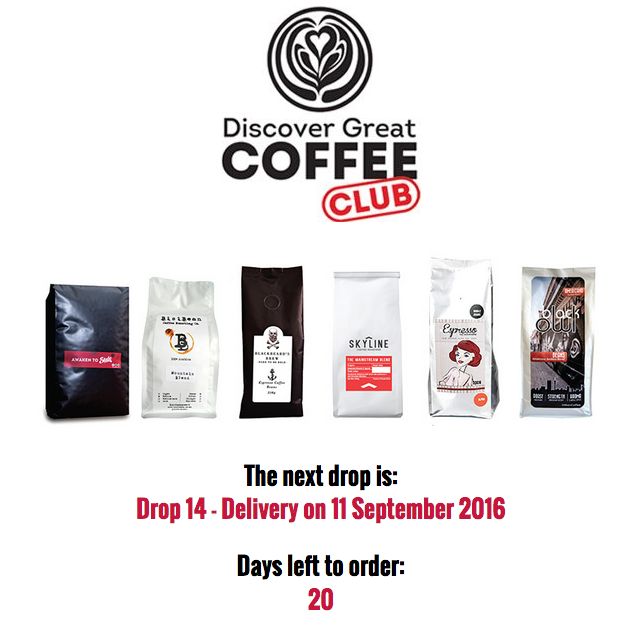 State 5 - Greenside
El Patron Blend
The El Patron blend tastes like orange and dark chocolate crumble. It's a beautiful sweet flavour in the front, complimentary middle fruit like flavour, a good smooth finish with a dark choc crumble aftertaste. The blend of beans that make up this delicious mouthful are Colombia, Brazil and Tanzanian origins.
BisiBean - Hartebeespoort
Mountain blend
Named after the Magalies mountain range in Hartbeespoort and dedicated to the newly declared Magaliesberg biosphere. Perfect all-round coffee, comes to life when brewed for plunger or pour over, and yet makes an amazing medium roast cappuccino. Blended with some of the best African beans, it's truly a winner. Smooth caramel and earthy tones, a must taste.

Blackbeard's Brew - Vanderbijlpark
Espresso Blend
Blackbeard's Brew is unlike any other product South Africa has seen or tasted before. We are proud to introduce what is a combination of passion and science, utilising two of the finest quality beans the world has to offer. Blackbeard's Brew is specifically blended for high caffeine content to keep you going day and night. Like a fearsome, menacing pirate, you should ask yourself the question… arr you up to the challenge?!

Skyline Coffee Roasters - Durban
The Mainstream Blend
Dylan Da Silva and Jamie Braun are no strangers to the Industry and they have this to say about their new venture: "Our coffee beans are our paint and we are devoted coffee artists… Or so we like to think! As roasters, we pick the finest characteristics from each bean and then hand-craft our roasts to highlight their delicate qualities. It sometimes takes a lot of time and experimentation but we believe in doing the bean justice. Whether you're a coffee connoisseur, café-dweller, home-brewer or biscuit-dunker, our Mainstream Blend will do the trick. Consisting of a prized arabica Guatemala SHB, Uganda Bugisu and Rwanda Nkora. You can expect honeycomb sweetness, lemon-like acidity and a deep dark chocolate aftertaste."
Culinary Coffee Company - Lanseria
Alpha Blend
Culinary Coffee Company is a really cool one-stop coffee and catering facility very close to Lanseria airport. They roast small batches with the highest attention to detail and the freshest production. We loved this blend, and were thrilled to include it in this drop for you Discover Great Coffee Club members! It's a rich, smooth blend, best served as espresso using quality equipment like a Faema!
Black Owl Coffee - Gauteng
Americano Blend
The BlackOwl UrbanCoffee journey is about two friends from Benoni, who share a passion for the perfect doubleshot and strive to make a difference through UrbanCoffee
The "Americano Blend" is a tribute to fellow UrbanCoffee Purists, always appreciative of the perfectly balanced coffee experience. This Medium Roasted Arabica Blend is all about a consistent balanced flavour profile. Hints of lemon, subtle spiciness, delicate chocolate with a floral acidity. This medium bodied blend has real character and is perfectly balanced.