While South Africans should be safe from the White Walkers who threaten the Night's Watch in Game of Thrones, we should be making a start on our own preparations if we hope to endure the chilly months with a cheery disposition intact.
A fluffy blanket, a crackling fire, your favourite TV series and a good book is a tried and tested combination to get through the worst of the cold spell. Add to this one a fine potstill brandy paired with freshly-brewed coffee, and one easily turns the travails of winter into a rather enjoyable experience that feels over far too soon.
Pride of place belongs to South Africa's most noble spirit; fine potstill brandy. Our country has a long history of brandy distillation stretching back nearly 300 hundred years, and judging by the high number of international awards South African brandies keep winning, it is clear we have used that time well perfecting the art of creating fine brandies.
Having taken the title of "Worldwide Best Brandy" no less than 11 times in 14 years at the highly prestigious International Wine and Spirit Competition in London, South African brandy has established a global reputation for exceptional quality. Most recently, the Van Ryn's 15 year old won the Best International Brandy trophy at last year's International Spirits Challenge (ISC).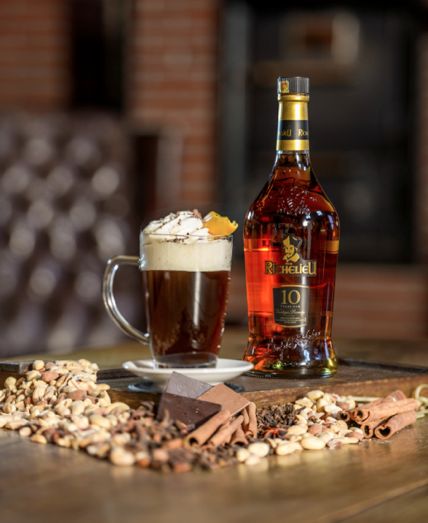 Enter our competition below...we're giving away two bottles of this delicious
pot-stilled, award winning 10 year old brandy!


It has been crafted from high quality base wine which is double-distilled in traditional copper pot stills. Strict production regulations govern brandy production in South Africa and the spirit must be aged for at least three years in small French oak casks before being called a brandy. This ensures that even South Africa's entry-level brandy is of a very high standard while the top brandies which can be aged up to 20 years are without parallel.
No matter how you prefer to drink your brandy - neat, with a splash of water, in a cocktail or added to coffee, there is a brandy to suit all tastes. Many opt for the 'perfect serve' which is to simply appreciate the fruity, fresh taste of brandy, neat and in the brandy balloon glass you will find in your gift pack.
Well suited to winter is a warming Café Royale. Add a dash of brandy, such as Klipdrift Gold or Richelieu 10 year old, to the coffee cup (according to taste). If you take sugar, add this now to the brandy and stir while you brew a fresh pot of filter coffee on the side. Pour in the coffee while still very hot and then gently layer cold thick cream on top and finish with some grated some dark chocolate. Winter has never tasted so good.
Try this awesome Winter Warmer recipe for Café Français
Glassware:
Glass coffee mug
Ingredients
¨ 50ml Richelieu 10
¨ 20ml Orange Liqueur
¨ Top with filter coffee
¨ Top with vanilla whipped cream *
Method:
pre heat the mug with hot water. Pour all ingredients into the mug and top with vanilla whipped cream. If the whipped cream is hand whipped then slowly pour over spoon onto the coffee. Grate some dark chocolate over whipped cream and garnish with orange zest.
*Vanilla whipped cream: pour 250ml whipping cream, 250ml full cream milk and 100ml vanilla syrup into a cream gun and gas with two co2 bombs or simply whip with whisk in a mixing bowl.
*Vanilla syrup: equal parts sugar and water reduced on the stove top with two open vanilla beans. Bring to a simmer and simmer for 15 minutes. Allow to cool down and strain into a glass bottle.
Win one of two bottles of Richlieu 10 year old. Just share this story on facebook and tag in two friends you'd love to share this recipe with!