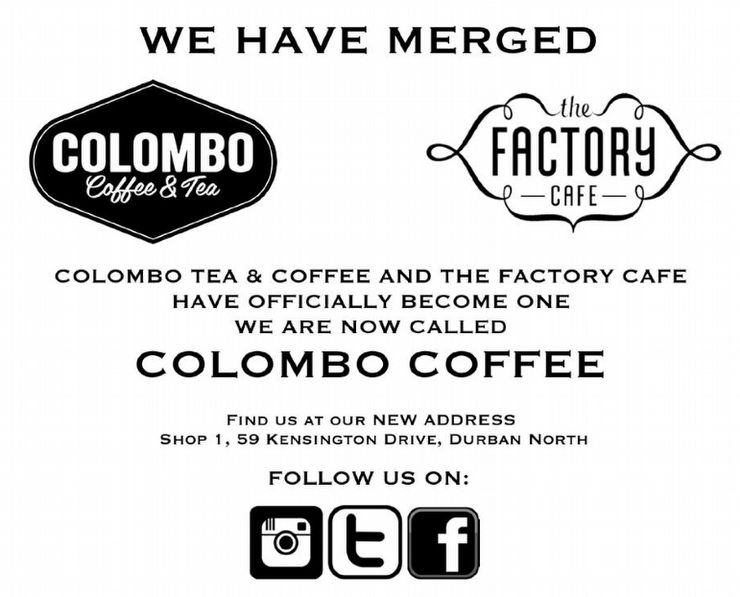 Colombo Coffee moves to Durban North.
Colombo Coffee & Tea, the oldest Roastery in Durban and an institution in the Lower Glenwood area is moving home.
The move from Magwaza Maphalala Street (old Gale Street) to Durban North sees the Factory Cafe and Colombo Coffee, formerly a cafe and a Roastery housed in the old Industrial nerve center above the Harbour, being rolled into a single entity and moving into the highly competitive Durban North area, which has seen a vibrant upsurge in trendy restaurants and cafe's between Broadway and McCuerten Avenue.
The business stays structured exactly the same - it's just a change of venue. "We knew we wouldn't be able to replicate the Factory Cafe vibe again, so we've brought it back under the Colombo brand - known as Colombo Coffee" says Rowan Mallon of Colombo.
For anyone who frequented Factory Cafe and Colombo, the experience may not be quite the same, as one would expect going from the old Warehouse of 600 square meters to the new compact 65 square meter store, however, the Colombo Team are feeling excited about the move despite the change in the location: "We're having to leave a lot of history behind, but as a business you need to keep innovating and keep improving and it's the next chapter in Colombo's journey. We want to be closer to our customers and focus purely on speciality coffee and speciality tea" says Rowan
"You won't find the freshly roasted peanuts like you would have in the 50's and 60s but you will find great coffee."
Colombo Coffee is open from
Monday - Friday 6am - 5pm,
Sat 8-2pm and
Sunday 8-12pm
Find them in Adelaide Tambo (old Kensington Avenue), No. 59 in Centre opposite Mad Italian. Go show them some love in their new home!