Yield Coffee Bar
C/o 3rd avenue & 6th street, Linden
Johannesburg, South Africa
---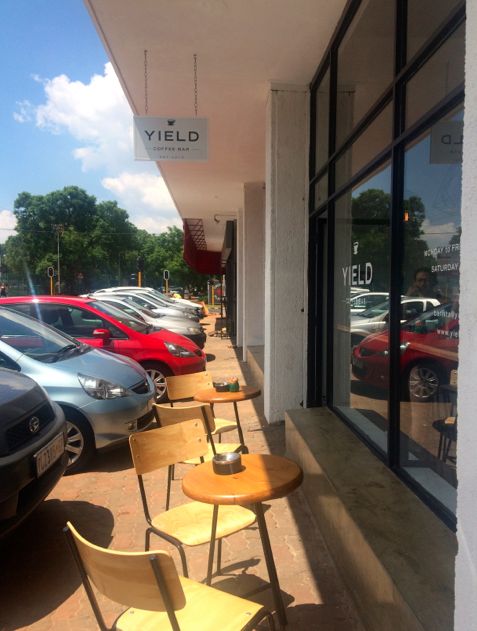 We arrived in Linden at end-of-school-o'clock and the fight with parents blocking the usually sleepy tree-lined road was real.
"We're in the middle of suburbia, are you sure Google has taken us to the right road?"
"I dunno but I'm sure we'll see it, just keep straight."
So we waited not so patiently to pass through the gauntlet and popped out at a cross roads with
Yield Coffee Bar
in our sights.
Beautifully designed and shopfitted with a black powder-coated La Marzocco GB5 sitting proudly on the counter. But really these aren't the most exciting things about this less-than-a-month old cafe. Marelize, TK and Lucy are pumped and full of fresh enthusiasm about the game of coffee.
Marelize left a corporate job to pursue her dream of beginning a coffee bar in her neighbourhood and the joy of this decision is written all over her face, it is infectious! As TK described it to me, he is the espresso master and Lucy is the artist, pouring beautiful designs in the cup.
The other great fact is that are using the Judge Blend from
Urban Grind Coffee Roasters
and they are certainly doing it justice!
We had a very well-balanced espresso and the Yield Signature, the Swart Skaap, which is espresso cut with a dash of cold pouring cream which really delighted my taste buds!