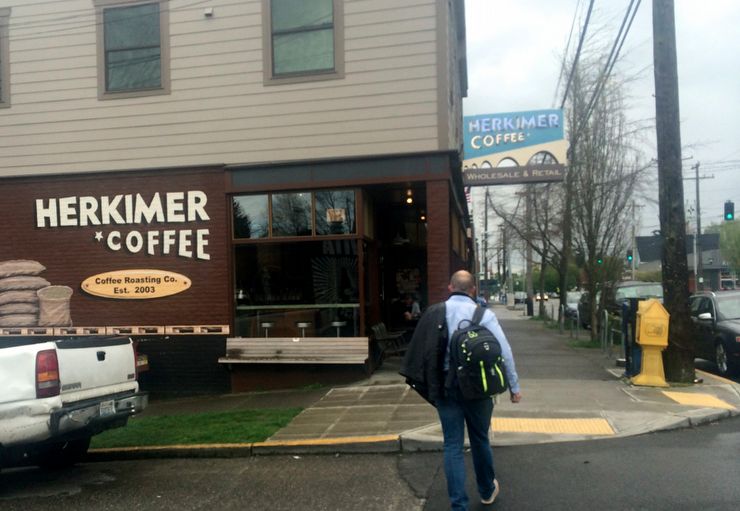 How did you come to find yourselves roasting and serving coffee in Seattle?

Followed my nose and learned after the carrot was dangled by my first coffee employer. Home roasting on an airpopper starting in 1993. Began learning origin and cultivar traits, profile differences and how to modify things to work to your advantage...poppers, espresso machines, etc.

What is the philosophy of Herkimer Coffee Roasters?

Enjoyment and Relationship. When we started Herkimer we were actually starting over. Our previous experiences gave us lots of insight into what we wanted to do as well as what we didn't want to do. Mainly, quality of life and experience were the motivators. The Relationship element exists between barista and customer, Roaster and client, Producer and Logistics, etc. We like reciprocal success which helps cultivate long-term sustainability.
Do you think that your cafe spaces mirror that philosophy? How did you achieve that?

Yes. Staying true to both pricipals layed out above. Each space is in it's own neighborhood and therefore have their own feel and culture. Allowing that to be and going with it is our intention.
In South Africa, when people start cafes they often scout for second hand equipment, how important and what emphasis do you place on coffee equipment in your business?

We try to expose our clients to every avenue available to explore then help them choose based on what drives their interest or passion. Some want cutting edge, some want more retro, some want super basic. Ultimately we want them to know their equipment inside and out and empower them to handle things as they come up rather than depend on someone else to solve problems that arise. It takes awhile but most enjoy the process.

What is your favourite coffee to brew currently?

Loaded question! I have the luxury of variety and bounce around all the time. Current arrivals usually dominate so I would say the Ninga from Kayanza Province, Burundi is the freshie du jour...but I also have a pre-ship sample of Guatemala bourbon from Friajanes that is quite interesting waiting to arrive.
What do you think sets you apart in an industry that has no shortage of specialty cafes?

What we do with Espresso. We bridge the gap between old world and new. Old world aesthetics combined with new world sourcing and understanding. We take high elevation coffees with density, sourced directly from producers that we have relationships with, and produce an unique espresso that sits by itself between the two worlds. I'm not a fan of using coffees with lighter roast profiles that fit pourover models for espresso...they are simply not developed enough for espresso. We take the profile to the edge of Maillard, allowing that process to begin in the roaster, then finish it using the physics created in the espresso machine to make the espresso thick, complex, juicy and alluring everyday.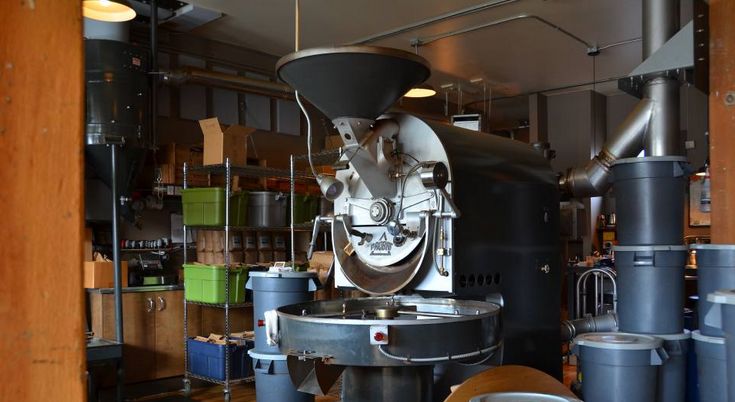 What would your one piece of advice to people with the dream of owning a cafe be?

Don't hurry. By this I mean learn as much as you can from your own experience as well as that of others. Ask for advice and use it, not just wait until someone agrees on your previously decided idea. Most unsuccessful owners go into their first shop underfunded and take the first location they find, blinded by the romantic dream of calling the shots. The reality is it's a long and sometimes arduous path. Well worth it, but arduous. Whatever your vision may be it's no shame to be flexible when you finally get open. Do what you love and people will want to share in the passion. It can be hard to remember that when all you see is red numbers for the first few years.