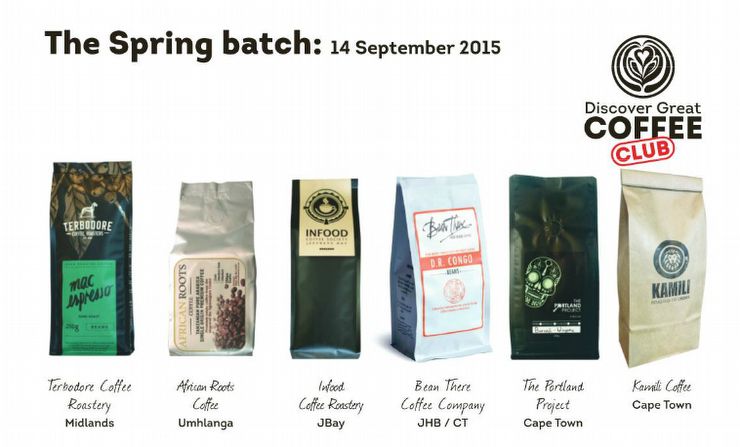 ORDER HERE NOW

BY EMAILING US DIRECTLY

Terbodore Coffee Roastery - Midlands
MAC ESPRESSO Blend
FULL BODIED WITH A DEEP, ROBUST FLAVOUR PROFILE - This premium selection of 100% Arabica beans is sourced from South America and high-altitude African countries to create a deep, rich flavour profile and a lingering taste sensation.

African Roots Coffee - Umhlanga
Tanzanian Single origin
African Roots coffee is showcasing a single origin, premium estate coffee from the Edelweiss Oldeani Estate in Northern Tanzania, bordering the Ngorogoro Conservation Area. This AB grade bean is grown on steep hills and at an altitude between 1620 and 1820 metres with an annual rainfall between 700 and 1200 mm. The picking season is from June to December. The estate has rainforest accreditation . This 100% Arabica bean is balanced and full bodied, with a chocolate aroma and a nutty/ caramel flavour .

Infood Coffee Roastery - JBay
Infood Blend
Roasted & blended by our baristas through their passion for coffee. The most popular in our town, customers call it INFOOD BLEND. It is a blend of Ethiopia ,Honduras & Colombia Single Origins It has caramel-butter aromatics with chocolate syrup, & fragrance of a healthy dose of dark cocoa.
Bean There Coffee Company - Joburg and Cape Town
DRC Virunga
This coffee emits a plum aroma, highlights a crisp acidity and ends with a rich fruity flavour. Virunga has several agronomists working with coffee producers at the foot of the Nyiragongo volcano. There are small groups of coffee farmers producing exceptional lots and Bean There is excited to partner with one such group.

The Portland Project - Cape Town
Burundi Wingoma
Expect a citrus and berry-like acidity more pronounced in AeroPress and filter style with a mouth filling caramel taste and cocoa powder finish. This Long Miles Coffee Project Burundi Wingoma has been brought to life by our amazing roasting team, enjoy as high yield espresso, filter or AeroPress.
Kamili Coffee - Cape Town
Uganda Rwenzori
This one comes from the centre of Africa. Seriously if you any further into Africa, you'd be going out again. It's an unwashed coffee from the Rwenzori mountains and it's so good it's off menu and reserved for those who enjoy experimenting with brew methods to see what a coffee can truly offer!