Words by Jaimi Shields
Photographs by Adrian Shields

---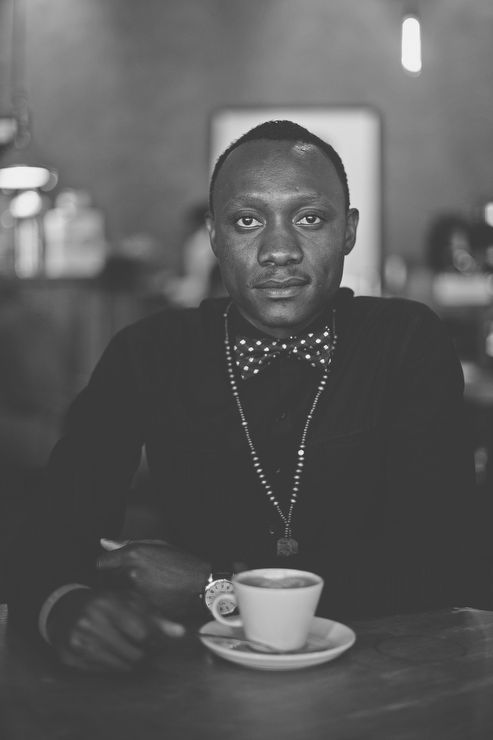 Barista :: Kelvin
Haas has a very unique vibe. Its beautiful façade towers over Buitekant Street invitingly. Sets against their aubergine walls are carefully selected taxidermy hares, impressive paintings and game trophies. I immediately fell in love with the mismatched furniture and the majestically long bar counter with incredible vintage shelves and cabinets behind it. The haas collective side of the shop exhibits gorgeous art pieces you can choose for your home or gifting from paintings to sculptures, jewelry and even fabrics. Do not let my odd sum up of this coffee shop put you off from visiting this wonderland, as this shop is definitely one for the books!
Sitting at our round table on vintage stools, we are met by Kelvin. This Barista quietly and confidently communicates his ideas and love about coffee. Kelvin is originally from Zim and when I asked him if there is a Shona word for coffee, he chuckles and says "just Kofi". For Kelvin, making coffee is exciting no matter how many cups he makes everyday. He loves haas and tells me that Francois (the owner) is like a brother to him, inherently haas is family and home to Kelvin. Working at this shop gives him access to meeting so many new and exciting people from all walks of life and that is what Kelvin says adds to his ability to see his Barista position as his passion and not just a job.
Kelvin admits that he most definitely starts his day off with a Cappuccino, "with biscuits" he adds. He also feels that the Cappuccino is his signature brew and he is fascinated with balance and execution of acquiring the correct foam and flavour for each cup. If you want to give Kelvin a compliment, enjoy this brew with no sugar and also give him feedback. What I learned in talking with Kelvin is that he has a love for learning and I think with that attitude he will realize his ultimate dream of being a coffee shop owner one day.
Haas
19 Buitenkant Street, Cape Town
021 461 1812