What a weekend! Congratulations to everyone who competed and made this event possible. Ladies and gentlemen, your new SA Barista Champion, Craig Charity!!!

Go to 28.30 on the feed above for the pivotal moment!

It was an emotionally charged day of high standard barista performances at The Good Food & Wine Show to curtail an epic four days of competition, which in the end was dominated by the KZN contingent.
The Cup Taster's Competition was first on the schedule and Gerald Charles of Union Hand Roasted had prepared a stellar set of drinks for the competitors to sip. Wayne Oberholzer came out victorious when the points had been tallied, with only a small time difference separating the top two. He walked away with an awesome Tissot watch for his skills.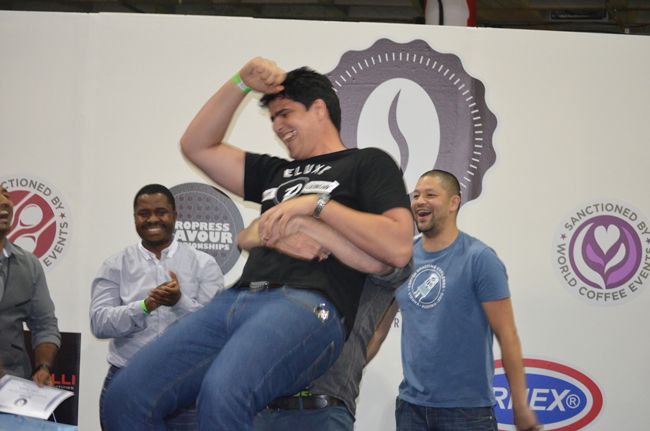 Wayne Obie celebrating his Cup Tasting win!
Latte Art finalists Peter Seodisa of Seattle Coffee Company and Arno Els of Colombo Coffee & Tea brought their A games with swans, shooting hearts and an inverted rosetta making appearances in the cups. The Durbanite, Arno clinched the title in the end and also walked away with some new wrist candy from Tissot.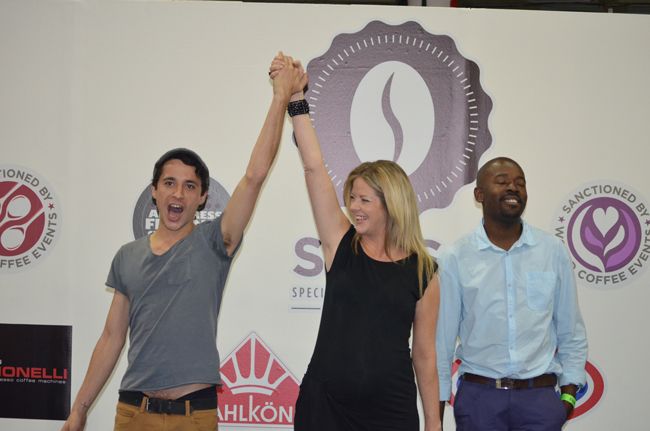 Arno Quinton Els takes the Latte Art honours!
Newest of the competition categories, the AeroPress was a rock star affair. The final was a hotly contested showdown between an industry man from a roastery in Durban and an economist from Joburg. In the end Daniel Erasmus barista trainer from Durban retained his reputation and beat out underdog Braden Muhl to take home the R1000 cash prize, a Porlex Mini Hand Grinder and a DeLonghi Toaster.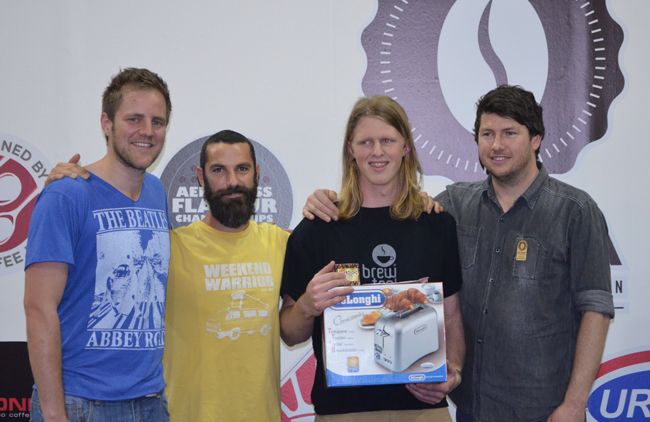 From left: Braden Muhl (AeroPress runner up), David Coleman, Daniel Erasmus (AeroPress Champ) and Zane Mattisson
Then came the moment that the Top 6 had been working towards for the better part of this year. All of the Top 6 gave phenomenal performances on the day and the judges must've had a difficult time in the deliberation room, but when the announcement was made no one could fault the crowned champion. Our new South African Barista Champion is the technical genius, Craig Charity. He held off fierce competition from previous two-time SA Champ (2009, 2010) Ishan Natalie. It has been quite a year for the 29 year old from Hillcrest. He started roasting his own coffee, opened a café in partnership with Stretta in Hillcrest, is soon to open his own home barista paradise adjoining the café and has now become the SA Barista Champ which books him a place to the World Barista Championship in Rimini in June next year. We know he'll do us proud over there.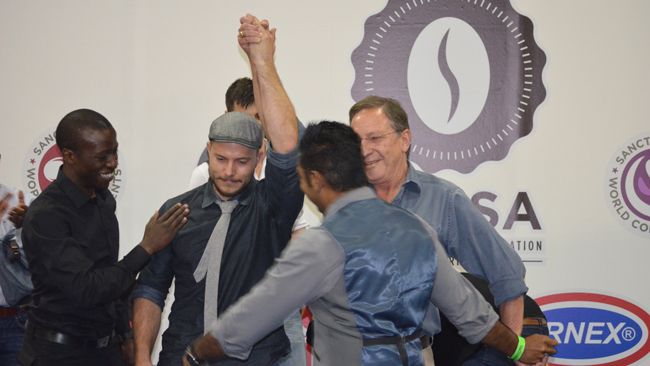 The moment. That's it right there. Congratulations Craig. Goosebumps.

Full gallery of all the action and competitors to follow shortly.