THAT'S IT FOLKS, THEY'RE ALL SOLD!


Here is the story of this amazing coffee. If you would like to buy a bag, it's simple, all you need to do is comment on this story by stating which bag you would like (Estate or Outgrowers) and we will contact you to complete the transaction.
They go for R250/250g bag (which is a steal of a deal!) and they are signed by the Champ himself. First come, first served!
Words By Ishan Natalie, 18th Best Barista in the World.
---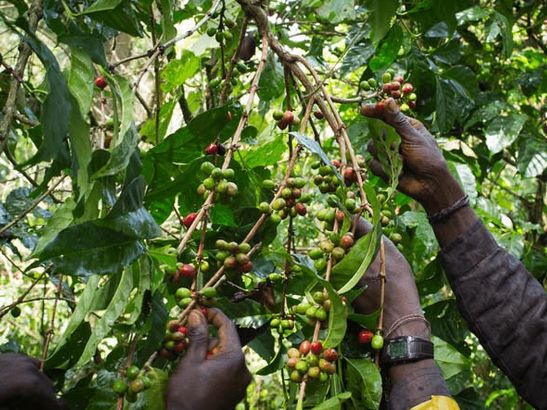 I sourced this coffee from the
Gesha Village Coffee Estate
in the Gesha region of Ethiopia, South West and 2 days drive from Addis.
The Estate was formed 4 years ago by Adam Overton, who was a videographer. He made a film about coffee for the Ethiopian government many years ago and fell in love with coffee, the culture and people of Ethiopia. His wife also happens to be Ethiopian; and so they decided to get involved with coffee in Ethiopia. But, not just any coffee. The farm overlooks the Gori Gesha Forest just 20km away. It was from this forest that the first seedlings of Geisha coffee was picked and taken to Panama, where it was cultivated and gained it's fame from.
Adam decided to spend time in Panama understanding and learning about coffee farming and Geisha coffee from the esteemed Willem Boot of Boot Coffee. Willem also assists Adam with the farming practices and growing of the geisha coffees that Adam produces.
Adam also selected seedlings and trees from the Gori Gesha Forest and starting farming coffee at the estate. They also created an Outgrowers programme where the people of the Village are also able to grow and sell Geisha coffee.
At the Gesha Village Coffee Estate, they have focused on producing coffee at 2000m above sea level, delivering a refined sweetness and complex acidity due to the slow cellular respiration at such high elevations. These characters are further showcased by being processed using a washed process which allows the natural jasmine/ Bergamot bouquet and creamy medium mouthfell to shine in the cup. These are is most prized coffees and I have 40kg also available of this that we will be roasting and selling in the next month or so.
However, for WBC I chose a natural process which was actually a reject initially and an experiment. During the washed process, Adam and farm manager Yohannes, his brother in law, noticed that some of the cherries were slipping through the pulper. They immediately thought that it was a machine reject. But when Willem visited the farm, he told them not to disregard these cherries, as they could be special. So they created a new process just for these smaller cherries.
After removing them from the fermentation tanks used for washing the coffee, they rested the cherries in sacks overnight. The cool evening temperatures reduced cherry fermentation. The following day the cherries were spread onto African Drying Beds but in a single cherry layer, spread apart. This increased the airflow between the cherries which eliminated the coffee from developing a unclean pulpy character that many people.do not enjoy in Naturals. With constant movement of the cherries, they ensured even drying for up to 22 days before removing the dried husks. What they found was a bright cup character, very fruited and refined. However, they could not guarantee quantities so this was not considered for sale.
However, I felt like this lot had the best cup character for Espresso and Cappuccino for the WBC and so I asked Adam to supply me with this as my first choice and a washed lot for back up. Unfortunately, as these are smaller cherries that were spat out during all the coffees that were washed process, he could only get me 20kg. I actually wanted 40kg. This was further conpounded by the fact that Adam went the extra mile to triple select the coffee for me to ensure that i received the best coffees from the farm. As an alternative, he gave me 20kg of a natural process from his Outgrowers programme as well.
And so we went to WBC with both the Estate coffee and Outgrowers as backup. We would use whichever tasted best in Seattle.
What I have available is 4 bags of Outgrowers and 7 bags of Estate coffee that I took to WBC (250g). Here is the detailed information:
ESTATE (7 bags available):
Farm - Gesha Village Coffee Estate
Varietal - Indigenous Geisha
Lot - Estate
Elevation - 2000 masl
Selection - triple selected perfectly ripe cherry
Process - Natural (22 days on African Drying Beds)
Cup notes - refined cane sugar sweetness, ripe red cherry acidity, black tea finish, creamy body. Overall flavour of cherry, pineapple and black tea.
OUTGROWERS (4 bags available):
Farm - Gesha Village Coffee Estate
Varietal - Indigenous Geisha
Lot - Outgrowers
Elevation - 2000 masl
Selection - triple selected perfectly ripe cherry
Process - Natural (22 days on African Drying Beds)
Cup notes - refined cane sugar sweetness, strawberry acidity, toffee/ caramelised sugar finish, creamy body. Overall flavour of strawberry, dates and subtle papaya.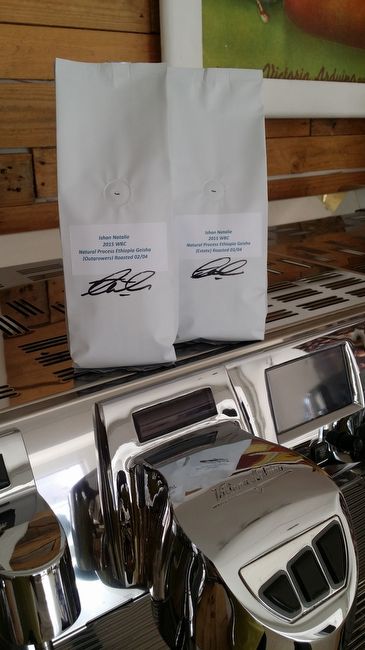 The coffee is pictured here with the WBC spec Victoria Arduino Black Eagle